Why You Should Ditch Your iPod The Next Time You Work Out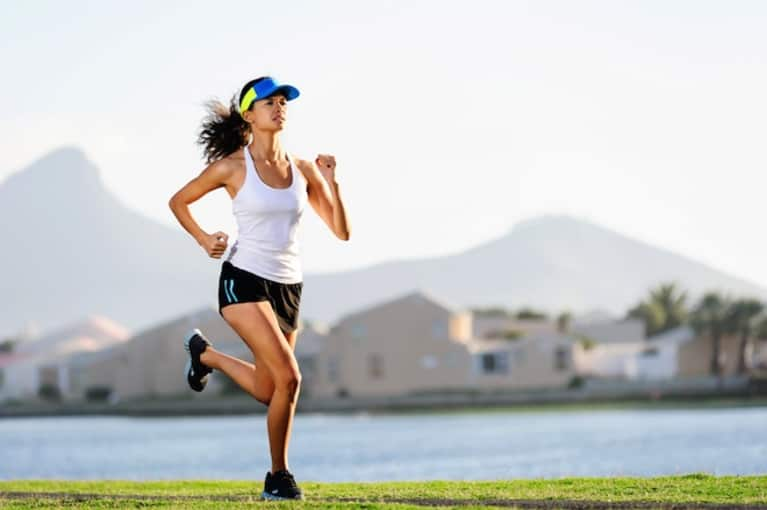 I made a bold decision today before going on my morning run. Dressed as warmly as I could to brave the winter cold, I had my water and keys in hand and was pep-talking myself with a great return breakfast to get out the door… when I remembered I hadn't grabbed my iPod.
This prompted an internal discussion as to why I felt so compelled to run with music. What am I avoiding by shutting the outside world out with tune-age? Why do I need it to find inspiration to move? Obviously, for someone on a personal journey to find beauty in simplicity and natural living, this wouldn't do.
Therefore, I decided today would be a new day: although starting out on this run was a personal test to find intrinsic motivation to exercise, it soon led into an experience of mindful mediation. With the bustling of cars, pollution in the air, and irate individuals inhabiting the city, I can understand why I usually try to block out the outside world when I run, but this time, let into the moment of jogging down the street, I began to see a new vision: crisp air caused a puffy cloud to form with each exhale, and with the drifting leaves on the sidewalk, I began to perceive the beautiful birds sweeping through the city, people-watching from the trees.
While the city might generate unhappiness from higher stress levels, I began to recognize the flame which is sometimes absent in our race; for example, in a man waiting for a bus, a woman returning from her shopping spree, and a worker immersed in their window washing.
I also found I did not have a lack of thoughts weaving through the golf course (which I sprint through to avoid being hit by flying balls – much to the annoyance of golfers), striding past the gorgeous stream with tidily groomed flowers, or simply stopping to soak up the glorious sunrise. In fact, I was more present with my personal life than I feel I had been in weeks! I felt the movement of my limbs, the tightness of my breath when I exerted myself more than normal, and the great rush of adrenaline and epinephrine from choosing to engage in this exercise. More than normal, I was perfectly content with realizing I am who I am and enjoying the outcome of paying attention to all the senses. It was magical.
And with that realization, (and awesome reward breakfast) I felt it important to not only delve deeper into what I had experienced, but prompt a follow-up engagement.
So often we hear about being present and meditating in whatever work you are doing, but how often do you have a breakthrough? 
I realized it's about consciously choosing to be present – and although it may take work – it can help bring greater joy and experience from life than ever before.
I think I found such celebration of life and "in the moment" presence today because exercise not only increases oxygenation, makes you more aware of your body (you're moving and don't want to fall/get hit by a car), but has a host of health benefits – such as reducing cholesterol, improving circulation, and jump-starting detoxification by moving your lymphatic system. All of these are beneficial to not only improve your physical well-ness, but to improve your personal vibration, and thus your spiritual involvement.
Imagine how much more joy and lessons you could take from life just by consciously choosing to be present? 
Like sitting meditation, it can be difficult to keep the mind on track and not jump into the past or the future, but with any activity you do during your day – make an effort to presently experience what you are partaking in, and continue that practice to further gain attunement. Exercise is an excellent way to start because you're physical body is moving, so you can free your mind (by not opting for distractions) and take in what surrounds you.
So, as much as I love a good audiobook to run to or some fun, distracting tunes to tune out the outside world, I think the experience of not only adopting intrinsic motivation to do a great job moving my body, but also enhance my spiritual development is worth the (hesitant) choice to leave the phone/IPOD behind.
"Do I have heightened awareness by being present during my exercise or daily activities? How long did it take me to have a breakthrough or am I still seeking one? And what do I think I could experience (more joy, love, and peace) by choosing to re-create my daily experiences with purified intention?
These are all personal questions we can ask ourselves when seeking solid development in overall enjoyment and peace in life.