Kale Salad With Cashew Cream Dressing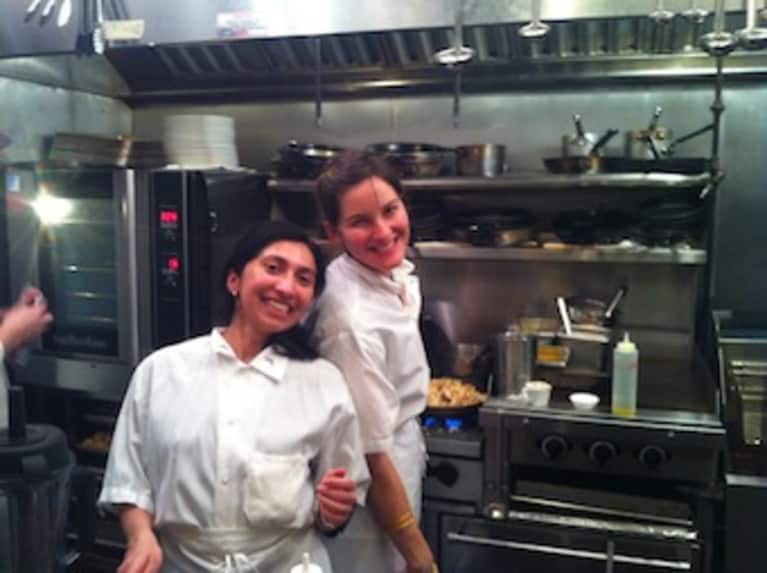 Recently, I had the privilege of being the first home cook featured at a new monthly series at Cómodo, a Brazilian restaurant in the West Village.
I put together a prix fixe of Brazilian and Indian flavors (or "Brazindian," as I like to call it).
My girl Carolina Santos-Neves (Epicurious blogger and YouTube star), who consults for Cómodo, got me the gig and handed me my whites.
Back in the kitchen, I had my sous chefs for the evening mix a dressing of my homemade cashew cream, fresh lemon juice, olive oil, cayenne, brown sugar, and a dash of salt, which was massaged into chopped kale for the first course, a pineapple kale salad finished with a tiny sprinkle of powdered sumac berries (more for color than anything else).
I made this dish because kale salad is a perennial feature at Cómodo, and the citrus, spice, and cashew richness for me evoke both the East coast of Brazil and the West coast of India.
Hope you enjoy!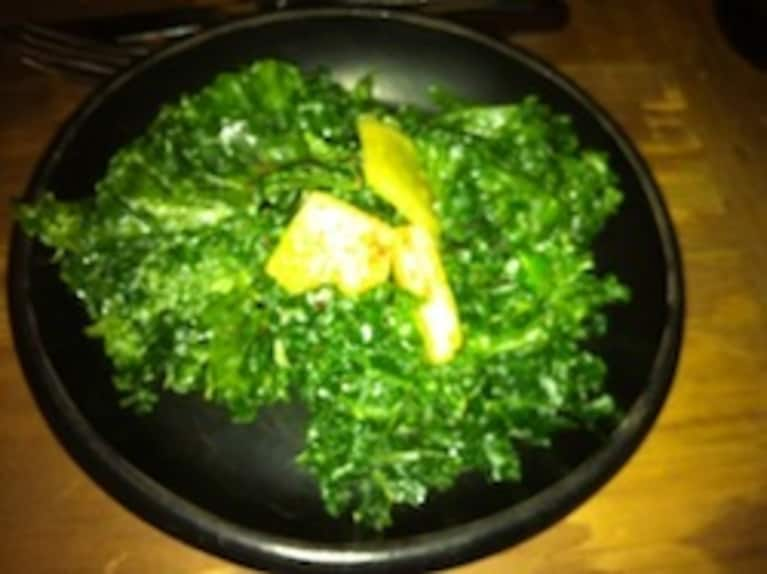 2 handfuls of kale
1 tablespoon cashew butter
1 tablespoon lemon juice
1 tablespoons olive oil
Brown sugar to taste
Salt to taste
Cayenne pepper to taste
2-3 thin slices of pineapple (to garnish)
Massage dressing into the kale, then toss the fruit on top.
And in case you're curious, here's the rest of the menu for the Brazindian feast: 
Cauliflower "Quesadilla"
The second course was a "quesadilla" of gobi masala (cauliflower roasted, sautéed with fried lentils, minced ginger, turmeric, coriander seed powder, cumin seed powder, and red chilli powder, then tossed with chopped fresh cilantro) served in a whole wheat tortilla with a tart mango salsa. (Next time, I think I will add some green chilli yogurt sauce to this.) Again, I was hoping for the feel of masala scattered by Bahian breeze!
Tamarind curry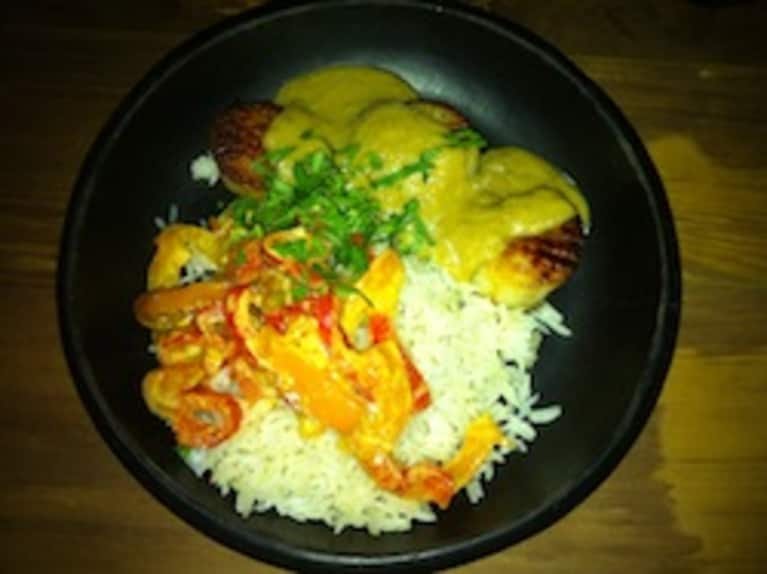 For the entrée, during the afternoon and early evening I slow simmered a curry of tamarind pulp, pureed onion, ginger, garlic, red chillies, turmeric, coriander seed powder, cumin seeds, and more cashew cream (thinned with a bit of water), which we served over sautéed oyster mushrooms for the vegetarians and well-seared scallops for the others, accompanied by rice topped with red, orange, and green bell peppers braised in coconut milk and garlic, and garnished with fresh cilantro.
It was a meld of Goan seafood curry and some elements of moqueca de peixe.
Butternut Squash Cinnamon Ice Cream 
Caro for dessert made a roasted butternut squash cinnamon ice cream and served it with toasted almonds and a drizzling of my homemade saffron syrup. We'd planned on using spaghetti squash "noodles" soaked in the saffron syrup with cinnamon ice cream, but the restaurant got a delivery of butternut squash instead.
And isn't that the essence of cooking, and life? Plan…to improvise!