6 Tips To Enjoy The Salad Bar Without Spending A Small Fortune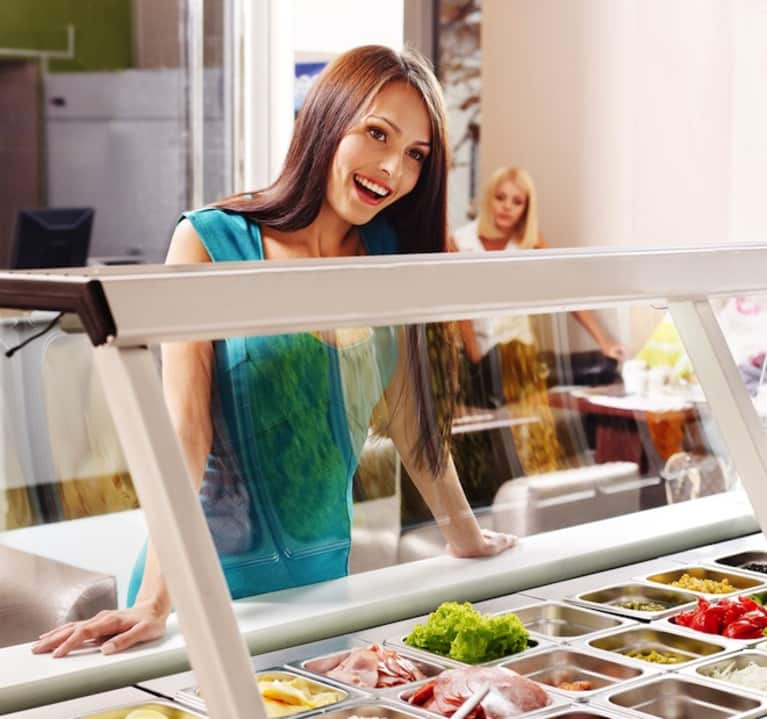 Aaahhh… The salad bar! The one place you can eat what you want and how much you want for a fairly reasonable price, if it's done right.
Often salad bars at places like Whole Foods can be daunting to your budget and your waistline, with the high prices and saucy foods.
I aim for a $7 price point and almost always come out with a nutritious, and delicious salad that would have otherwise cost me up to $25 at a restaurant.
Following these tips will not only save your wallet, but they will do your belly good too!
1. Opt for the smaller container. 
If you plan on getting a small side salad with a couple of veggies, opt for the smaller container (also a good tip if you're watching your waistline). Remember: the larger the container, the more you will be tempted to fill it up. This will also cut down the price.
If you go to Whole Foods, many stores have the option to choose a reusable bowl and they will deduct 30 cents from your salad!
2. Start with greens. 
Aim for mostly spinach and mixed greens, and top off with kale. Greens like kale and romaine tend to be more costly due to the extra water weight. Greens should act as the foundation to your dish. (Aren't greens what a salad is all about anyway?!)
3. Layer with lighter veggies first.
When choosing vegetables load up on the lighter ones first (like mushrooms, shredded cabbage, and sundried tomatoes), then top carefully with the heavier items (like beets, carrots, steamed veggies, and cucumbers).
4. Choose pieces with the least dressing and toppings. 
Salad bars like to be sneaky and throw in celery bits, and sautéed or soaked veggies into their dishes, which may hurt your budget! Added flavor comes with added costs. Be mindful of which options are soaked in dressings!
5. Choose proteins wisely. 
If you are choosing plant based proteins like chickpeas, check the prepared foods section first to see how much they go for prepackaged. At my salad bar they were only $4.99/ lb. prepackaged, compared to the $8.49/lb. price point at the salad bar! I like to add a few blocks of tofu and hummus as an alternative to dressing in my salads. If you are choosing meats, stay away from bones and saucy items.
6. As soon as you feel your bowl weighing down on your hands, ask yourself if you've got enough.
If so, top with some nuts/seeds and finish off with a light Extra Virgin Olive Oil or lemon juice, and call it a day! At this point, I highly recommend you walk away from the salad bar before you overdo it!
If you want a fruit, skip it at the salad bar. Buying from the produce aisle can be a much better deal.
The salad bar can be a verrrry dangerous place, but if you follow these tips I promise you will leave satisfied every time! Do you have any tips to beat your local salad bar? I would love to hear them. Share this post with your Facebook friends and be sure to like my Facebook page for more tips and tricks!