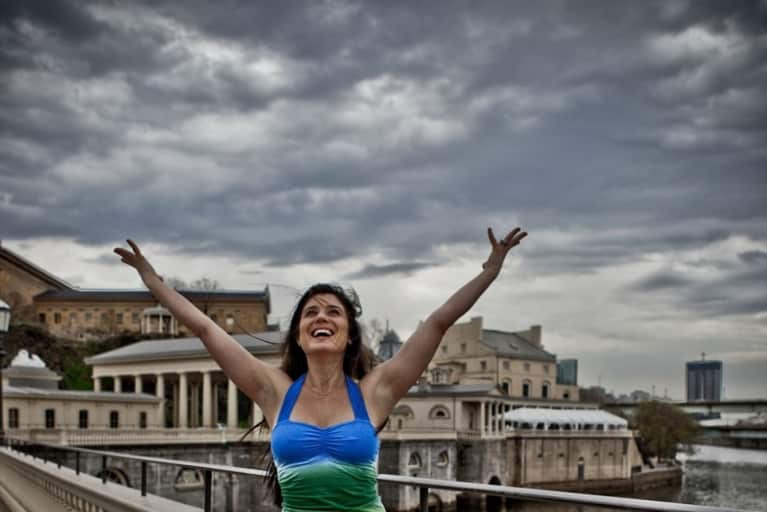 I know, I know: But, it's soooo hard.
Especially, when you've had a "bad" day.
How can you possibly expect to be delighted when your car just ran out of gas or someone you love is mad at you, your baby is terminally ill, or you're single and want to get married and have a baby? And you're 41. (The list goes on and on.) Simply fish into your own mind and endless well of reasons.
The thing of it is, you have to move into your future with a clear slate rather than a deep knowing that everything you touch will turn to sh*t, just because it may have so far.
This is actually not how it works at all, but, somehow, miraculously, we keep drinking the Kool-Aid. We believe (key word believe) that just because one person broke our heart, every single person, until the end of time, will break our heart again and again into a million pieces.
Not so!
But for many years I expected to be disappointed.
Looking back, I see clearly that the choices I made, the people I surrounded myself with and dated, the job I had as a waitress for 13 years, that all of these things reflected my expectation to be disappointed with the outcome of my life.
I dated someone who really didn't want to be in a relationship (not with me), who treated me less than kindly many times, and therefore I was in a constant state of disappointment. In fact, looking back, pop Psychology 101, I can see that I was setting myself up to be bummed out.
How cute. How perfect. How easy!
How boring!
The easy way out is not always the best way, my Delighteds.
I decided when I was 8 years old and my best friend (my dad) died suddenly that I would never again get to be delighted. The 8 year-old mind is so advanced, clearly it makes all the right decisions.
I also had just had a fight with my dad and the last words I said were " I hate you."
Cringe. He wouldn't stop smoking his 4 packs of Kools a day as he had promised. Probably, in my mature 8 year-old brain, I decided his dying was my fault. How did I even deserve to be delighted again?
What the what?
I woke up sometime ago. I opened my eyes and saw that in some creepy time warped way, I had been living in the past. I climbed out of my time machine, changed the jigowats and the flux capacitor and stepped into 2008.
That was the year that profound shifts started occurring for me. When I started to open my eyes in the morning with a deep knowing that I actually had no idea what the day would hold. Rather than a deep knowing of Oh, this day's gonna suck just like yesterday and the day before. I won't get the acting job. I am sure I'll be let down. Again. It'll probably be slow at the restaurant. I won't get good tips. I'll be tired. He won't call like he said he would. I will probably get crapped on by a bird. Again. I will spill coffee of my good white shirt. Again. I will lose my wallet. 
Again.
So today's Daily Manifestation Challenge is this:
Can you expect to be delighted?
Despite whatever has come before?
Despite what you think you know?
This is one of the great and essential steps to manifesting what you want in your life, methinks. One of mfavorites, I always bring it up at my manifestation workshops and retreats. It's beautiful and profound. Maybe not always simple, but after some practice, it becomes simpler. And life becomes richer, and more exciting. Knowing what is going to happen is as boring as a traffic jam on your way to pay a parking ticket someone else got on your car.
Expect to be delighted without any attachment to the "something" at the other end.
The expectation you have attracts what you want in your life. If you expect awesomeness, you start to surround yourself with awesome folk. From there on in, it's simple math. What can you expect to be delighted about today? Can you expect to be delighted more often than say, never? Will you take the challenge? Add it below.