'Tis The Season For (Other People's) Self-Improvement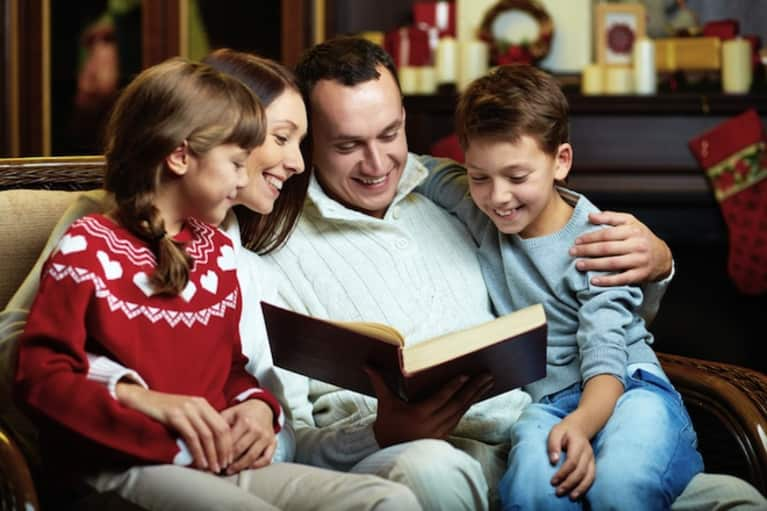 Every year, right about this time, I start thinking about self-improvement and what kind of New Year's resolution I can make. But this year something funny happened: I realized that the previous 25 or so New Year's resolutions had been so flawlessly executed, that I self-improved myself right into a perfect, un-improvable corner – leaving nary a single character flaw or physical shortcoming on which to focus.
"Ahhh…perfection at last," I said.
And then I had an idea. While I may be perfect, my children could certainly use a little improvement - so I thought up a few resolutions for them to work on in the coming year. (You're welcome, kids.)
For little four-month old Marie, you must resolve to stop spitting up so frequently and disgustingly. Or, at least stop spitting up on me. You will never land a husband or find gainful employment if you continue in this manner.
"Gee, I would love to hire that lovely Marie woman for the job, but she kept spitting up during the interview," they will say. Again, it is disgusting and will only get more disgusting as you graduate to adult foods.
For David, my amazing 11-year-old superstar, I'm giving you two resolutions – because I know you can handle them. First, you must resolve to stop growing taller. Dear old dad here is only 5'4 and 1/16th, and this growing bonanza you're currently on smacks of disrespect.
Growing horizontally is fine, but vertical growth is a no-no. If you choose to ignore my resolution and continue skyward, I ask that you start slouching or develop terrible posture.
Second, you shall resolve to stop mocking me with your flowing, full head hair. Notice that I said "head" hair. I have no problem with you sprouting ear, back, and nose hair. In fact, I would like that very much. But cool it on the head hair.
For Caitlin, I ask that you resolve to stop bringing your homework home. It's not that I don't want to help you, it's that I can't help you. As you too will realize one day, most of the things you're being taught right now will be of absolutely no use later in life, which is why I have purged everything you're currently being taught, and why, when you ask me a question about theorems or hypotenuses, I say "Excuse me for a minute… be right back," and then sneak off to bed. So let's take the "home" out of homework, and instead call it "schoolwork," and then, you know, do it AT school.
For Eddie or Jimmy – my beautiful, not-identical-yet-still-oddly-indistinguishable three-year-old twins, I ask that one of you (yes, only one of you need undertake this resolution), develop a tick, foreign accent, or limp which will help me identify you more quickly.
Ideally, this fun new character trait will be both physical (a limp), as well as oral (the accent), so as to aid in your identification over the phone. Despite Doctor Wong's assurances that confusing the two of you would cease to be an issue this far into your development, this has not turned out to be the case, as you have likely noticed.
Last, but not least, for little TBD (we're considering Elmira if you're a girl, and Scott if you're a boy), I ask that you resolve to stay off your mother's bladder as often as possible. I realize that space is tight down there, but if you could see your way to maneuver yourself out of that particular spot, it would mean a whole lot less discomfort for your mom which, in turn, will spare me the aggravation of having to hear about her bladder every thirty-eight seconds.
Should you think of any additional resolutions that might make 2013 even more super, don't hesitate to add those to your resolution list!
Happy New Year, kids!