5 Things I Learn From Bad Days On The Mat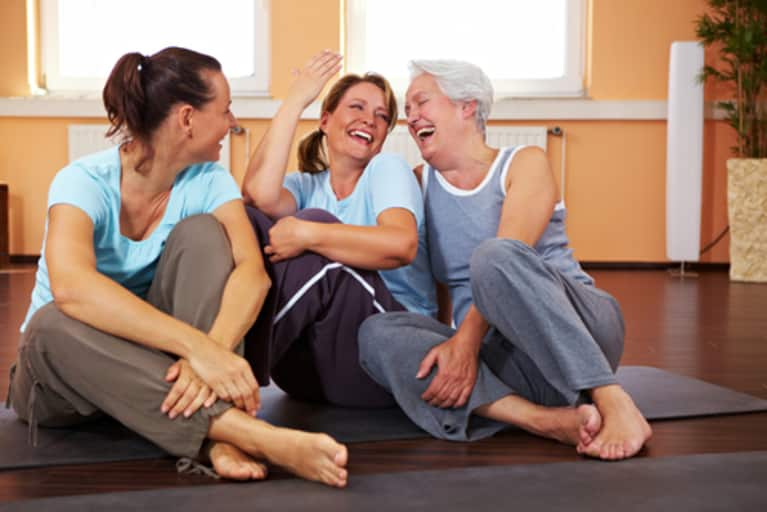 I actually hesitate to call a challenging day on the mat a "bad" day as each visit to my "magic carpet" has lessons to be learned.
But sometimes it still feels like a bad day. Days where I am fighting my body. Days where I can't even seem to get into child's pose comfortably. Days where my nose starts to run half way through my first Sun Salutation A.
Days where feel like I spend more time in child's pose recovering my breath than I do flowing. And my favorite: days where I just cannot go on any further without making the practice a struggle and take savasana while the rest of the class continues on. I just LOVE those days.
Here are some things I've learned from my bad days and what I do when I realize I am not going to have a practice I'd like to have video taped and posted on YouTube:
1. I stay committed to breath. 
No matter what happens. No matter how I feel. I stay committed to breath. Four counts in – Four counts out. Smooth inhales and smooth exhales. Many of my practices are conducted in a 100 degree room with 80% humidity. There are going to be days where the ONLY way I can maintain my breath is to come to childs pose and recover periodically. Yesterday, I felt like I took child's pose more than any other pose. My ego just loves that!
2. I can find something that DID work. 
There is rarely (see never) a practice where I can't find several things that went right. Maybe I got deeper into one wheel pose. Maybe I kept my back perfectly straight in a seated forward fold. Maybe I slid easily into crow pose this time. If I am honest with myself and put down "the stick" I use to beat myself up with, I can always find things that went well. In fact, they usually went better than my brain thinks.
3. I take big risks during difficult practices. 
This is a personal practice to me. I have had practices where there was no way I was going to finish. Head pounding. Nose running. Unable to control the breath. Whatever is happening, I have come to practice in a state that isn't going to allow me to fully participate with my body.
When that happens I CHOOSE to take a big risk that day. It may be a supported headstand, a hand stand, going deeper into pigeon pose, holding half moon pose for several minutes while the rest of the class continues on. Whatever it is, I find something that is VERY difficult for me and I practice that. Oddly enough, I usually succeed better on "bad" days than the good days. Who knew!
4. I remember that to have bad days requires consistency. 
Yes, this may sound funny. But the truth of the matter is, to take note of tough days and grow from it requires a consistent practice. To change a habit requires first that I show up often enough and repeat a bad habit, notice it, and stop doing it. You can't do that without consistency. So if I am noticing and growing from challenging days on the mat, it is a good indicator that my attendance is good. If you never have tough days on the mat, you are not going to practice often enough!
5. Crushing the Ego to Dust. 
This is probably most important. When I have a tough day, and I'm leaving the class and notice my thoughts are negative or my head drooping. When I hear the mental chatter going on "up there" about what a terrible practice we've just had. I smile and say to my ego, "Yeah baby, how'd you like that. We just laid down on our back for the last fifteen minutes of class while twenty hot women easily finished. What do you think about that?"
So much of yoga is about reducing the human ego enough to get in touch with our true self and the spirit of the Universe. There's nothing like being utterly defeated by an asana practice and having to rest while others work around you to do that.
So don't be afraid of "bad" days: (1) We all have them. (2) I learn more and grow more into my practice on the tough days than the easy days.
After all, if we never had a challenging day on the mat, we wouldn't need the mat at all.
Namaste.