7-Step Game Plan To Gracefully Survive Christmas Dinner While Staying "Healthy"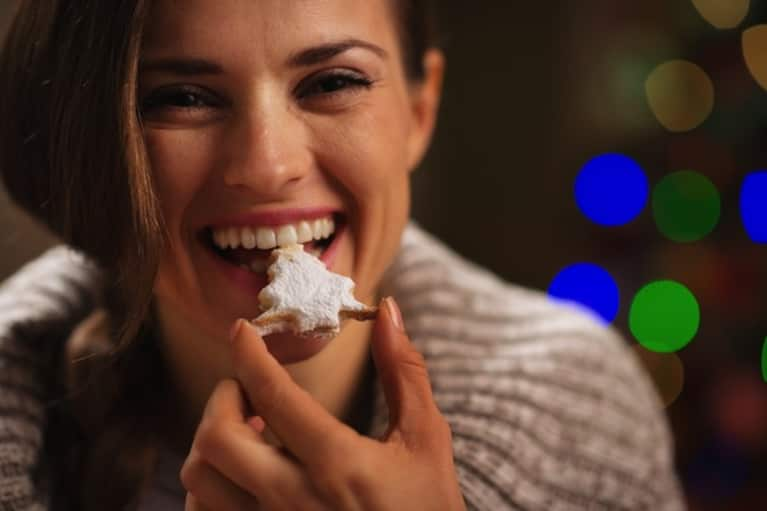 You've finally got your diet in order. You've discovered that reducing sugar, gluten and/or dairy from your diet makes you feel like a rockstar and your body is on its way back to optimal health and energy.
And then along comes Christmas…
You're back among your family, who let's be honest – don't get that "a little bit of meat" is NOT OK in a vegetarian quiche, and then for lunch and/or dinner, all of your favorite foods, desserts and drinks will be laid out in bulk ready for the biggest meal of the year.
I've been torn on my approach to holiday eating – and especially the big Christmas meal this year. Is it best to pull out the "80/20" card and enjoy all the goodness of the yummiest meal of year, fully embrace the pleasure that extra slice of cheesecake brings and then sleep the rest of the day away on the sofa? Or try and somehow bring new healthy habits to the table, knowing full well the family will roll their eyes and call you crazy?
You have, after all, spent all this time getting your health back on track and really don't want to go backwards for the sake of just one day.
But if your diet is stopping you from enjoying a great day with your family then it doesn't really add up!
The truth is, no one in your family wants to hear you say "I don't drink." or "I don't eat meat," or "Does that have sugar in the sauce?"… they just want to enjoy spending time with you over a nice meal.
So I've come up with a 7-step game plan to keep your health on track while still enjoying your favorite meal of the year. No one need ever know that you are "being healthy."
1. Start the day with 1 liter (about 4 cups) of water as soon as you wake. 
Hydration is vital to regulate your kidneys and liver for optimum detoxification. Continue to drink water throughout the day when you remember.
2. Prepare for the day with a healthy breakfast of eggs and quinoa. 
This winning combination will not only fill you up nicely early on, but set your blood sugar up for the day to stay stable. This way, once you arrive at Christmas lunch, you can enjoy sensible portions of all your favourite foods without the urge to overindulge.
3. Take along your favorite salad and a block of Organic Dark Chocolate to compliment the meal. 
The point is not to eat all alone behind closed doors, but to add to the array of food on offer. No-one need to know it's "healthy!"
4. Gracefully accept the first drink offered to you. 
Enjoy sipping away at that the whole meal, or mix it with soda to get a few extra drinks without the harsh effects on your system.
5. Try and get in a 20-minute walk around the block sometime after the main meal. 
Or play with the kids outside while everyone else naps of their meals ;-)
6. Aim for moderation.
Knowing that you are doing all of these great steps, go ahead and enjoy all those yummy foods and drinks, just don't go overboard. Whatever you might have too much of on Christmas day, just cut back on that food for the next few days and you'll be back on track with no harm done.
7. Have fun. 
With this plan in place, let go of the outcome and focus on what is truly important. Be present with your family and enjoy your time with them – this will fuel your health dramatically more than a soggy piece of lettuce any day.