You Can Go Home Again. Here's How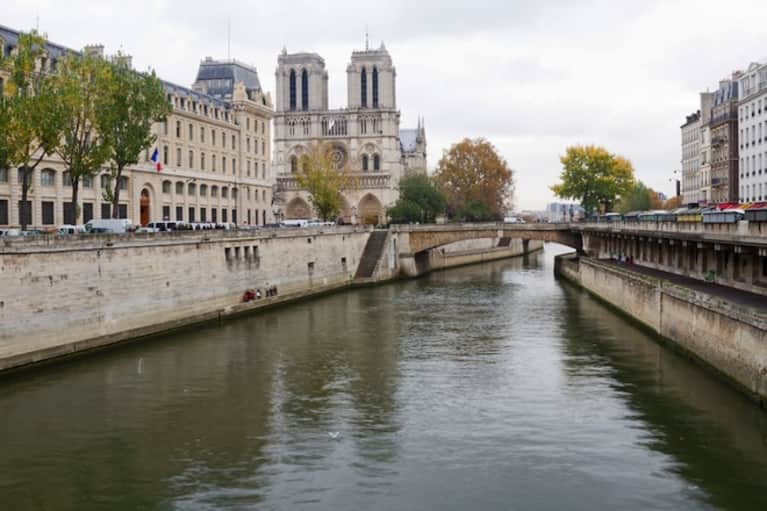 My heart hurts. I'm walking along the Seine with my iPod. I'm playing cheesy music, looking at the same places I've looked at before, only now, it's for the last time.
I've lived in Paris for eight years. That's enough time to learn local slang, make real friends and be surprised when there is NOT a strike paralyzing the city on a given day.
I didn't just study abroad for a year or enjoy a short-lived romance in the city of love.
I became Parisian.
So, after almost a decade, what happens when I become an American in America? (Already, it doesn't have quite the same ring to it.)
If and when I do return years down the line, my friend Mona Lisa will still be at the Louvre, Napoleon will still be resting at Invalides and the Café de Flore will still be serving the same Café au lait that Jean Paul Sartre and Simone De Beauvoir drank.
Yet my entire identity will change. I won't have a "cute accent" when I speak. And hailing from New Jersey doesn't exactly qualify as "exotic."
I love this quote from Augustus Saint-Gaudens from David McCoullough's The Greater Journey: "But coming here has been a wonderful experience, surprising in many respects, one of them being to find how much of an American I am."
I may have grown into my "Americanness" in Paris, but, back in America, I'm a tourist in my own city. A stranger in my own home.
Change is never easy. People move all the time. However, moving to a new place and coming home to a familiar place after a long time away aren't one and the same. Moving "home" should be the easier of the two, right?
Not necessarily.
Moving back after a long time away is both a return to the old and a brand new experience. It can be comforting, happy and exciting, but also scary and strange.
Whether you're heading across the globe, or just down the street, here are a few tips for weathering the storm when you choose to follow the winds back home.
1. Don't look back. By this, I don't mean, simply forget everything you've experienced in the past, or take your good friends out of your cell phone. Instead of focusing on what – and whom – you're leaving behind, focus on what awaits you on your native soil.
2. Stop comparing. Whenever I came home for a visit over the years, everything was "In Paris, they do this…" or "It's better in Paris" (and sometimes "Wow, this is so much better than Paris!") It's easy to compare your new surroundings to your old ones, but try to see every experience as new instead of equating it with something somewhere else.
3. Take things sloooooowly. Transitions are hard, so don't rush into them. Greet every day as it comes and make sure to relax and absorb your new surroundings before jumping into something right away. Take the time to reflect on what you really want. There's no point in changing things if they're going to stay the same.
4. Lean on a support network. Don't be afraid to ask family and friends for help through what will inevitably be a challenging time. That's what they are there for. It's one of the luxuries of being "home" again.
5. Don't resort to old behaviors. Just because you're going "home" doesn't mean you need to transform back into the person you were before you left. Perhaps some of the places and people you left behind haven't changed a bit, but you have, and don't forget that.
6. Feel. "Don't cry because it's over. Smile because it happened." This is one of my favorite Dr. Seussisms, but, for once, I must beg to differ with the old doctor. It's OK to cry. Let those tears roll down your cheeks. It's OK to be scared. Let your body experience whatever emotions come your way and never feel guilty about it. Ever. (Just remember to smile because it happened when you're done.)
7. Bring [insert your "other" home here] to you. Keep a souvenir from your former home someplace close to you, whether it be a photo or painting on your wall, a screensaver on your computer or a keychain, just a little reminder of your days or years away. Whenever things get tough, just picture yourself at your happiest moment in that place and smile. In Ernest Hemingway's famous words: "If you are lucky enough to have lived in Paris as a young man, then wherever you go for the rest of your life, it stays with you, for Paris is a moveable feast." He was talking about Paris, but this applies to any place on earth. The place that you left is a part of you forever, no matter where you choose to physically live.
8. Keep a routine. Did you go to yoga every Tuesday where you used to live? Head to the farmers market every Sunday? Or join a friend to watch your favorite TV show and have dinner every Wednesday? Just because you've said goodbye to a place doesn't mean you have to say goodbye to all of your weekly or daily rituals. Make your favorite breakfast in the morning, even if you're missing a local ingredient or two. Skype with that friend of yours and talk about what happened on last week's episode. And find a yoga class you like in a similar time slot. It may not be forever, but tiny traditions can really help ease the transition.
9. Be thankful. Have gratitude that life has allowed you to make such a change and lead you on a new and exciting path. Make a list of everything you can't wait to do once you're back.
10. Stay positive. When you wake up, tell yourself "this is going to be a good day," and I promise it will be. I can't guarantee that you won't encounter difficulties during such a tough transition (I certainly have and will continue to do so), but if you offer the change to yourself as a gift, you'll continue to unwrap it every day. Always remember to breathe. Inhale, exhale, and enjoy the ride.