Make Your Own Body Butter + Sugar Scrub!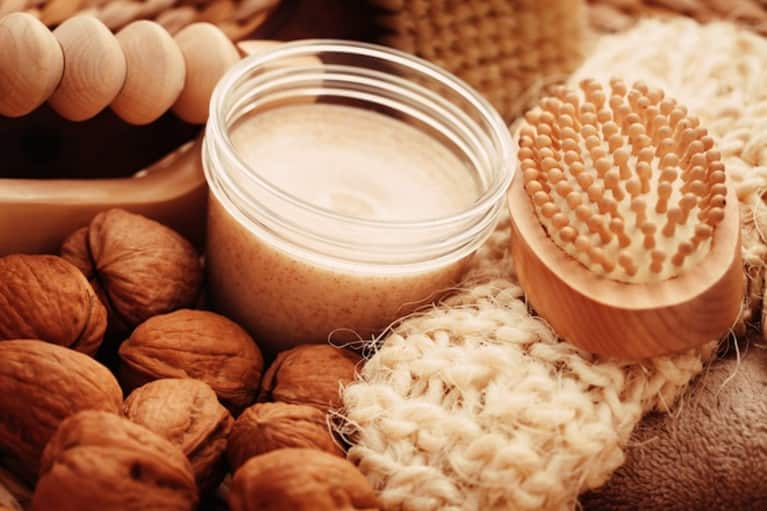 I've always loved the idea of homemade beauty products but they seemed too hippie for me. Lately however, I've been toying with the idea of giving a gift made with love.
Armed with a trusted mixer and a few healthy ingredients, you can now create the perfect DIY beauty recipe that will leave your Secret Santas brimming with joy. Move aside, crockpot, your time is done. It's time to whip up some sensational bliss in a jar.
Coffee and Brown Sugar Scrub
1/2 c. brown sugar
1/2 c. ground coffee
1/4 c. olive oil
Directions
This is such an easy recipe to follow!
Measure out each ingredient into a medium-sized bowl.
Stir until everything is thoroughly mixed.
Spoon into mini mason jars and seal.
Add personalized tags with an ingredient list for an added personal touch.
Variations
Use brown sugar, olive oil, and non-iodized salt for a finer scrub. You can also substitute coconut oil for the olive oil. If you want something scented, a few drops of your favorite essential oils will make your scrub smell nice.
Citrus/ Ginger Moisturizing Body Butter
1 cup organic mango butter
1/2 cup almond oil
2 tbsp corn starch (for a less greasy product)
5 drops sweet orange essential oil
5 drops ginger fragrance
1. Melt mango butter on the top of a double boiler. Remove from heat and let cool for 15 minutes.
2. In a separate bowl pour in the sweet almond oil. Mix in the corn starch and add the fragrance oil, stir it all together.
3. Pour the corn starch mixture into the melted mango butter.
4. Wait until oils start to partially solidify then whip until a butter-like consistency is achieved. This should only take a few minutes.
5. Place in clean, metal cosmetic tins and wrap it up with some twine and a bow, get creative.
Tips
*Not all essential oils are skin friendly or child friendly.
1. You can use what ever oils you wish, just make sure you keep the ratio 75% solid to 25% liquid.
2. The chilling step is crucial. If you don't chill it properly, it won't whip or stay whipped. About 20 minutes in the freezer usually does the trick for this batch. Make sure you scrape down the sides before mixing.
3. Since this recipe does not contain any water, it will not mold. You should keep in a cool place but it does not have to be refrigerated.
5. The body butter melts as it goes on and gets a little oily but absorbs beautifully, quickly and leaves your skin very soft.