How To Make Exercise A Happy Habit (Even If You Think You Hate It)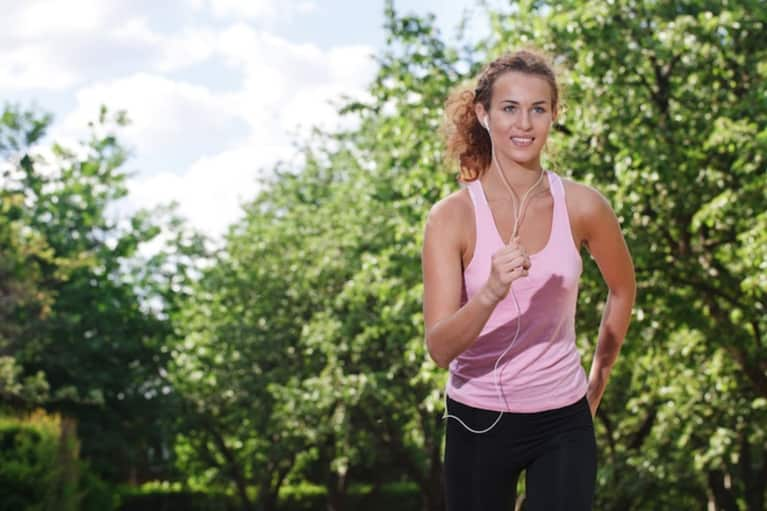 I wake up at 4:45am for an hour-long commute, and I work about 50 hours a week. I live in Boston, where the temperature at night is a chilling 30 degrees this time of year.
The point is: usually the last thing I want to do when I get home to my cozy apartment is to turn around and head into the frosty night air for a 5-mile run.
However, I learned last winter that if I talked myself out of exercising because I was "too tired" that I'd instead come home and turn into a human garbage disposal, eating everything in sight. Then, feeling lethargic and cranky, I'd slump into bed, hoping to get 8 hours of sleep so I could awaken with energy and enthusiasm.
Oh, was I wrong.
This pattern had the complete opposite effect. I realized that something needed to change, and I decided that exercising after work during the week was going to be my priority.
But not just any old exercise. It had to be something that I could look forward to, something that I would enjoy doing enough to motivate me every day.
Here are a few tips that helped me turn my daily exercise routine into a Happy, Healthy Habit:
1. Set goals. 
I used to loathe running. It made me feel weak and un-athletic, even though I had been a dancer my entire life. However, I put all that aside and decided I wanted to set a new goal for myself and start training for a half-marathon.
I started slow with a few miles here and there, and gradually increased my mileage as I became stronger. After running my first 5K road race and feeling that runner's high, I realized there was no turning back.
2. Plan your workouts the way you'd plan to see your friends. 
Either on your written calendar, your computer, your phone, anywhere you frequently look, plan out your workouts for the week, whether its to run a certain amount of miles, lift weights, go to yoga class, spin class, etc. I keep a log on my computer and I highlight each workout once it is completed, including planning out my days off.
I love being able to look back at the last few months of workouts to see what I have accomplished. This also helps me hold myself accountable and when I look back and see how consistent I have been, I am more motivated to keep it up.
3. Remember the reasons why you want to exercise. 
Why am I even committed to exercising in the first place? Because it makes me stronger, it's healthy for my heart, it gives me more energy throughout the day, its puts me in a better mood, etc. Keep your motive in mind and use that to push any negative thoughts away that try to talk you out of your workout.
4. Pack a snack. 
I pack a snack (a banana or hardboiled egg) that I designate specifically as my pre-workout snack. I eat this on my bus ride home from work so my stomach isn't rumbling when I get home, therefore causing me to reconsider my plan of exercising.
5. Make it fun.
If you're going to make exercise a habit, you have to enjoy it. Try new things and try them more than once until you find something that motivates you, whether its classes at your gym, lifting weights or running on new trails.
The first time I tried spin class I actually HATED it. Now, I love it so much that I teach it.
6. Pump up the jams. 
What's more motivating than your favorite music to get you in the zone? Another one of my favorite things to do is download new music for all my runs for the week. Then I have the new music to look forward to and my runs feel like a dance party more than an obligatory workout.
7. Find a buddy and set up workout dates. 
My roommate and I have crazy schedules, and most the time they are completely opposite during the week. However, on Tuesday evenings, we both get home around the same time so we have starting making those our nights where we run together.
It's extremely helpful to have someone helping holding me accountable and it is also fun to have someone to run with and try new routes.