How To Deal With A Sucky Day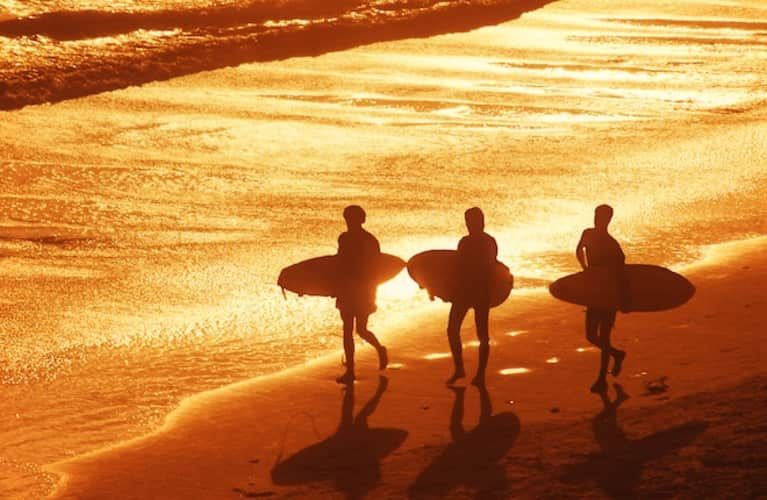 Fridays are my fun days. No limits on how long I can surf for, how much work needs to get done or what chores are on the list.
Fridays are my weekly dose of me time. A day put aside to do the stuff that makes me stoked.
Here's the thing…. we all know, somewhere inside, what makes us happy. What makes us feel calm. What lights us up.
But sometimes, when life throws us a sucker punch, we forget all that important stuff.
We feel overwhelmed by our circumstances, and disempowered.
You know what?
It's totally normal (and necessary) to have low days. Days when we feel lost, or sad, or cranky. The key is having a plan for them.
The funny thing is, there seems to be a default sucky day plan. You've seen it in movies, and probably in your own life…. it normally looks a bit like this:
Maybe you run with a variation on that theme (drinking too much beer, wasting hours googling my life sucks or seriously considering buying a plane ticket/dog/new surfboard to make yourself feel better).
What if I told you it could be different?
What if I told you that there was another way to spend your sucky day. A day that would feel nourished, empowered and altogether healthier (mind, body and soul)?
This isn't about pretending everything is OK. Or making big, life-changing decisions.
This is about creating a self care strategy.
A plan that you can rely on when the shit hits the fan.
My self care strategy came from the knowledge that whatever is going on in my life, however bad it gets, swimming underwater will make me feel calmer, wiser and, ultimately happier.
Random, I know, but hey, we all have our special thing. It got me thinking. About the conditions in which I feel nourished.
It might be places you can go, friends to have on speed dial, a delicious healthy meal to cook, blogs to read, affirmations to say out loud.
I like to call them soul vitamins.
The tangible things you can do that will make a difference.
Remember the Boy Scouts' always be prepared motto. Now's the time to use it. How about you start creating your self care strategy today?
Grab a piece of paper and scribble it all down. Who you'll call, the places you'll go, the stuff you'll do.
A step-by-step guide to taking care of yourself.
Let it act as your go-to guide when you're feeling blue, so you just need to take a deep breath, and remember 'that's right, I've got a plan for when this happens.'
A little reminder to veer you away from that slippery slope of feeling overwhelmed, and have you feel nourished and taken care of.
I hope, with all my heart, that you don't feel blue any time soon ... and that your sucky day strategy ends up with a little layer of dust on it :)