How Yoga Teacher Training Kicked My Ego's Ass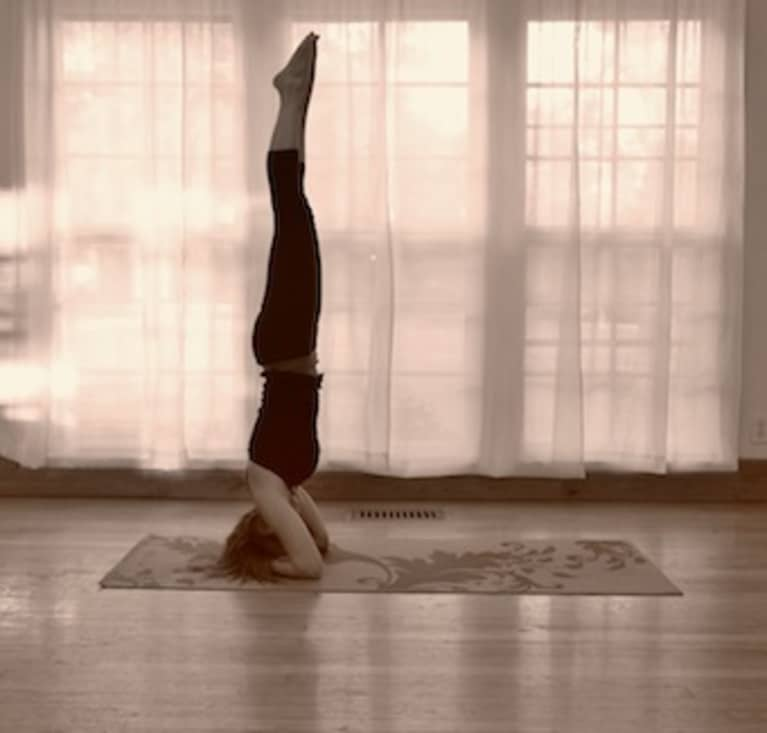 After practicing yoga for almost 12 years, I had an unexpected opportunity to take a teacher training course last winter.
It was a small group of us in a 4-month program with two amazing teachers, all within blocks of my house. I was the late-comer who filled a spot vacated by someone who dropped out last minute.
I started out excited, I kept thinking, This is it! This is what you've been waiting for! but I was quickly discouraged as we had to begin student teaching right away. That meant standing up in front of our classmates leading them through asana sequences.
My lifelong fear of public speaking appeared and I cracked under the pressure. This fear, combined with my love for practicing yoga, was a lethal combination.
It stirred up some intense self-doubt. I lost all confidence in myself and my practice as I knew it. My voice shook, my throat closed up, I confused the sanskrit words.
My once comfortable practice became my worst enemy. I felt like a stranger in my own home.
I'd leave each night practically in tears. I grew more frustrated and discouraged as the months passed, mostly at myself for not being a "star student" and failing to get As. (There was no grading, by the way, that's just how my ego worked.)
I was such an over-achiever that anything less than instant success sent me to question my life's purpose. I knew I was a great yoga student: all of my past teachers praised me when I easily picked up everything they taught and this kept my ego fat and happy.
So why was I messing it up by trying to grow and change? I was SO outside of my comfort zone in this new role that demanded opening up, exposing imperfection, and releasing control.
I vowed to myself I'd finish the course and go right back to my former classes in familiar studios where I could quietly sit on my mat and follow someone else's flow.
At graduation, we went around the room stating our goals. Everyone shared plans of teaching, some even had jobs already. I went last.
"I'm not going to teach," I said.
The room got quiet.
I felt remorse and shame.
I'd spent all those months learning, exploring, opening up, exposing my weaknesses, being incredibly vulnerable and now I could not WAIT to escape the feeling.
As planned, I went back to my old classes but it wasn't the same because I wasn't the same. I had grown.
It was no longer enough to thrill myself with each and every new, difficult pose that I could squeeze into one hour.
I wanted to go deeper, I wanted to connect, I wanted to teach!
The feeling had been there all along, it was just now able to rise to the surface without being suffocated by my ego. In retrospect, I realize the fears and doubts I experienced had less to do with yoga and more to do with other parts of my life that needed to be nurtured.
Often in yoga, our inner demons spill out onto the mat and demand our attention, seeking healing. If I had tried to teach at any other time in my life, it never would've worked, I had to go through this messy, beautiful transition in order let go of my ego-based fears.
They say we teach what we need to learn, so it's no surprise that self acceptance, release, and gratitude are always a part of my classes now. I am so grateful for those times of fear and doubt because that is when we know we are NOT being led by our ego. That is when we know we are real. And that is when the magic happens.