One More Reason to Stay the F*ck Away from Soda & Energy Drinks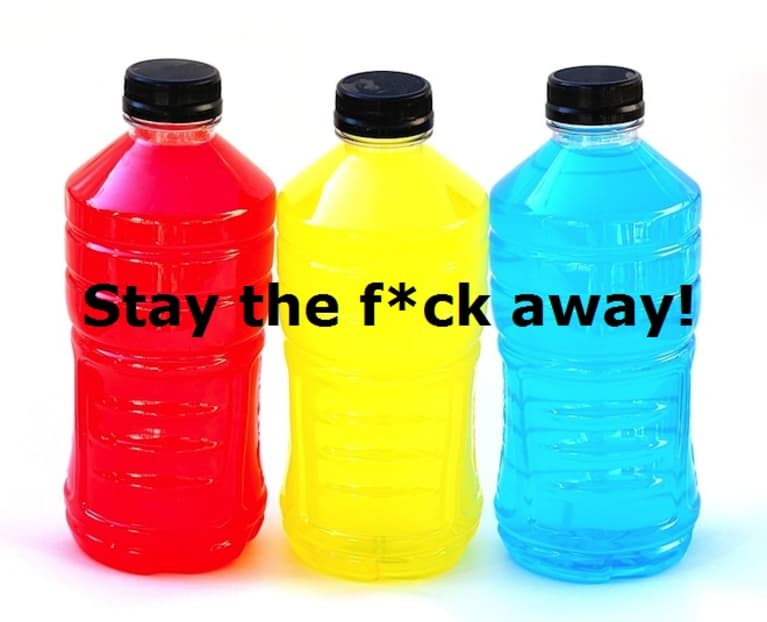 As if you needed one more reason to run from soda...
Turns out that about 10 percent of drinks sold in the United States contain an addictive called brominated vegetable oil, which is linked to reduced fertility, neurological impairment and early onset of puberty.
According to the New York Times, B.V.O is found in popular drinks such as Gatorade, Mountain Dew, Powerade, Fanta Orange, Fresca, Squirt, and Sunkist Peach to name just a few:
Brominated vegetable oil contains bromine, the element found in brominated flame retardants, used in things like upholstered furniture and children's products. Research has found brominate flame retardants building up in the body and breast milk, and animal and some human studies have linked them to neurological impairment, reduced fertility, changes in thyroid hormones and puberty at an earlier age.
Limited studies of the effects of brominated vegetable oil in animals and in humans found buildups of bromine in fatty tissues. Rats that ingested large quantities of the substance in their diets developed heart lesions.
Its use in foods dates to the 1930s, well before Congress amended the Food, Drug and Cosmetic Act to add regulation of new food additives to the responsibilities of the Food and Drug Administration. But Congress exempted two groups of additives, those already sanctioned by the F.D.A. or the Department of Agriculture, or those experts deemed "generally recognized as safe."