5 Ways to Keep Cool Around Your Family During Family Holidays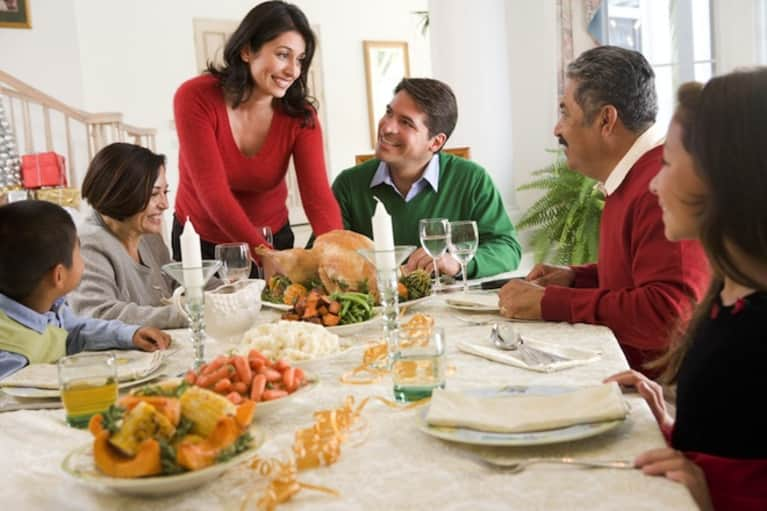 'Tis the season to spend time with family members—young, old, perfectly sane, or completely crazy. Personally, I continue to contemplate whether gypsies left me on the doorstep of the house I grew up in.
Needless to say, family gatherings are not my favorite activity.
But let's face it, we all have to do it at some point.
Here are my top five 5 for staying chill throughout your next family fest: 
1. You can't change your family. You can only change your response to them. 
I think no matter how crazy our family may be, the holidays seem to program us with a glimmer of hope that they can become the Cleavers, if only we do all the right things. In reality, we can't fix or change people in our lives unless they want to change. So it pays to be realistic, and here's a way to do that.
Before you embark on your holiday gathering, get yourself in a really calm and grounded place (meditate, do yoga). Enter your family event like you're about to go see a movie. Sit back and watch the crazy that may ensue, and try not to get wrapped up in it.
Easier said than done, I know, but over time, with practice, like anything else, it will get easier.
2. Use imagery: Put on your rubber suit over that holiday dress. 
If imagery resonates with you, imagine putting on a rubber suit over your holiday garb. When family members make comments that are inappropriate and/or hurtful (e.g, when your mother tells your boyfriend not to listen to anything you say about her—sad-but-true story), envision those lovely comments bouncing off you, again and again and again, and flying right out the window.
3. Be thankful: Without your family you wouldn't be you. 
This is another mantra that took me years to come to terms with but was very empowering once I got there. If it were not for the dysfunctional environment I grew up in, I would not be who I am today.
We have this amazing opportunity as adults to go beyond the house we were raised in. We can form more functional relationships and become more emotionally equipped and insightful people—and we can do this partly because our family challenges strengthened us. There is a lot of power in that, so if your family gets you down, meditate on that for awhile.
4. After family festivities, process your emotions. 
After family events, I used to find myself immersed in Hershey kiss food-fests and then realize I wasn't processing my emotions. For me, it was sad to go home to a father who would ramble on about baseball without asking once what was going in my life.
As we evolve and grow, our family environment can become even more disturbing and just plain sad. So post family fest, acknowledge your emotions, process them (cry, write, talk to a caring friend) and move on.
5. Go against society conventions. Spend the holidays with your friends! 
I am a big fan of self-preservation. If your family drives you absolutely crazy, why go home? For me, my friends have become my adopted family and I take pleasure in spending most of my holidays with them.
I hope this will help you deal with the holidays, and I'd love to hear what has worked for you!!