Kathryn Budig Shares Her Secrets of Success and Happiness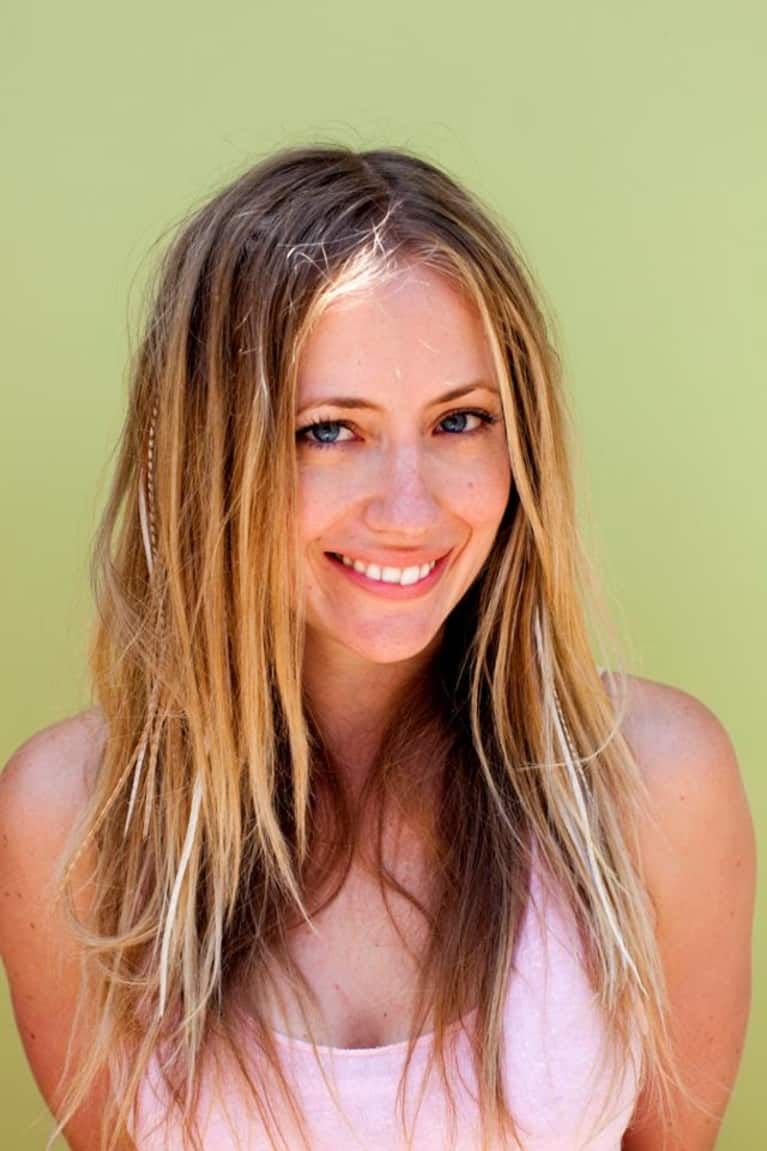 Kathryn Budig has a talent at making the impossible seem possible, in yoga and in life.
It's no surprise to me that Kathryn's become a highly sought after yoga instructor, teaching around the world as well as on Yogaglo.com.
I had the chance to talk to Kathryn about yoga, life, and her achievements, in hopes that some of her innovation and drive would rub off on me and might inspire you.
KM: Since meeting you three years ago, I've watched you make some big leaps in your career. Did you envision all of this for yourself?
KB: I grew up with a father who achieved anything and everything he put his mind to. He made me realize if you want to do something—you do it!
That said, I had my doubts about my ability to be successful on my own, but kept pursuing what I love and it unfolded beautifully.
Between teaching, writing, traveling, and your non-profit Poses For Paws, when do you sleep? Seriously, how do you get it all done?
One day at a time. I get severe panic if I think too far ahead (granted I'm booked far in advance, but I tackle the projects as they come). If I get too far ahead of myself, I find myself lost and unable to focus on the project in front of me. Don't think in quantity, think quality. This happens in the moment. If something doesn't get done, there's always tomorrow.
Was it obvious early in your career that you would be able to build on your ability to teach inversions and arm balances?
I had no clue. I just knew that I loved the arm balances and inversions and honestly wasn't that great at them in the beginning. As frustrating as that was, I'm so grateful for that because it's allowed me to be a better instructor. I can understand what it feels like when someone is struggling.
Seeing the light in a student's eyes turn on when they understand something for the first time...there's nothing quite like it. I love my job!
Have things come easily to you or have you gone after what you wanted to create your success?
It has been a major hustle. It's not the kind of career in which you follow a specific outline to be successful. I drew on all of my loves and talents—teaching, writing, and cooking—to approach my job from all angles of health.
I had to knock on many doors and do plenty of work for free before anything started to evolve. There's a large dose of patience involved with growing a business, but trusting if you have the right message and you're doing your best everyday, that it will all come together.
In a world with many great yoga instructors, what helps teachers stand out?
I believe the key to succeeding isn't following the blue print of someone else but by being yourself completely and unapologetically. If you can trust in your abilities, be yourself even when it's slightly embarrassing, I think that's what makes people stand out and shine.
How do you maintain your passions and keep from feeling stuck?
I know I'm doing what I should be with this life. I try to keep it interesting by not staying in one idea or place. Plenty of travel, different types of workshops or events, plenty of writing whether for my book or blogs and always experimenting with my cooking to come up with good recipes.
I also fell in love with skydiving, which is my lovely escape from the daily grind and brings a fresh take back on my work.
How have you handled any rejection or obstacles you may have experienced?
I've had plenty of rejection, and like any normal person, it hurts. In retrospect, I'm so grateful for the rejection, because it sent me in the direction that I really wanted to go or lined me up for something worlds better than what rejected me.
It's hard to see that in the moment, but trust that if something isn't lining up, it isn't for you and that there is something much better around the corner.
Of all the things you've accomplished so far, what are you most proud of?
Well, deciding to leave Los Angeles for Florida to be with my love. It was a massive, scary decision to make. Leaving my home and the place where all of my yoga evolved from was terrifying.
Yet, I realized that I had built a career that wasn't dependant on a place and that I was free to go pursue my life and love.
That was a huge moment for me to realize I had created my own happiness.