What's It Like to Be on Top Chef? Eliza Gavin Gives Us the Scoop...
December 14, 2012 — 13:00 PM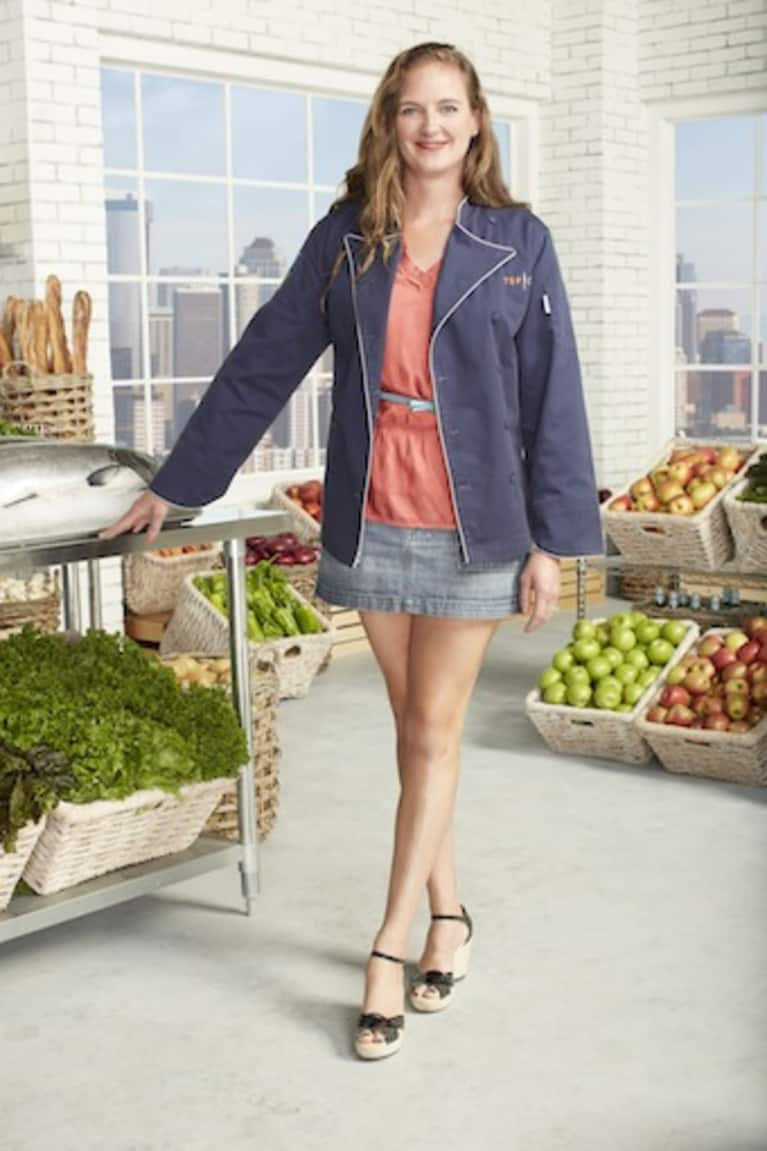 Eliza Gavin is a contestant on this season's Top Chef Seattle, and Executive Chef at 221 South Oak Bistro in Telluride, Colorado.
She's also author of two books, Foreplay: Book of Appeteasers and Recipes from 221 South Oak Bistro.
I was thrilled to talk to this cooking dynamo about her experience on the show, working with celebrity chefs, and to get her take on food!
What was it like working side-by-side with Wolfgang Puck, Tom Colicchio and Emeril Lagasse?
It was truly a great honor, I learned ingredients and seasonings that I never imagined would complement each other, but after experimenting and tasting was shocked how delicious they'd turn out.
I was fortunate to work with Wolfgang Puck in the first episode, and he was willing to share some tips from his renowned experience as one of the most well known chefs in the world.
In a recent episode, I also had the opportunity to learn from Top Chef, Tom Colicchio, in our Thanksgiving extravagation, helping me realize a whole new way of cooking a Turkey. (And it was darn good!)
What did you learn as a chef from the Top Chef experience?
Besides the above, I learned the importance of presentation and plating in cooking.
The show helped me realize that a fresh and simple dish can go a long way in satisfying the most discreet customer, when done well.
The overall culinary experience is something that will influence my cooking forever.
As in life, cooking is the accumulation of experiences that educate you!
Let's talk cooking… Farm-to-table? Organic? Vegetarian? Grass Fed? Meat on a bone?
Our restaurant caters to lovers of good food, from our extensive fresh vegetarian options, the very best Colorado raised beef, lamb and pork…to fish caught in our local Rocky Mountain Streams and modern Southern comfort food (my wonderful heritage).
Truth be told, it really depends on the season and what product is fresh and locally available to serve the best cuisine possible.
We own and operate a greenhouse in the back of our restaurant where we grow many of our own spices and cook with as much organic produce as possible.
It's personally and professionally important that I remain seasonal and fresh with our ingredients.
Living in small Telluride, part of the ongoing challenge is continually locating the freshest ingredients possible and that is why we dedicate much of our resources to maintain our culinary standards.
Any insight on ideas stirring in the pot?
Happy to be home and spending time with family, it was a wonderful experience I'll never forget and look forward to opening of the winter season for 221 South Oak this December with a fresh new twist.
Any favorite vegan recipes you could share with our readers?
Sure!
Beet Salad with Hazelnut Orange Vinaigrette Pears and Baby Kale
1/2 cup hazelnuts, toasted
1 tablespoon smoked paprika
1 teaspoon pepper
1/2 teaspoon cumin
1 teaspoon fresh thyme leaves
1 teaspoon dried oregano
Zest and juice of 1 orange
½ cups white balsamic vinegar
¼ cup grapefruit juice
1 cup extra virgin oil
1 cup olive oil
1 tablespoon Dijon mustard
2 garlic cloves
1 teaspoon salt
White Balsamic Vinaigrette
Toast the hazelnuts.
In a separate pan toast the smoked paprika, pepper, cumin, fresh thyme leaves and dried oregano.
Place the spices in the blender with orange juice and zest, white balsamic vinegar and cider vinegar.
Start the blender and slowly add in the extra virgin olive oil and regular olive oil, Dijon mustard, garlic cloves and salt.
Blend until the ingredients are smooth.
Beets
Preheat the oven to 375. Wash and trim 4 beets. Place the beets in a roasting pan and tightly cover.
Roast the beets for 45 minutes or until they're tender.
Peel the beets and cut into wedges. Toss 6 cups baby kale with as much dressing as you desire.