Who Is On Your Dream Team?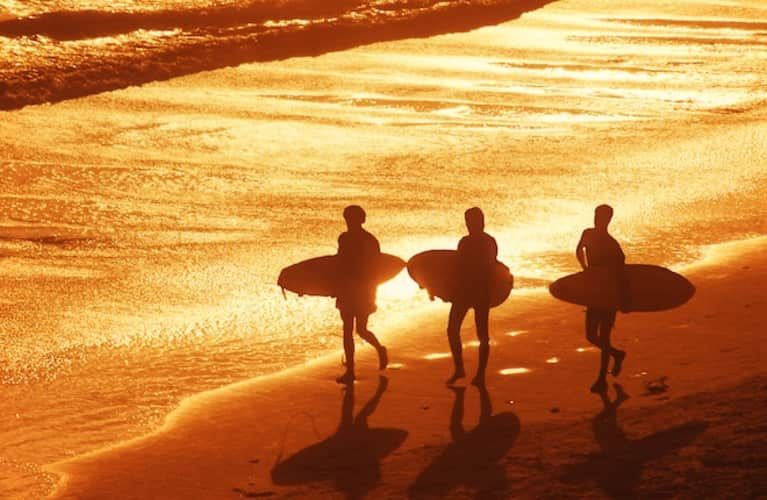 What the heck is a dream team? And who's in yours?
I had a surprise visit from an old friend this week, and we got to do all that awesome stuff you do with someone who really, really gets you.
We caught up on what's been happening in each other's lives, we brainstormed business ideas, we traded stories and lessons, we made pizzas and drank beer, and reminisced about the old days.
But the thing is, this friend isn't just a regular friend. He's on my dream team.
Let me explain …
About 10 years ago I was running a surf school. Pretty idyllic job: my passion for surfing working outside making people stoked = very happy Linz.
It was coming up to the start of the season, and I was keeping my eyes open for new staff.
The school always had a pretty nice flow of staff. A mix of locals and travelling surfers ensured fresh ideas and perspectives.
But this year was different…..
One by one, I found a truly phenomenal team. Looking back, it still amazes me that we all came together in the same place at the same time.
True synchronicity.
What made it a dream team? We all had a way of thinking and living that seemed to connect us.
Imagine this….
Chris… a big wave surfer (the humblest man I've ever met) who had set himself such a phenomenal goal and was doing whatever it took to succeed.
Mark… an Aussie who took spontaneity & fun to another level (he lived in a tent in someone's garden for the summer). A goofball with a huge heart.
Ross… whose introduction to the team came when his van (with everything he owned inside) spontaneously combusted one evening after a surf. He had this spirit that was unstoppable. A blend of wisdom, talent, compassion and drive.
Dean … a South African with a beaming smile and an infectious laugh. He was a true hero for all our surf school kids. Someone who worked hard but managed to always have fun whilst doing it.
And me… with my big dreams and big goals. Always learning and always growing.
We surfed together, we worked together, we downhill skated together. We laughed together, we shared travel stories and dreams….
but mainly, we inspired each other.
That summer, we had a blast. Work felt easy. I felt privileged to be a part of a team of such incredible people.
It has been years since those simple surf school days, and now that we're scattered around the globe, we don't get to see each other as much as we'd like.
But here's the thing…. we're still connected…
We cheer each other on.
We share our lessons.
We look to each other for inspiration.
We trade ideas, books and learning resources.
We talk about our biggest dreams.
We have each other's backs.
Do you have a dream team?
People you can talk late into the night with about your life's purpose ?
When was the last time you called them up for a 'hey, what's happening with you chat ?'
One of the most beautiful things you can do is let someone know they are on your dream team. 
Make an effort…. send them an email.
Heck, send them this article. Tell them how freaking awesome they are and how much they inspire you.
Oh, and if you're reading this thinking, Um, I'm not sure I have one… then guess what....
Get out there and create one!
Think about the people who you can connect with who really light you up.
Trust me, they're waiting for you to call :)