Tour de France Rider Talks About Yoga, Lance, Cheese, and More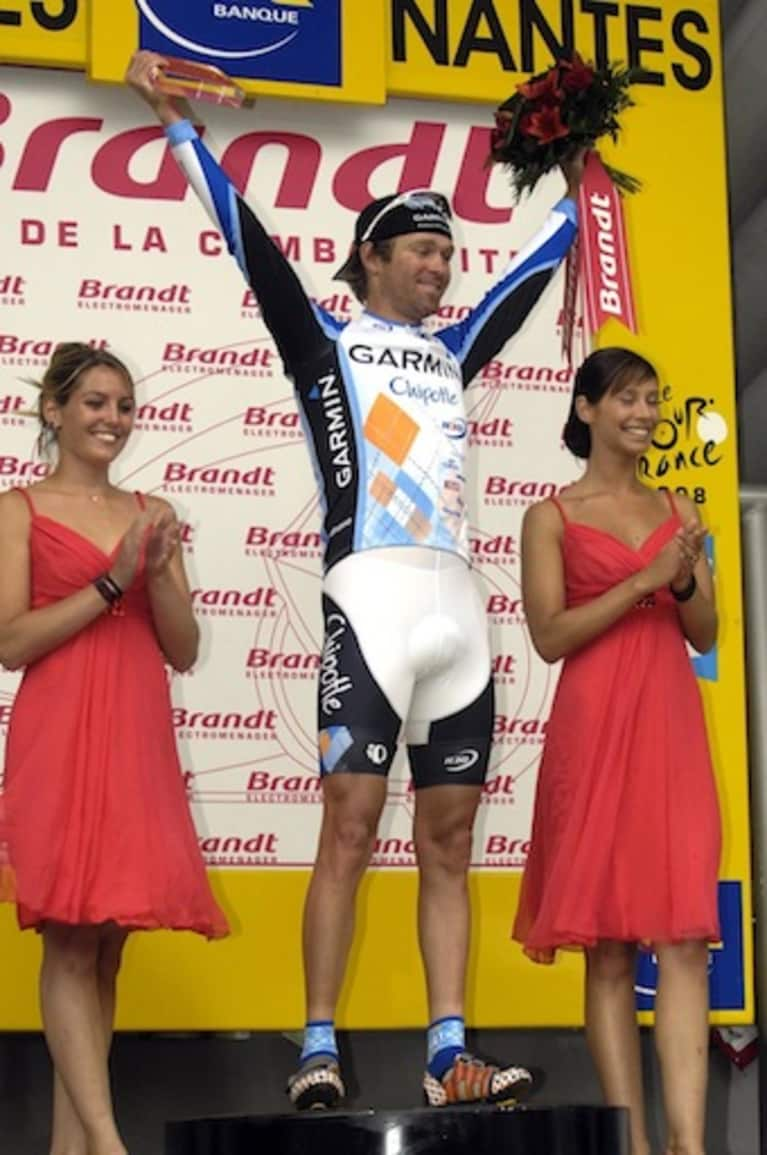 As a professional cyclist, Will Frischkorn competed in Le Tour De France, a race considered the pinnacle of the sport, before he retired in 2009.
Today he lives in Boulder, Colorado, where he runs a gourmet cheese, meat and wine store called Cured.
I had the opportunity to chat with Will and learn about training for the world's largest stage.
CR: Can you tell us about your training regime while working with Slipstream and preparing for the big races, like Le Tour?
WF: Cycling is a particularly specific sport and one that for European racing requires some crazy hours in the saddle.
A typical week of prep is in the 28-30 hour range with four big days, up to six hours each, two days of recovery (two hours or so of easy riding) and one day in the 3-4 hour range but with short, high intensity effort as a focus.
What was it like to cross the finish line at the Tour de France? 
The feeling of crossing the line in Paris is like no other for a cyclist. It's what you dream of as a kid and the energy of riding onto the Champs is truly incredible.
How did you prepare for your big races outside of riding?
Yoga has been a part of my life for a long time and such a fantastic way to balance the very, very unbalanced body that cycling creates. Opening up the body from the hunched over position where we spend so much time is critical and there is no better way than a balanced yoga practice.
Almost any opening pose, even as simple as bridge or wheel pose, is a perfect contrast. First thing in the morning, a couple of sun salutations are a great way to get the body moving a bit, and the up-dog is a nice gentle way to get the back loose.
Could you talk about your nutrition and diet when training and racing?
Cycling is a sport where you burn a tremendous amount of energy, and the powermeters on our handlebars actually give us a KiloJoule reading for the amount of workload completed. With a quick calculation based upon an efficiency factor, it's pretty simple to know exactly how many calories you need to eat in order to replace calories burned.
A big day at the Tour could be 6000 calories, which starts putting you to a place where it's almost impossible to eat and absorb what is needed to replace expended energy. Lots of good, clean, fresh, nutritionally dense foods make up the backbone of our diets on the road.
Rice is certainly a staple as many riders eat a low gluten diet, though I was always one for a baguette slathered with butter on the breakfast table. You also eat a lot on the bike, from Clif Bars to little sandwiches that we would have made for us each morning, and riders also take in calories through drink mixes constantly. All that said, one of the most important things on the dietary side is balance and making sure to eat enough, but not all of one or two things - boredom is never a good thing.
How do you feel about the doping allegations in cycling? Is the sport in need of a major overhaul?
Cycling is in an interesting period right now, bringing back a lot of dirt from the past and some very positive new energy. I was fortunate to enter the sport at a time of transition when doping was still obviously an issue, but not at the level of years prior, and personally it was an easy decision to race clean.
I'm truly excited for the current generation of new riders who truly do not have to even consider a decision around this issue and know that they can compete at the very top level 100% clean.
How do you feel about Lance Armstrong?
He was certainly an influential person in the sport of cycling and despite some incredible negatives, did bring a lot of attention to the sport and the cancer community in a positive light.
That said, he represents much of the old culture that was terrible in cycling and I think moving forward it will be a plus to have him out of the picture.
What role does cycling play in your life now?
For me now, I simply love getting out doors and riding a bike. I still sneak out 4 or 5 mornings a week before work for an hour or two, getting a bit of exercise, and enjoy catching up with friends still in the sport.
I help a couple of junior cycling programs raise money and find sponsorship and love being involved in that small but very important way.
One last question, any tips for those who are looking to improve their riding skills or endurance capabilities?
Riding a bike is pretty simple. Ride. A lot. And have fun with it! With limited time, I also always encourage people to look at a small amount of high-end intensity training as a part of their routine. Even just one day a week of smashing yourself up the steepest local climb a couple of times will help you make overall gains that much more quickly.