How I Used Yoga Philosophy to Heal My Back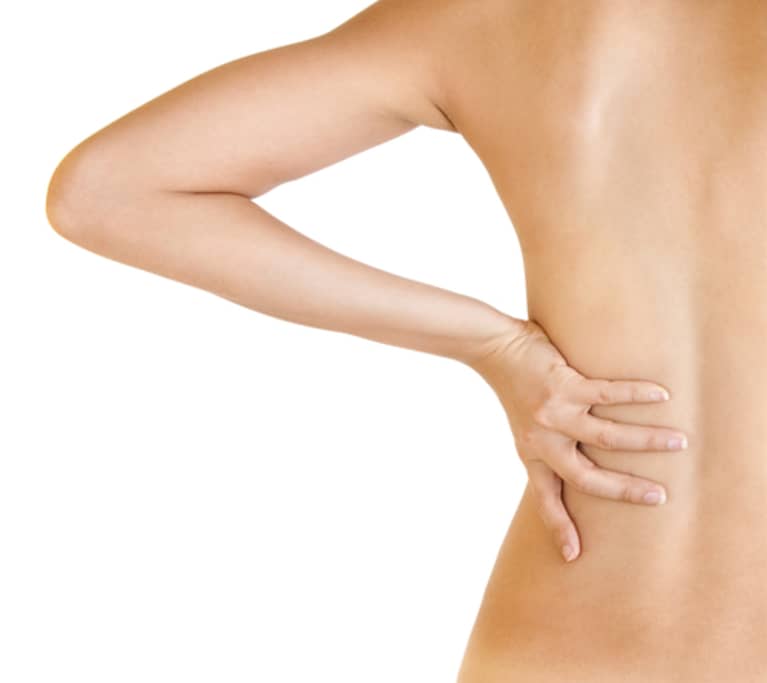 I am a busy working mother of two young children, a student yoga teacher, and (if I am brutally honest with myself) , a Type-A personality.
Come hell or high water I keep all my plates spinning.
Or at least I did until July when I injured my back.
Nothing serious, just one if those 'oh my little one weighs a lot more than she used to and I've carried her way too much today' kind of things.
While my injury was nowhere near life threatening and not even severely incapacitating, it threatened who I consider myself to be and hurt my ability to be it.
Looking after a 1 year-old and a 4 year-old without being able to bend over was challenging. I couldn't lift my youngest daughter in and out of her cot, car seats were also a no-no, so we were stuck at home. (Summer holiday days out? Forget those.)
My asana practice was immediately struck. What was hardest on my ego was my inability to even be comfortable in child's pose.
And as for all that constant niggling pain?
Well, let's just say I wasn't my usual shiny happy self.
Being a Type-A, I wasn't going to take this lying down! So, a week after my injury, I kept a commitment I had to walk 26 miles for charity. This slowed my healing down considerably. In fact, I didn't seem to be healing at all and my head was spinning for a solution.
You know that cobbler who always has holes in his shoes, right? Well, have you ever heard about the student yoga teacher who forgot to look inside herself for an answer?
Yup. That was me. So busy beating myself up over all the things I couldn't do anymore that I forgot that my Yoga was the best fix. (Doh!)
So I turned off my Type-A brain, turned on my yoga brain, and applied the Yamas, the ancient personal observances Patanjali gives us as the 1st limb of Yoga in his Yoga Sutras, to my predicament.
AHIMSA (non-violence): This was the most immediately obvious. By not allowing myself time to heal, I was causing more physical harm to my body.
SATYA (truth): At first, I found it really hard to admit I was injured. Once I started telling people the truth about my limitations, they came to my assistance and I was able to do fewer physical tasks than before.
ASTEYA (non-stealing): At first I dismissed this Yama as not being relevant to my situation...then I dismissed myself dismissing it and realized that by not allowing myself to heal, I was stealing timefrom my husband and time from my children. By stopping and allowing my body to heal, I would regain fitness faster and be able to reintegrate as an active part of our family.
BRACMACHARYA (chastity or continence): OK, so to be fair, given the state of my back, having a good old romp around the bedroom was not exactly at the top of my list of priorities. However the reason Patanjali prescribed continence was to preserve the precious energy our practice gives us. Preserving energy and not running myself into the ground was something I could learn.
APARIGRAHA (non-attachment): This is a Yama I come back to time and time again. I was WAY too attached to my asana practice. The universe has been sending me HUGE signs recently that I'm too attached to things and hurting my back was just one of them. Detaching myself from my situation and stepping away from it was the only way I managed to steer a clear path to healing.
Once my ego stopped shouting about how injured I was and how good I used to be, my mind went quiet and week by week I started to recover. I let go of being able to do everything, let go of the idea that I, "Mrs Yoga" didn't get injured and let go of identifying myself through my physical body.
It's been a slow process of healing and not without setbacks, but by using the Yamas, I am approaching the end of the year with a healthy back and a valuable lesson on how to stop, observe myself, and listen.