5 Tips to Savor the Holidays While Saving your Waistline & Sanity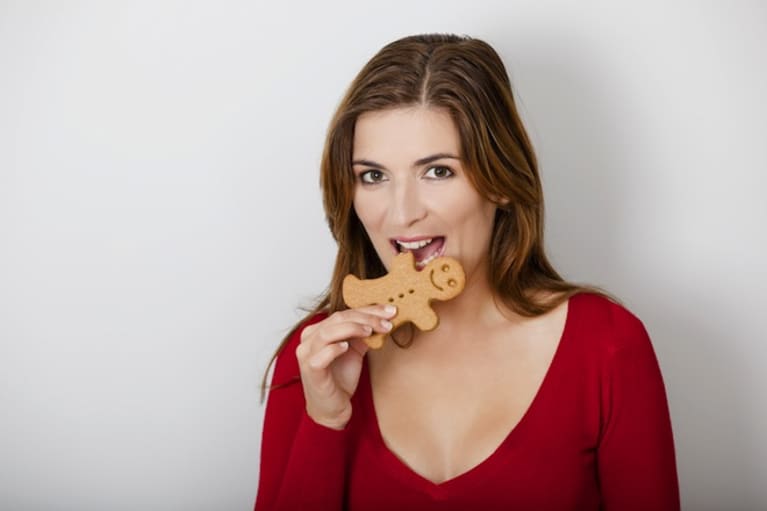 With loads of decadent desserts, wine and luscious leftovers at the ready, it can seem darn near impossible to maintain good eating habits during the holidays.
This is a conversation I have with every single one of my clients come November. They try so hard to eat well, then feel like it's all a waste once Halloween hits and drags them through Christmas and New Year's.
The key to savoring the holidays without a busted gut or losing your mind when Aunt Nancy asks AGAIN why you are single, is not to stick to salad then pound wine in the corner, but rather a gentle shift in perspective.
Often when we hit the holiday scene we shift into "all or nothing" mode. "Either I'm not eating sugar or I'm downing the entire tray of cookies," you think.
"If I have one serving of stuffing I might as well eat the bread, cheese and crackers too because my dairy and gluten-free goal is obviously shot."
You put yourself in a lose-lose situation where either you avoid the holiday treats and feel deprived or you eat it all and feel stuffed and guilty.
What if you went into your next holiday party with the thought, "My only intention for tonight is to eat what my body wants, listen when she's full and have a great time?"
These 6 tips are going to make this thought a reality. Over the next few weeks, give yourself permission to sit in the gray area of holiday eating. Have a touch of what really speaks to your body and leave the rest. With this mindset, you have the space to savor the holidays and save your waisting without getting psycho.
Pretty sweet!
1. Bring something you want to eat. 
Think about a dish that both your body and tastebuds LOVE. Roasted butternut squash and this tasty salad are two of my favs. Making something just for you guarantees at least one dish you can savor with abandon.
2. Join the One Plate Club. 
3. As an exclusive member of the One Plate Club, serve yourself everything you want to eat on a single plate and walk away from the buffet. No seconds or thirds. This will allow you to sip and savor everything without mowing through your first plate to fill up on #2.
3. Buffer your beverages. 
Yes, you can have wine, beer and even a fancy cocktail, all you need to do is buffer it with water. Going back and forth between a glass of water and your alcohol of choice keeps you included in the festivities without getting too intoxicated and forgetting about the One Plate Club.  Score!
4. Practice saying NO THANK YOU. 
No matter how insistent the host, do not bring home holidays leftovers. These foods are perfect for the day of, but only create trouble when eaten over the entire week.
5. Take every meal on its own merit. 
If you over eat or drink too much, acknowledge it as an occurrence for that meal and let it go. A single evening of overindulgence does not mean the entire week is shot. In fact, it's often a great learning experience to remember what does and does not feel right for your body.