5 Discoveries of a Psychotherapist Who Loves Yoga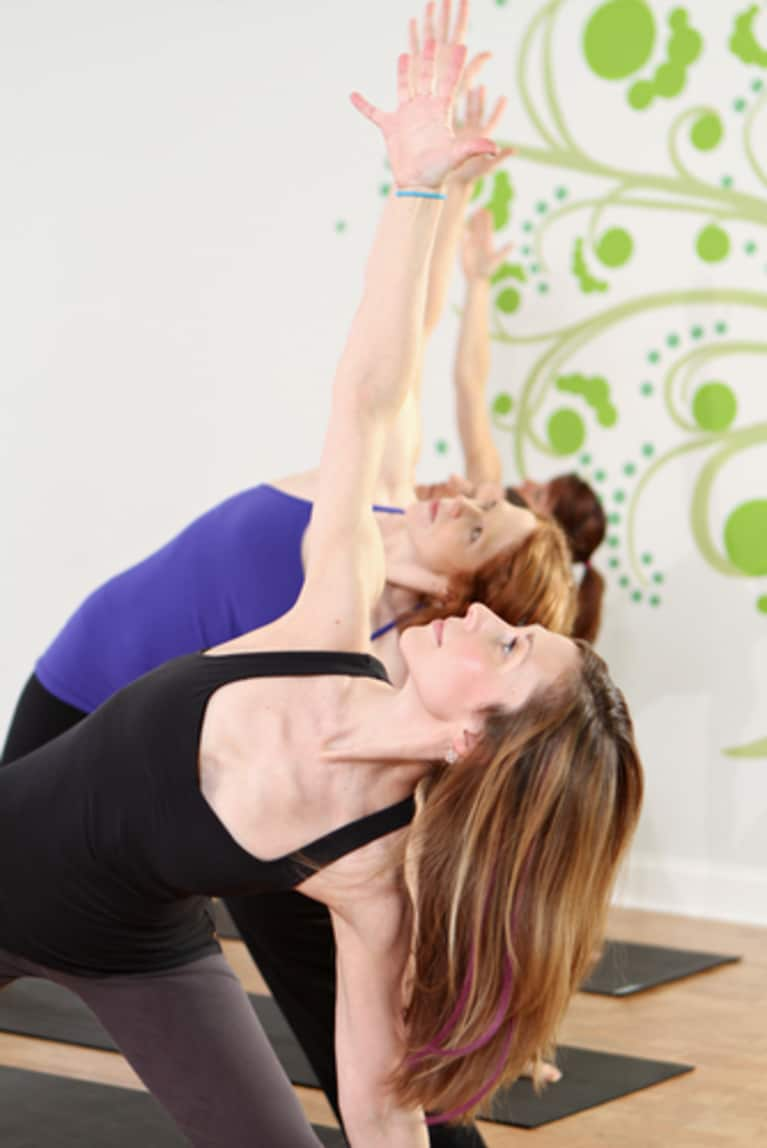 Caveat: I am not a yoga teacher or a yoga therapist. I'm simply a person who loves yoga and happens to be a psychotherapist. And, because of my profession, I sit across from people every day who desperately, desperately need yoga.
Yoga saved me.
It happened years ago on a chilly night in Seattle, rain outside, dot-com money gushing all over the city. I was a young punk who thought I deserved everything, but could not feel good for more than a moment. I constantly referred to my job as a "prison" and my life as "toxic." My mind was untethered, caught in the cycle of misery.
And then it happened: savasana.
My first yoga teacher was a traditional Hatha instructor whose classes opened my heart to a life lived with the breath, in harmony with myself. Yoga saved me, and then we parted for awhile. Over 10 years later my husband starting going to the 6 am "flow" class at our community center and finally, I found it again.
That was sometime last year.
Ahhh... It is like falling in love all over agin. Savasana. Standing strong in Warrior 2. Learning flow. It is wonderful. As I feel the goodness of my own practice coursing through my life and body, I find that I now cannot help myself: I feel compelled to pass it on to clients. This goes against many things inside of me that say, You're a talk therapist not a yoga teacher! You're not supposed to do that!
It challenges my whole sense of what I am "supposed" to do.
Or not supposed to do.
But when someone is sitting across from me, shaking with anxiety from head-to-toe, or who cannot concentrate for even a second because of all of the thoughts running through their head, I just have to get them up off the couch.
Sometimes it's just a minute or two of hands-over-the-head breathing, the very beginnings of moving body and breath together. Sometimes this leads to other simple flowing movements, closing the eyes and letting the body take itself where it needs to go. Often I reduce the movements to their most simple parts, trying to guide my clients into themselves through listening intently to the body.
And breathing...
Through this work I am discovering several things: 
1. Even very very simple movements of the body and breath can make a huge difference in someone's mood, and reduce anxiety significantly.
2. Most yoga classes are not geared in this direction.
3. There are two main groups who could benefit from a yoga class geared specially towards anxiety alleviation: (a) those with the physical fitness to benefit from intensive asana practice, and (b) those without.
4. Yoga is not a solution to life's problems. What it does is teach fundamental tools for the restoration of resource and joy in the mind and body. And, it is just damn fun.
I have recommended yoga *classes* to clients for a long time without much success. My lack of success in this has much to do with my approach I am sure, but it also speaks to an unmet need. And the possibility of beautiful solutions!
People in vulnerable emotional states are concerned about going to something public, something new, something unknown. I don't blame them, but I don't know where to send them. There is yoga therapy, but most of it (at least in Portland) is either geared towards the physical or offered as "therapy" in a 1-1 context.
Yoga has been such a part of my healing journey for so long that when people haven't discovered it, I want to grab them, put a mat under their arm, and say, "Go!"
But maybe this is their yoga right now. Maybe they'll never go to class or experience the thrill of asana.
Maybe that's okay.
I've started looking at what I'm doing in session as a bridge, hoping that increased body awareness and awareness of the good that it is doing will eventually unfold into a yoga class, or some practicing at home. In many ways, this just does not seem like enough. But, on the other hand, maybe it is. Maybe it's just right.
Oh, and one last thing: Yoga is being where you are right now, and then being there more.