When Your Glass is Half-Empty, Fill it with Gratitude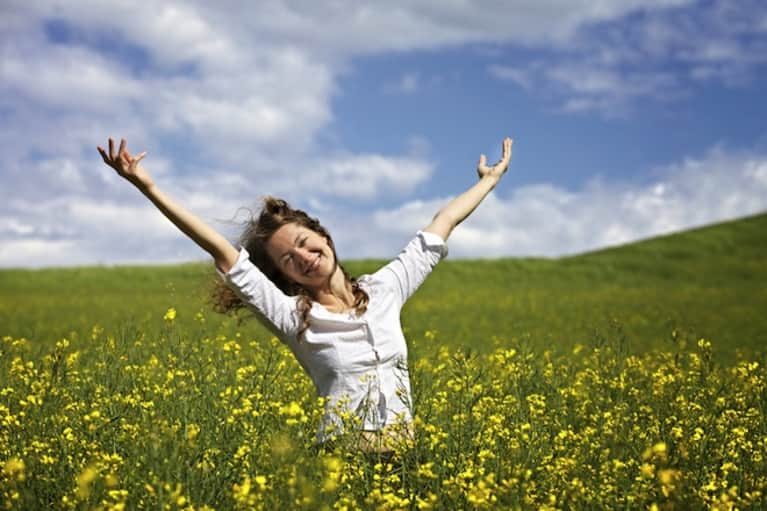 Last week I was in the children's ward of my local hospital, angry and frightened. My teenaged son was struggling with a chest infection.
Four days after admission, Timothy seemed to be getting better… but his oxygen levels weren't rising.
So I was worried about that, and tired from a lack of sleep. I was also aware of the sadness, fear and exhaustion of the other parents in the hospital, even though everyone was doing their best to hide it.
Amid these uncomfortable feelings, I suddenly remembered a little purse I carry with me everywhere.
I won this hand-stitched bag at a fund-raising event at my friend Jacqui's house, and had been tempted to re-gift it, but something stopped me. Eventually I found a use for it: I wrote inspirational words on tiny cards and put them into the purse to help with a book I'm writing on how to meditate intuitively. Whenever I wanted inspiration for my project, I could simply reach into the bag and pull out a word.
In that children's ward, writing was far from my mind, but I put my hand in the bag anyway, and pulled out a word, just looking for answers.
The word that came out was Abundance.
"That's the last thing I have right now," I thought to myself, sadly.
And then… understanding came like a ray of light.
I realized that I'd been looking at my son's illness pessimistically. I'd been viewing the world like a glass that is half-empty. It was time to reverse my thinking, start viewing life again as a glass half-full.
So I decided to appreciate the myriad ways that I enjoy abundance. I thought with gratitude about the oxygen that was helping Timothy. I felt thankful for the medical help, and the nourishment that he was receiving.
Like magic, the air around me changed.
I had several uplifting conversations.
After days of rain, the sun, amazingly, appeared.
Within 24 hours Timothy was discharged. He still needs a small amount of extra oxygen, but now I truly appreciate those beautiful molecules that are helping him to recover.
Life feels so much better, and I have learned this simple truth: when your glass is half-empty, fill it with gratitude.