5 Foods That Are Surprisingly Cheap, Healthy, and Easy to Make At Home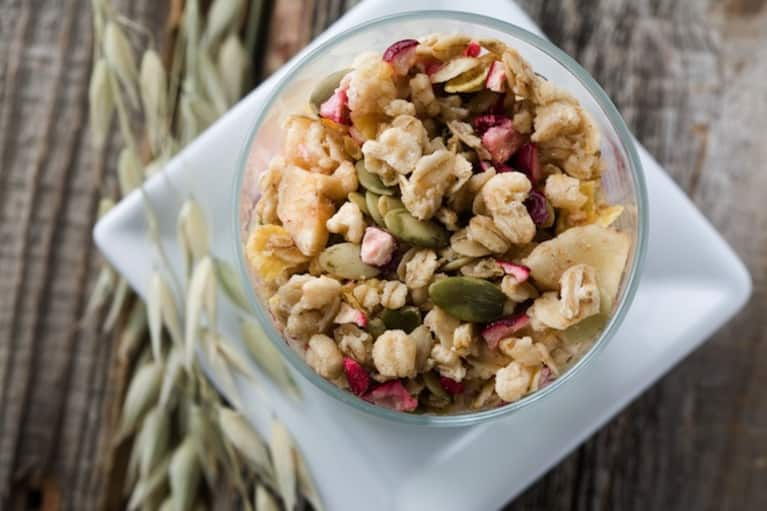 You probably know that finding the healthiest food in a supermarket means shopping the perimeter. But once you've loaded up on fresh produce, you're inevitably going to need to hit the center aisle for staples such as salad dressing and almond milk.
The good news is that these items can be made healthier at home without taking too much time or costing you too much money. Here are 5 foods to consider making at home:
1. Granola
Even a small bag of wholesome granola can cost a fortune and if you check the label, chances are you'll find one or two sweeteners included. Instead, shop the bulk bin for oats, dried fruit and nuts. Add some spices and bake your own batch to last all week. Here's a recipe for healthy granola.
2. Salad Dressing
A quick glance at the ingredient list on a bottle of salad dressing could leave you traumatized. That's because most salad dressings offer little nutrition and loads of artificial ingredients for flavoring, thickening and preserving.
Use a simple formula of three parts fat to one part acid, plus a flavoring to mix up your own concoctions. Get creative with whole foods, herbs and spices and leave the fake stuff on the store shelf. Here's a recipe for one of my favorite go-to salad dressings that tastes great on almost any salad, Dijon Vinaigrette.
1 cup Extra Virgin Olive Oil
1/3 cup Balsamic Vinaigrette
1 tsp. Dijon mustard more to taste
Pinch of sea salt and black pepper
Whisk ingredients in a bowl. Store refrigerated in an airtight container for several days.
3. Nut milk
Packaged nut milks contain additives like emulsifiers and even sweeteners to keep them shelf stable. The concept of making your own nut milk may sound time-consuming, but the truth is all you'll need is two ingredients (nuts and water), a blender and a strainer like a cheesecloth, nut milk bag or even an old pair of panty hose will do the trick. Here's how to make almond milk in 4 easy steps.
4. Veggie Burgers
If you eat a meat-free diet or are trying to cut back on your meat intake, frozen veggie burgers can be a godsend on days when you need a healthy, convenient meal. But the soy protein isolate and wheat gluten that give the majority of them texture and substance renders many of the processed patties far from "healthy."
Cook up a batch of your own using protein-rich legumes and aromatic herbs and spices! Then keep a handful in your freezer for those nights when you just don't feel like cooking. Try this recipe for chickpea burgers.
5. Protein Bars
For busy people, protein bars are a good solution for snacking on the go. They stash in a bag and can keep you satisfied for hours between meals. But most brands pack sugar and processed ingredients that make them more like a candy bar than a healthy snack, which is why making your own protein bars is a smart idea. Here's how to make your own gluten-free protein bars.
Let the kitchen be your playground! For any of the recipes, switch out ingredients and try new combinations to ensure you'll never get bored.