Love Yourself + Love What You Do + Love Others = Real Success and Happiness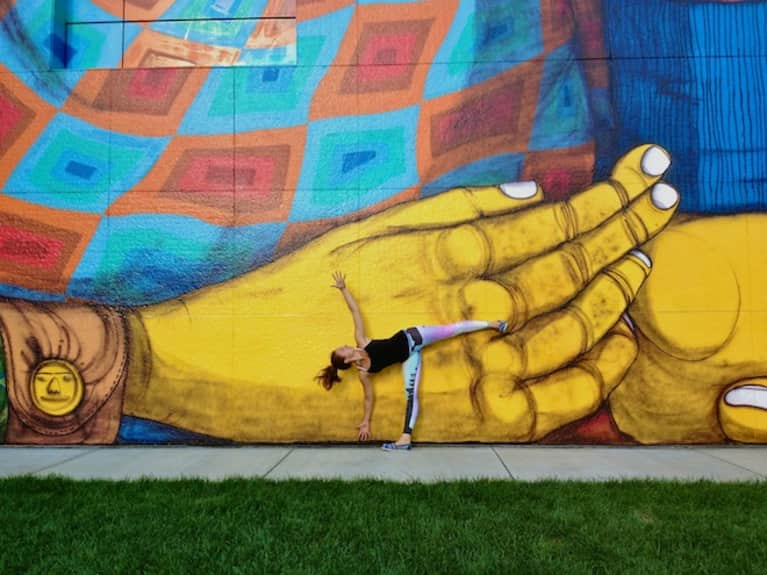 For many years I thought my strengths would be best suited to the field of law. During undergrad, I spent much of my time consumed by worry over my grades, and panicked about the impending doom that would set in once I graduated.
I was never comfortable with the unknown and more than worrying about whether or not I'd get into a good law school or become a successful attorney, I felt monumental confusion over what I really wanted to do, who I really wanted to be.
As an old soul from the age of three, I'd grown up with labels like go-getter and ball-buster, and all those phrases adults use to describe a small child who terrifies them. I was sassy, independent, competitive, and hungry. Always hungry. I'm still hungry. Never not.
Because of my argumentative and inquisitive nature, many adults joked that I should be a lawyer. And as I studied psychology and sought to discover the reasons behind my tendency to be driven, to derive my sense of self from accomplishments, I clung to my label. I still felt that law was the job I should do.
I should play to my strengths, make an above average income, make the family proud, etc.
My parents always told me I could do whatever I wanted to do, but what loving parent says otherwise?
So I grew up gradually building a fear of failure, fear of quitting, fear of amounting to nothing, fear of disappointment, fear of falling short of the expectations I kept with me.
Both of my parents insisted I relax in college, that I not take my studies so seriously. In truth, I was defining myself so strongly by my academic performance there was nothing left to show.
Where was my heart, my sense of adventure, my curiosity, my passion, my love?
It was squelched.
My heart was a voice I'd chosen not to listen to, especially after my first heartbreak, so I muted it altogether, and as the tension built toward my senior year, I was perpetually unhappy and terrified that my choices would lead to more of the same.
I knew I wanted to lead, I wanted to use my dynamic personality to connect and express myself, but I had no clue what path I should take. I just knew deep down that my labels didn't reflect who I really was. Not having the path laid out flummoxed me, I had no clue how to carve my own, let alone how to access the courage to do so.
Why was I so afraid to change my mind?
I didn't want to be a lawyer. I didn't want to work in human resources. I didn't want to go to graduate school just to say I did, just to give myself a leg up on a job I didn't want anyway. I had no interest in making tons of money or acquiring more assets, more things, more stuff. I had enough, but something inside told me I wasn't enough, and that hole needed to be filled. Sticking to my decisions validated me.
The problem was it validated who I was, not who I wanted to be. Who I wanted to be was enthusiastic, joyful, expressive, open, passionate. Who I was limited that exposure. I was 90% mind and so little heart.
I had loving connections with family and close friends, but just as I cut myself off from my own potential, fearing the unknown, I cut myself off from most new people as well, limiting the growth of my heart and my mind.
It was really when I moved to Italy for three years after college that I was able to create space, really breathe and feel without the influence of my past, that I realized what I really wanted to do. I missed practicing yoga and taking classes near my home left me yearning to live it more authentically.
I loved feeling creative in movement, always wanted to dance, but spent my childhood playing sports. Yoga gave me similar challenge combined with creativity and without the competition.
In doing more reading and introspection, I recognized how much I got in my own way, how much I allowed my old labels to define me. No one was forcing anything down my throat. If anything, those who loved me were encouraging me to follow my bliss, but there was so much noise in my head I couldn't hear the truth.
I became certified to teach Pilates that first year in Europe, met an Italian Hatha yogi, and that began a slow journey in the right direction. I still was hesitating, though, I spent many years in my 20s (and yes, even in the beauty of Italy) feeling utterly stuck, and in the few years following college, I had multiple crying spells after coming home from a dissatisfying job.
I was waiting for life to reveal answers to me instead of asking myself and the universe the right questions. What made me come alive? How are my unique qualities best used in this life?
I was doing myself and the world a disservice by living a half-assed life.
I felt so fortunate to be alive, to have the family and friends that I did, to have been given all the opportunities that I had, and the combination of guilt and confusion was crushing. I felt like shit. No better way to put it.
In practicing more yoga, reading Eckhart Tolle for the first time, I began to see the truth. The challenge and answer was in recognizing my own power to change it. I couldn't wait for the perfect opportunity, for a mentor to tell me the answers to my burning questions, for the world to rise up and provide me with my dreams. I had to listen to my own teacher inside, figure my dreams out for myself and find my own way to pursue them. There was no other way but within.
Finally, I quit my crappy job and decided to truly start teaching (Pilates, Dance and subbing yoga), to pursue further teacher training and even still, I had guilt in the back of my mind for potentially "wasting" my four years in school. I spent my first year after being trained stuck in a job I hated because I still hadn't located my courage to just Go, Do, and Be the person I knew I wanted to be.
I made the mistake Don Miguel Ruiz describes beautifully in The Four Agreements: I made assumptions, and I took things too personally. I left my dreams in the hands of others, really in the minds, because I feared the judgment I was placing on myself!
I was projecting my fears and expecting them to blow up in my face. All that resulted was a cycle of discontent with myself as a person and with my dreams as they stood still.
We all deserve better than this. We have one shot on this amazing planet. And we have no clue how long it'll last. Who cares if we succeed or fail? Most likely, if we dream big enough, we'll fail quite a bit. We'll learn and then we'll succeed even better for it. Authentic success is a progressive climb, a gradual build.
I love teaching and I'm no longer concerned whether I'm living up to old expectations, whether I'm putting my college degree to perfect use or whether I'm climbing a metaphorical latter to financial success.
In choosing to do something I loved that also scared me, I became free and light at the same time. Slowly I let go of my past labels, my impossible expectations, and my need to know where my life would be in 5, 10, or 20 years.
I was free to enjoy everyday, open to the possibilities of tomorrow. Truth is, I love teaching and writing so much that I have no intentions on retiring. I want to pursue my passions until the end, regardless if I need the income or not.
For those of you who spend much of your days wishing you were doing something else, wishing you were somewhere else, and wishing you were someone else, remember no one is in charge but you. You hold the key to your happiness.
Over time, we let mistakes, negative experiences, lack of support, failures, heart breaks, and other excuses keep us in a perpetual state of unhappiness.
We all deserve better than to hold our own bliss hostage because we are afraid. If we are unhappy day to day, someone is to answer for this. And that person is staring us back in mirror.
As C.S. Lewis once said, "You are never too old to set another goal or to dream a new dream."
What is it you've always wanted to do? What do you wish you were doing that you're not? What is it you truly desire? If money was no object, how would you want to spend your days?
Sooner or later the excuses run out and we're forced to answer to ourselves why the gnaw of disappointment and pissiness seems to pervade us. Even money does not matter. It's amazing how little we need and how much putting time and energy into what you love yields the same and often better results.
Follow your bliss.
You were born to experience life in the best way possible, through that intangible and intoxicating feeling of enthusiasm and to allow Love to pull you through the ups and downs.
The quality of your life and how others experience you is dependent upon you being yourself and living the life you desire.