10 Ways to Appreciate the Darkest Days of the Year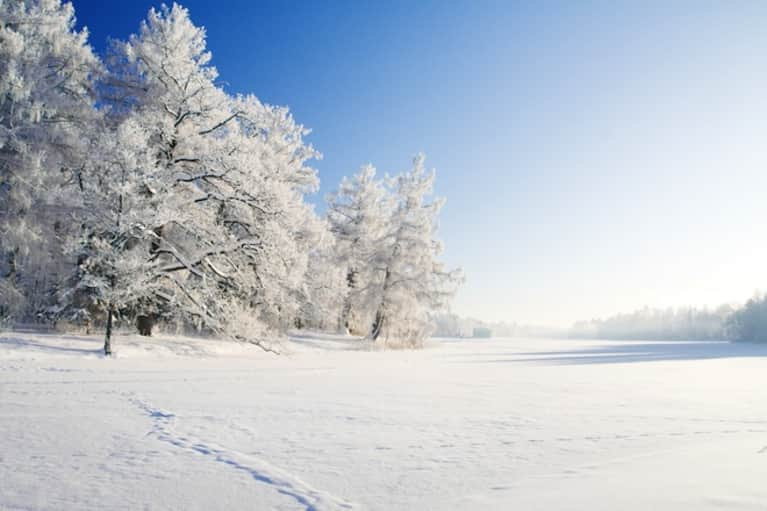 Now that it's almost winter, I'm reminded of just how hard it is to start the day in the dark and head home from the office in the dark. This is the time of year when my uniform becomes yoga pants and a flannel and I find myself neglecting my healthy rituals and opting for comfort food and sleep.
By the time the winter solstice nears on December 21st, which is the longest night of the year, we've already begun to experience the change of seasons happening all around us, even in our own behavior.
Although winter can take its toll, the solstice is often viewed as a special time of rebirth and celebrated as a prelude to the return of daylight in the coming months. No need to watch the sunrise from Stonehenge or gather your friends for a moon dance (unless you want to).
Here are a few easy tips to help you maintain your winter wellness, stay balanced and welcome the annual shift with open arms: 
1. Hibernate. 
The winter months are a great time to slow down and, well, hibernate. Just like animals, we need time to restore and recharge in preparation for the months ahead. Give yourself a break from the busy schedule to unwind and relax this winter. Your body and mind will thank you, and you'll have more energy come the New Year!
2. Stay warm. 
For most of us, winter usually brings with it colder temperatures and a need to bundle up. It's the perfect time to try out that new soup recipe – 'tis the season for legumes! Swap your usual kidney beans for mung beans, or experiment with fiber-friendly lentils. Cold weather also can weaken your immune system, so try switching from the usual hot chocolate to herbal teas, which offer a wide array of health benefits. Reach for elderflower or ginger when fighting a cold, or grab some peppermint to reduce stress or any of the rooibos (pronounced ROY-boss) blends for a dose of antioxidants.
3. Try a DIY project. 
By slowing down this winter, you're bound to have some free time on your hands. Of course there are plenty of do-it-yourself holiday decorations to try, but in keeping with the hibernation spirit, why not try something a bit more restorative? Try a homemade skin remedy, DIY lip balm or some cough-drop lollipops made with honey.
4. Get creative. 
You don't have to be an artist to ignite your creative spirit this winter. Vision boards and collages are an easy place to get started and offer a spiritual gateway into the things you wish to see, acquire or become. I finally got around to making one this year, and even some of the more obscure or random images I added to my wall piece are actually making sense to me now or have come true over the past few months. That law of attraction stuff really works!
5. Read a book. 
Enjoying a few days off from work this holiday season? Don't feel like leaving the house? Maybe it's time to finish that book on your nightstand. Whether you're into fiction, self-help or cooking, reading is always a nice way to unwind, have a little fun and learn something new.
6. Exercise indoors. 
Winter months can put a serious damper (no pun intended) on a running routine or biking schedule. But that's no reason to quit on your exercise regimen altogether. Commit to an indoor activity like yoga, dance or cycling, all of which provide a full body workout, strength training and a mood-boosting endorphin high.
7. Cleanse. 
Winter is the perfect time to commit to a post-holiday food cleanse, whether it's for a month or a few days, and get back on track with healthy eating habits. Consider purchasing a juicer for the New Year, which is a fun way to add more fruits and vegetables to your diet. Try a technology cleanse while you're at it by turning off your phone and other gadgets periodically and giving your mind a break from the outside world.
8. Express your gratitude.
Don't just save all the good stuff for Thanksgiving – share it with others every day! The holiday season is a great time to count your blessings and express extra love and gratitude with the most important people in your life, or maybe some you've just met. Practice saying thank you each day when you wake up – living in a state of thankfulness makes you a much happier person.
9. Meditate and reflect. 
Take some time to get centered and look inward during these slower months. The change from dark to light is a symbolic one which can be closely related to our own feelings prior to a new beginning. Practicing daily meditation will not only allow for deeper relaxation, but will give you more energy, awareness, focus and patience as you transition into a new season.
10. Set your intentions. 
List a few goals for the New Year and write out what you wish to accomplish or achieve in your personal and professional life. Winter naturally brings us to a place of completion and acceptance. It also reminds us that new opportunities lie just around the corner if we are ready and willing to stay true to our authentic selves.