Yes, You Can Learn to Love Your Yoga Sub (Hilarious)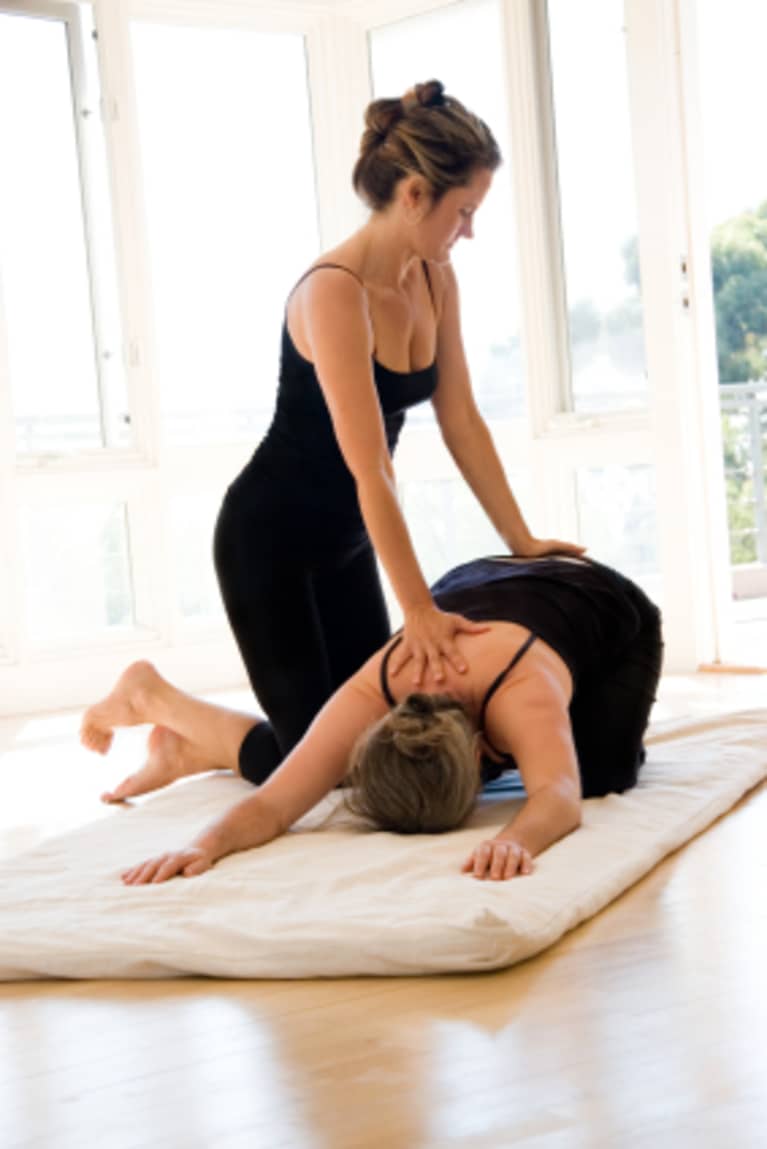 You're having one of those days where everything's going wrong and everyone's annoying you. All you can think about is the workout and relaxation you'll get from your favorite yoga teacher at your favorite class.
You arrive at the studio ready to finally let go of the day's stress, when you're told that your favorite teacher is not there. Instead, some unknown person will be teaching class.
You moan, roll your eyes, and think: who is this person who has just officially ruined my day?
That person is me.
In the past six months I've been a substitute yoga teacher at over 150 classes, often for star teachers far more experienced than I am.
I've seen about every student response imaginable.
I've had people walk out before even meeting me or leave angrily during the class in some sort of violent reaction to cat/cow.
They've stared me down with apprehension, disgust, apathy, and confusion. On the flip side, a few have looked at me with delight and pleasant surprise. Some have eagerly grabbed my card and stalked me from class to class.
You win some, you lose some.
Even though the majority of responses were positive, and helped me to eventually get my own classes, what I remember most are the few Negative Nancys who made for a less-than-happy experience. This advice (offered, I swear, with love) is for you.*
*in the spirit of full disclosure, I've needed this advice in the past
1. Stay Home
If you come only to see your favorite teacher and believe that what they say is the gospel truth, stay home – it doesn't seem like you want to learn from anyone else. If what you love is ashtanga or anusara and that's not what's being taught, stay home. Really, seriously, just stay home. If you have such strong opinions, hopefully based on some good teaching, you're probably ready to have a self-practice most of the time. Take the leap and trust your ability.
2. Be Open
If you've made it to class, be open to a new experience, not just on autopilot. This may seem obvious, but we can easily get used to a certain style and let our minds and bodies become lazy – routinely falling into patterned movement that may or may not be the best practice for us.
With a new teacher, pacing, language, and sequencing will be different and it may provide a shocking jolt to your senses. This can result in immediate skepticism and in some cases: outrage. Instead, try not to be unnerved by the difference. Revel in the opportunity to try something new. You may like it, or hate it. Either way, it's valuable information to see what does or doesn't work for you.
3. Be Kind
Shockingly, yoga teachers don't go into this profession for the big bucks. Most of us don't get paid very much and we do what we do out of love and a desire to help our students. So, when you're having a negative response to a teacher, which of course happens occasionally, hold back those eye rolls and heavy sighs and focus less on whatever is confusing or angering you and more on the teacher's intention, which usually is positive and compassionate. Let that shared emotion and helpful intention permeate your practice and improve a good class and ameliorate the effects of a bad one. I know you pay a lot at the studio door, but be kind. We just want to help.
4. Ask Questions
A pose has been taught in a way that doesn't make any sense at all to you. Or, the pace of that sequence seemed entirely strange. Don't just resist and grumble – question! See the teacher after class and ask why something has been taught differently than the way you know.
A good teacher will have a strong rationale that may help you deepen your practice or help you question your own habits and those of your regular teacher. Even if you stand by your normal ways, understanding your opposition is extraordinarily helpful.
**
The next time you see a different name on your yoga schedule, consider these four tips before, during, and after class to help you learn how to love (or at least appreciate!) your yoga cover teacher.
And if I happen to teach your class, possibly after getting a frantic call mid-morning while still in my pajamas, be sure to say hello.