Exercise that Replicates Life's Demands Could Add Years to Your Life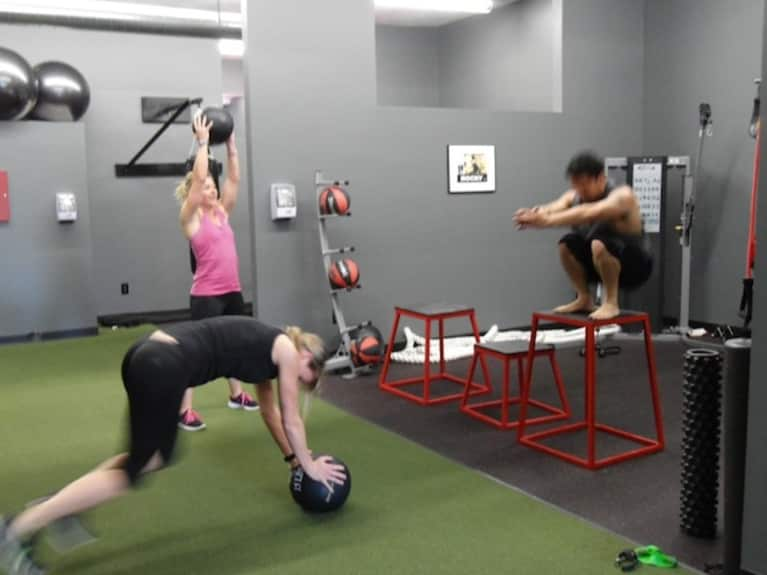 Today I lifted a giant, tractor-sized tire, bended over a heavy sled and pushed it while running as hard and as fast as I could, before jumping up and down onto a box—all within several minutes time, within the confines of VO2 Max boxing studio in Needham, Massachusetts.
If you think this sounds like an unusual workout, you probably haven't been to the gym in a while—or at least to one that's fallen in line with a new crop of gyms that are embracing functional exercise.
Functional exercise means that the exercise replicates life functions. For example, carrying two heavy gasoline jugs back and forth across the floor—not as easy as it sounds, believe me — is called the farmer's walk.
In traditional weight training with weight machines, the exercises isolated certain targeted muscles, strengthening those muscles, perhaps to the detriment of surrounding muscles that weren't strengthened, creating an imbalance.
With functional exercise, however, you are training the muscles to work together, better preparing your body for real life situations such as climbing, lifting and carrying.
In this new gym setting, there are ropes, rings, balance boards, medicine balls and heavy sacs. You may do traditional squats, but you'll also be swinging a kettle ball in the air using your arms and shoulders while squatting. That way you're integrating muscles throughout the body to work together.
Is functional exercise more intense and demanding? Yes, but it's also more fun. In a group setting, a camaraderie develops between people who have to run up and down stairs carrying two by fours together.
You also develop your core strength, and generally get stronger faster. Don't worry if you're not in shape to begin with. Exercises can be modified or enhanced in intensity. Proper form is the key to preventing injuries, so it's important to work with a knowledgeable trainer.
Gyms like VO2 Max, which also offers boxing classes, and Crossfit, which has sites all over the country, are examples of gyms that embrace this concept. But remember that any exercise is better than no exercise.
Research published last month shows that about 30 minutes a day of moderate exercise adds on average of 3.5 years of life expectancy.
In you step up the intensity, that translates to an average of 4.2 additional years. This study, published by the journal PLoS Medicine, drew data from six major study populations (632,000 people).
Need more motivation? Research also shows that regular exercise can:
Reduce infections. People who exercise get fewer colds. Even moderate workouts rev-up the immune system by increasing the aggressiveness of the various immune cells.
Help prevent heart disease. Exercise raises good HDL cholesterol, lowers blood pressure and reduced inflammation of the arteries.
Reduces stress. When I feel stressed out, going for a run or a brisk walk eases those feelings significantly. Research backs this up and shows that regular aerobic exercise lowers levels of the stress hormone cortisol.
Boosts energy. I have learned that my energy levels are significantly lower during those weeks I don't exercise.
So what are you waiting for?