7 Ways to Cultivate an Attitude of Gratitude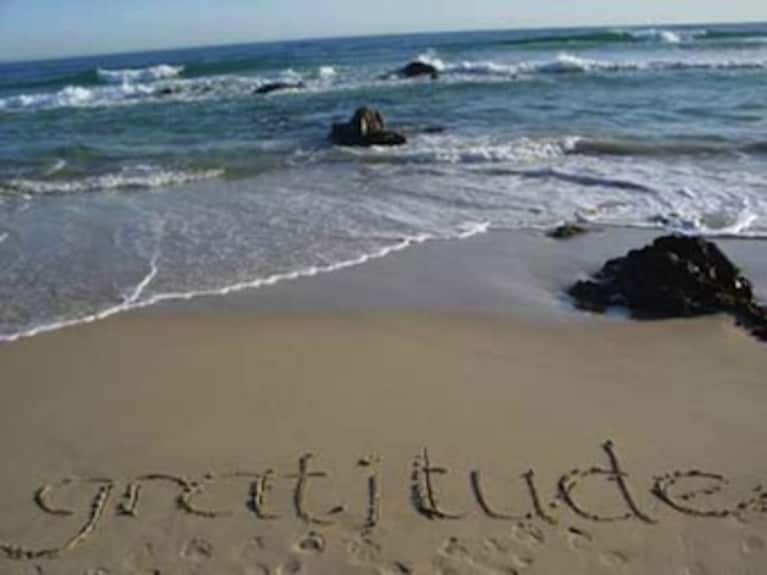 Cultivating an attitude of gratitude keeps you in the present moment and soothes your soul.
Look around you on a daily basis and notice all of the blessings in your life. Any time you feel blue, acknowledge the small things that make you happy.
Be grateful for the food you eat, a sunny day, a warm bed, a healthy body, the ability to smell flowers, a tender hug, a playful moment with your pet, and laughter with your family. Avoid concentrating on what is wrong and what you don't have. Let go of judgment and small irritations. Focus on the good parts when times get tough, on abundance rather than lack. Appreciate the beautiful moments. Your brain will shift gears, your heart will open, and the energy will begin to flow.
Below are seven easy ways to express gratitude during the holiday season and all year round!
1. Say thank you in a personal and purposeful way.
After saying your usual "thank you" to people in your daily life, simply add another sentence. For instance, you could say to your hairstylist, "You always do an amazing job on my hair but even more, you provide a relaxing environment for me to unwind, read something silly and feel pampered. I really appreciate you and look forward to seeing you each month."
2. Give an extra $1 (or more) tip. 
Whether you are tipping a server, the guy washing your car, or manicurist, give a little extra to show your appreciation.
3. Drop off food at a local shelter.
When you are at the market choosing foods (fresh or canned), say to yourself, I am so grateful to have the money to eat healthy foods and take good care of my body. I am thankful that I have a beautiful home to live in.
4. Remember to acknowledge the person closest to you. 
Sometimes you forget to express gratitude to the person who sleeps next to you. You can start a ritual of telling your partner three things you are grateful for each night before bed! This gratitude will bring you kindness in the days to come.
5. Express gratitude at meals. 
At the breakfast or dinner table, ask everyone to share 3 things they are grateful for in their lives. Speaking it out loud is very powerful. You might express your gratitude for each person sitting at the table as well. Be specific.
6. Offer to help. 
If there is someone that makes your life happier, healthier or more loving, offer to assist them in some special way. You might help them organize their desk, paint a room, baby sit for their child or listen to their new business plan. Make their day because they have made yours so many times!
7. Give to charity. 
"As you give, you receive." Go to www.networkforgood.org or www.justgive.org to look at thousands of charities that need our help and contributions. I love www.heifer.org where you can buy animals for a family in a third world country which helps them become self-reliant.