Crashing the Yoga Barrier for Men
Our editors have independently chosen the products listed on this page. If you purchase something mentioned in this article, we may
earn a small commission
.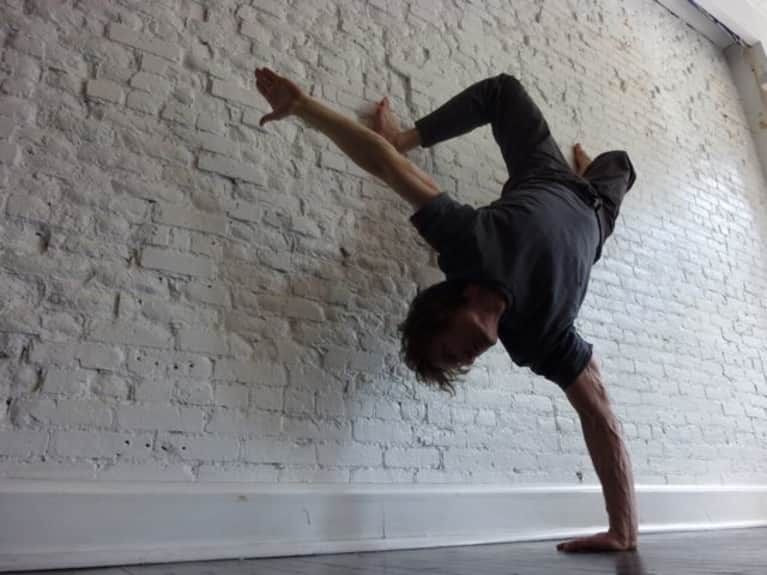 Yoga is great cross-training for our whole life—sports, work, relationships, health, and more. It's best if men aren't kept away from all the benefits because of some common misconceptions that yoga is "weird," or just for women and highly-flexible types. It's good for everyone, and everyone can do it!
Best poses for men
Men tend to gravitate toward the physically tough poses like arm balances and handstands. Those are great for concentration and strength. But the key to yoga is less in poses and more in movement. Yoga is great practice for learning to move capably, in any position, any situation. This is how we develop total body strength, flexibility, balance, calm, and focus all at the same time.
Often guys want to keep flexing where we're already good. If we have the power to run through a brick wall, we carry this into our yoga. We force everything in great feats of strength! It's a tough habit to let go, but a big benefit of yoga is learning to accomplish great feats with great ease.
Guys who emphasize strength all the time are best served by backing off a bit. We all get very strong through yoga, but with the right approach, it's a controllable strength easily guided in any direction, without all the resistance that goes with brute force.
Biggest misconceptions
One is that yoga is weird — for oddballs! The other is that yoga might give a good stretch, but we need to get strength and fitness elsewhere.
For the first, yoga is a health system. Its earliest forms came about at a time when health meant our Whole health. It was a time when we couldn't turn to surgeons or pharmaceutical dispensaries as a last resort. Yoga has evolved to match where and who we are today, but this basic principle remains.
So there's nothing weird about a system that gives us self-reliance and control over our physical and psychological well-being. No doctors required. True, some of yoga's teachers over the past few decades have been a bit strange, but the system itself is very straightforward and uncomplicated. It's not about adopting new languages, or anyone else's religions or philosophies — it's simply up to your own direct experience.
As for the second, you're your own best laboratory, so it's pretty easy to test this one. I've used yoga as my only cross-training for mountaineering, ski-touring, cycling, running, swimming . . . it works pretty well! Mostly it depends on how you yoga. You get exactly what you practice.
Obstacles
What if if I'm no good at it? I'll look dumb! I won't be the winner!
Well, it's true, you might not be the winner. But riding the perpetual motion machine (sorry, elliptical trainer) and lifting heavy objects repeatedly aren't exactly the coolest things in the world — they're just familiar.
Interestingly enough, if we ease off on winning and looking so accomplished all the time, we may wind up accomplishing even greater things with far less effort. Yoga has a way of strengthening our abilities across our whole lives. It's well worth putting aside a little control and giving yourself a shot.
Advice to get started
Fences aren't great places to sit for long. Yoga doesn't need to be intimidating or complicated. If you can't touch your toes, bend your knees! It's just you working with your own body and mind. It's just one class. Or one hour with the right DVD (of course I recommend This Is Yoga by Tara Stiles!).
Yoga opens up all kinds of great capabilities for us, whether in our athletic endeavors, our health, work, or relationships. And you don't have to take anyone's word for it. Yoga is 100% about your own direct experience. You'll know what it's doing for you right from the start, and chances are you'll be pretty happy about it!