Lose Weight Without Even Trying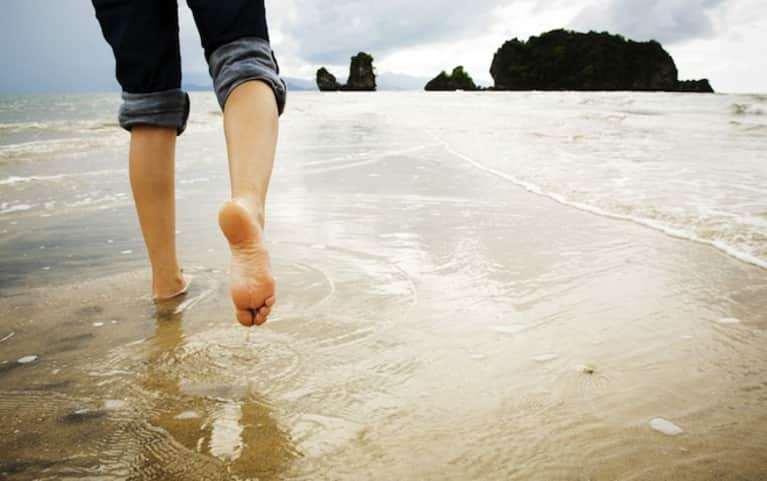 Once upon-a-time I was a size 18. I was a chubby child, and as I got bigger, so did my waistline. Throughout my teenage years, I watched on as my friends wore eye-catching clothes, parading their figures with pride. Meanwhile, I hid under large black coats and black trousers and black tops.
In many respects, my life was on hold. While my friends dreamed about school, boys and careers, I was consumed with low self-esteem. I tried every diet and exercise regime, and even considered cosmetic surgery. Looking back, I'm thankful I couldn't afford it.
One day, at the age of 21, I gave up trying to lose weight. I gave up caring what others thought and started eating what I wanted, drinking what I wanted and threw caution to the wind.
Then the strangest of things happened.
I began to lose weight.
Within a year, I had gone from a size 18 to a size 12. That was seven years ago, and I am still a size 12. Did I make any effort?
No.
So what did I do differently?
Below are some of the lifestyle and perspective shifts that helped me transform.
I began to accept myself. 
If I lose ten pounds then I will be happy. 
Sound familiar? This thought process can extend to all areas of existence, such as finding that perfect job or perfect partner. However, if you take a breath and know that you are great just the way you are, your anxiety levels will decrease. This will positively impact your digestion, decrease food cravings and results will be seen in your everyday being.
As soon as my anxiety decreased, my skin and hair improved, and my overall appearance changed. I began to glow. I started receiving compliments from friends and strangers which positively impacted on my sense of self.
Don't get trapped in the thought process of if I had... or if I lost ten pounds... etc. Know that who you are and how you look now is OK, stunning even. The false idols displayed in magazines are there to make you insecure. Because where there is a problem someone will have to BUY a solution. That is how the wheels of capitalism work, and why men and women are made to feel inferior so they will buy products.
It's a trap, and ultimately it isn't your size that is the issue but how you view yourself.
I ate.
When I decided to stop caring about my weight, I began to eat more. I was no longer worrying about every morsel of food that passed between my lips.
When I was heavier, I'd only eat once a day, a large meal in the evening, which I was convinced was fine because I hadn't eaten all day. I saw my friends eat regularly (often unhealthy food) and wondered why they were slim and I wasn't.
The reason is that my body was storing the excess calories because it was starving. Biologically it didn't have a regular eating pattern, my metabolism was shot and it was in survival mode. As soon as I stared eating breakfast my metabolism increased, and even though I was still missing lunch the extra meal made the world of difference.
Many people I know who want to lose weight cut meals, especially breakfast. Food is great and your body loves it so enjoy, choose healthier options (though don't beat yourself up if you don't) and know you deserve a treat.
I walked.
I hate exercise. The thought of going to a gym and running on a treadmill like a hamster on a wheel fills me with fear of impending boredom. I don't have a car, and decided one day to save on bus fares and walk more.
It can be a chore, especially when it's raining (and I know I sound like Gillian McKeith) but a twenty minute walk to the shops twice a week, a bit of housework with good music for company, taking the dog out or kicking a ball around with the kids will make a world of difference.
I don't exercise; I walk everywhere and I like to dance occasionally. Instead of reluctantly carving out an hour to watch that repetitive exercise video, just try and incorporate activity into your everyday life.
Along with having done something productive, such as tidying the shed overflowing with junk, or shopping in town instead of buying products online will marry a practical purpose with physical fitness. Also help the local economy!
I stopped worrying about sex. 
The good stuff!
I've heard all the complaints from my female friends about being 'on top.' Lots of women, including myself, have been uncomfortable with it due to the fact your partner can see all your bumps and belly folds.
However, according to Weight Watchers, you can burn over 144 calories in a half hour session! What a way to shift the weight.
People love confidence, and despite your gender what a great way to get a partner involved. It is also good at releasing stress and anxiety, (refer to #1) and can be a great route to self exploration, improving your relationship and building confidence.
Everything in life is connected in one way or another. Weight, health and happiness included. I know I could be a size 10 if I didn't drink beer, but I love having a pint so I am not going to deny myself for the sake of an inch-or-so on my waist.
It's about accepting who you are, and what you look like now. The rest will take care of itself.