A Surprise Heart Attack Drove Me to Yoga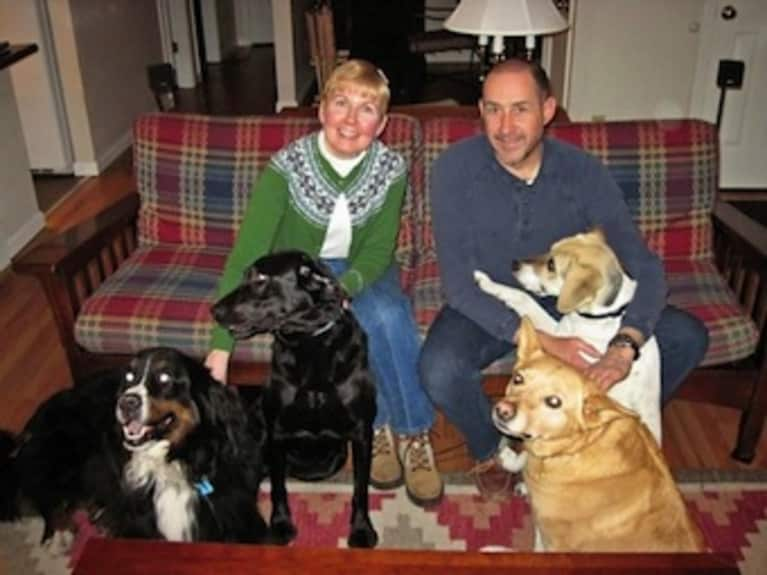 "Mr. Bicking, you had a heart attack."
These words came from the resident cardiologist in the hospital where I had just spent the night. I was completely shocked.
Heart attack, me? No way.
Until then, I would have bet money that the severe pain in my chest earlier that evening was from my sister's cooking. She'd made tacos for dinner…I figured it had to be indigestion.
"Who's your cardiologist?" asked the doctor.
My what!? I'd been an all-American runner in college, in decent shape for a 52-year-old man, and ate reasonably well. Of course I didn't have a cardiologist, I explained.
"You will now," he said.
Turns out that I had 90% blockage of the main artery and doctors had inserted a coronary stent.
I'd gotten a physical every year and, thanks to my genes, had been treating high blood pressure and cholesterol. Unfortunately, my main artery was not impressed that I'd always exceeded the target blood pressure and cholesterol numbers.
The silver lining to all this? The surprise of the heart attack made me realize that I needed to take responsibility for my own well being and changes were in order.
My cardiologist recommended I adopt a modified Mediterranean diet and get consistent exercise.
I assured him that I would make these lifestyle changes, but when he rolled his eyes, it was obvious that Doc had heard it all before.
My old diet consisted of your basic American staples: meat and potatoes, eggs, butter, ice cream, lots of salt, fresh fruits and vegetables, and too much processed food.
It was easy to improve by increasing the fresh fruit and vegetables (and including more organic produce) and eliminating eggs, butter, ice cream and salt. I also reduced my sugar (triglycerides) intake…no more soda or Gatorade.
I started eating whole grains and brown rice. Giving up simple carbs was a real challenge, but the rest of it wasn't so difficult. Turns out that food tastes much better without the added salt…..who would've guessed?
I learned that organic egg whites make a great omelette, as long as you don't get the pan too hot. I began planning my meals in advance and always have some handy. I freeze healthy burritos, homemade, low-sodium spaghetti sauce, and even make homemade electrolyte.
To my surprise, I could actually feel my body respond with increased energy due to the new diet.
(Though I still have cravings for a Philadelphia cheesesteak.)
I started working out six days a week.
My previous exercise routine had been running and strength training 30-45 minutes a few times a week. Problem was that the running caused enough aches and pains that it was easy to skip a day or more. I no longer have that luxury because the cardiologist stressed the importance of consistent exercise.
I looked into memberships at the gym and at the pool, but I can do gym workouts at home, and pools tend to limit the availability of lap swimming for adults.
Instead, I went way outside my comfort zone and tried yoga. In the back of my mind, I suspected yoga was physically too easy, but would help with flexibility and relaxation… You know, real men don't do yoga, and all that.
Core Power Yoga seemed like a good bet because it has two studios located near me and offers a free trial week. Core Power includes hot yoga, yoga with weights, cardio, meditation, nutrition, restorative yoga, and what I believed was a torture chamber in the studio basement when I first started.
This was an unfamiliar type of workout so I needed to prepare. I reviewed CorePower.com to find out the logistics….take a C1 (beginner) class to start, have a mat, bring a towel and water bottle, no shoes or chit-chat in the studio.
Got it.
I showed up in the studio with running tights (closest thing I had to what I saw in the pictures on their website) only to find out I'd read the schedule wrong and the next class was a hot yoga class.
No problem! How hard could that be for someone who is athletic?
I was about to find out that I had actually gone all in.
That first hot yoga class was so hard that I could barely keep my arms over my head for the Half Moon series. Sweat was pouring down my body… and that was before class started.
The heat and sweat reminded me of standing watch as a Navy helicopter pilot going through the Suez Canal in the summer.
The only thing that got me through my first yoga class was the desire to never again hear the doctor say the words "Mr. Bicking you had a heart attack."
The instructor Julia was so kind. She assured me that everyone who practices yoga had to take their first class sometime. (Sidenote: I can't tell my brothers I have a yoga practice, can we just agree to call them yoga workouts?)
But I kept going back.
Later, my wife told me my purple mat was a girlie color, so I purchased "metal" colored yogi toes. I previously assumed yogi toes had something to do with your feet
To help my yoga practice…ahem, workouts, I got yoga shorts with a "Z" emblem on the waist band, and wore them with the emblem on the front until I realized I had them on backwards.
Fast forward 100 days.
I discovered that practicing yoga is so much more than a great workout. Don't get me wrong, yoga has physically made me a new man. After taking off my shirt (I'm 30 pounds lighter), my wife asked…"who are you?"...it was a good thing.
On my recent doctor's visit, my cardiologist fell out of his chair…cholesterol: bad 45, good 41, total 103.
"What the heck are you doing?" he said.
"An hour of yoga every day," I said. (I'm also said I'm drinking 5 ounces of red wine, but I digress.)
I'm fit and toned. I have energy. I'm healthy in mind, body and spirit. My outlook is positive and relaxed.
I look forward to yoga practice….. every day.