4 Ways to Fall In Love With Your Yoga Practice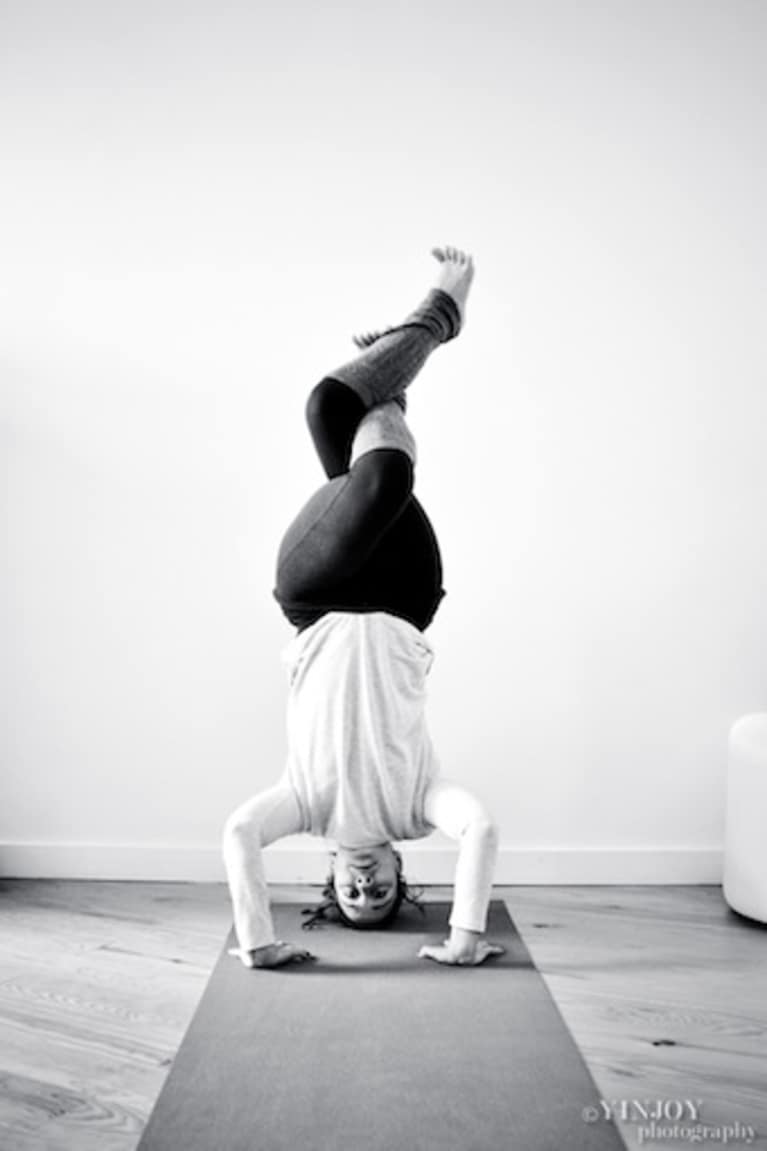 Yoga is a never-ending process. A pose is never truly mastered because it never stops growing and unfurling.
For me, one of the greatest joys of yoga is the discovery, the baby steps you take to get somewhere and yes, the journey really is worthwhile. And that only adds to the sweet taste of victory.
For instance, during the past week, I was deeply immersed in a yoga training, practicing every day for hours. Then one pose that I immensely feared seemed within my reach: tripod headstand.
For years, I believed my neck would snap if I got my legs up. But recently I gathered courage (probably I just stole some from my awesome classmates), and did it, and once I was up, I was up.
It was actually pretty easy to balance and look at that, it felt great! I was hooked. Tripod has become my new passion in yoga. I now do it every day and I'm starting to play with it, finding different variations and just having a lot of fun in the pose.
Go fall in love with your practice all over again. It's not really that hard, it just takes some heart.
1. Be present. 
In yoga, you have to be super present and mindful or it can go wrong very quickly (yoga injuries, anyone?). Stay with your breath and if it seems impossible today, just breathe into it, you'll have another day and another try.
2. Build strength. 
OK, so my neck wouldn't really snap, I know that, but I'm sure it helped a lot that I kept steady in my practice and getting stronger in my hands, arms and shoulders. I believe that foundation was really key to help me get up there. So keep your practice, it doesn't matter the poses you achieve, it matters that you're building this super powerful strength that comes from inside of you. And feel badass and empowered in your own strength.
3. Remember to enjoy your practice. 
Yoga is way too cool to be taken so seriously. Enjoy your breath, look within, and then vibrate from every pore and go deeper into the practice, expanding from that place of awesomeness that is you.
Play with your practice, explore your options, see what can be done, fall down, yes, but get up the next second and continue playing on your mat. Make your own practice juicy for you.
4. Seriously, go for a home practice. 
I cannot stress this enough. It is fundamental. There is no greater time to explore your body and your awareness than when you're at home. And no one can see your perfect little failed attempts. Yes, guilty of all charges. Go to classes and trainings and workshops and learn all the cool yogi tricks, and then go home and play, explore, dive deep and really learn how to be in your body.
Go for it. Right now. Go try something that has always scared you and then go celebrate when you achieve it and remember how sweet the journey has been.