Can I Wear Cowgirl Boots If I'm A Yogi?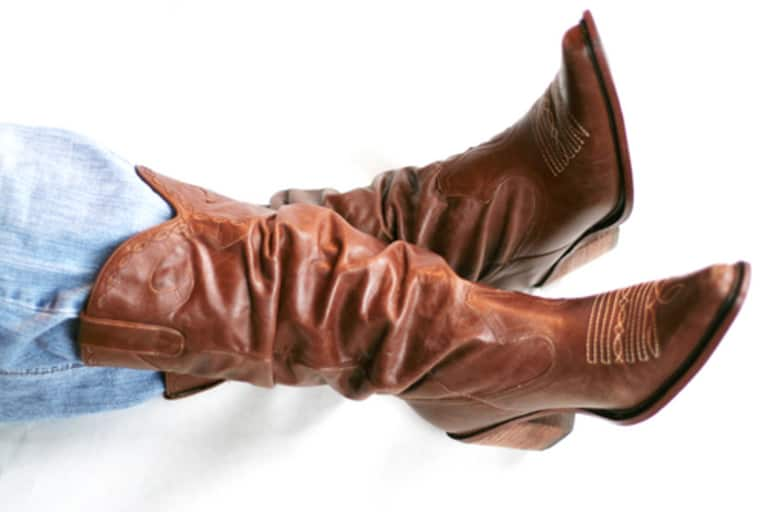 I love cowgirl boots: the soft buttery leather and those clickety clackety heels that make me feel oh-so-fancy. But I'm a yoga teacher. I'm a vegetarian.
I've been working my way to vegan for quite some time too, but I'm not there yet. I occasionally fall into a gelato or two.
I practice ahimsa, the avoidance of violence and the act of non-harming. I don't swat flies. I drive my son crazy by not squashing mosquitoes, either.
Being vegetarian is easy. The idea of consuming an animal is just not for me. And I'm not the sort to point out why you shouldn't eat one of our furry, feathered or scaly friends. That's your leather baggage, not mine.
I don't have leather furniture, leather jackets, or fancypants-leather-handbags.
But…
I really want a pair of cowgirl boots.
I live in Oklahoma. I love a snap shirt and a fringed skirt and I love how cowgirl boots make me feel.
So, I tell the hubs what "Santa" might want to bring me for Christmas this year. Yup. COWGIRL Boots.
So, we go shopping in Cowtown America, right here in big ol' Oklahoma City. I'm jumping up and down and clapping my hands at all the colors and styles and heels, and oh my! If cowgirl heaven exists, it's here.
And then the cute salesgirl wearing a ridiculously gorgeous pair of boots starts using words like "calf skin, ostrich, goat, sharkskin, lizard, snake, elk, crocodile, and… bison."
Ugh.
Those words just two-stepped me right into downtown Dilemma City.
I can think about ahimsa and parade around on my high horse in my own little mind about how I don't do this or that, but….how am I really going to feel wearing those animals on my feet?
And what effect do all those dead animals that we sit on and wear and we use to carry our oh-so- important-stuff affect our psyche in ways we can't begin to comprehend?
How do I, the vegetarian, tryin' to be vegan, ahimsa practicin' yoga teacher justify shopping, buying and wearing cowgirl boots?
I guess, like most folks, I'm pretty good at justifying just about anything my heart really desires. (Gelato, anyone?)
I think about the words of my teacher that it is part of our dharma to reduce the amount of suffering we cause in the world.
Hey! I reduce suffering! I reduce it a bunch, OK? Remember all those mosquitoes I didn't kill all summer? I should have some boots! Some really fancypants boots! Hmmm...maybe the red, handmade ones, with the little flowers all over them...
Sigh.
Right now, as I peruse all the lusciousness of cowgirl boots on the big ol' world wide web, I am feeling the pull towards the fancy pants boots.
But, won't I feel crushed every time I look at them? Will I think about that little goat or mighty elk, or my beloved bison every time I slide my feet into that soft, buttery, leather shroud?
I am a yoga teacher. I practice Ahimsa. I adore cowgirl boots.
Sigh.
A dilemma indeed.