How to Cut Down on Drinking During the Holiday Season (And a Plan B for the Morning After)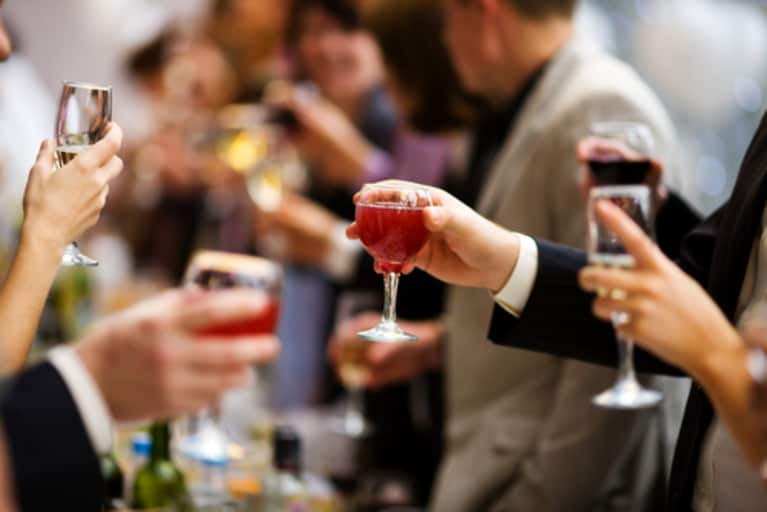 The holiday season is fast approaching with all the fun F's: food, friends, family, feasts, festivities and free-floating fluids!
However, it is easy to overdo it, especially when it comes to the food and alcoholic.
Here are my favorite tips for drinking less! 
Get a fancy drink
You don't have to sip tap water just because you opt out of alcoholic drinks. Try some of the staples like seltzer with lime or a dash of cranberry. Or go crazy and try some strong ginger with seltzer. Most bartenders are happy to make you a virgin cocktail and many of the fancy cocktail bars actually juice their own fruit and vegetables for their drinks. I've had great success with cucumber juice and lime. (So refreshing!)
Skip the bar crawl…
… and do something social that involves an activity! Go bowling with your family or initiate a game night! Take your date to a cooking class or go ice-skating or take your girlfriends to a round of karaoke! You're brave if you can sing sober.
If you are still going to drink, stick to one thing. 
Preferably it's a full-bodied red wine that you can't help but sip slowly. A pure, organic vodka with some soda is also a good go-to, without the added sugars!
Avoid people who make you feel lousy. 
Choose the company and settings that truly nurture you and is well worth it. Avoid people who make you feel lousy or the need to drink more in order to get through it and have a good time.
Eat! 
Skipping dinner and going straight for the booze is a recipe for disaster. You will likely get hungry later and without good options or good judgment intact, chances are you'll end up eating something you wish you didn't.
Alcohol also acts like sugar in the body and increases your blood sugar level without any fats and proteins to balance it out. What goes up must come down, and that is likely in the middle of the night! You might wake up and have your sleep disrupted. It will also cause real hunger and/or nausea in the AM.
Pace yourself. 
Alternate one glass of delectable wine and a glass of hydrating water. Not only will this slow down your alcohol consumption, you'll stay hydrated. Alcohol is very dehydrating so make sure to end the night with a big glass of water and start the morning with one too, to rehydrate and replenish.
Make the most of the night, keep yourself busy and socialize!
If you're busy getting to know new people, talking and laughing, you don't have that much time to down the drinks. Or even better, start dancing! No need to be clinging on to a martini while your doing the shuffle… And get your body moving, burn off some holiday calories and laugh.
Set an intention. 
Make a commitment and have a game plan. You know you can easily lose all judgment in the moment, so set a rule and stick to it. Keep the bigger picture in mind, whether that is your 8am yoga class the next day, a big meeting at work or a weight loss goals, understanding why you're doing what you're doing makes it so much easier to do it!
If all else fails, tell you're friends and family you're on a cleanse. 
Somehow it always works!
What to Do The Morning After a Big Night of Drinking (Your Plan B) 
Re-hydrate. 
Hydrate well first thing when you wake up. The lemon will help you wake up, boost liver function to clear out those toxins and hopefully you'll feel a little more fresh! Drink REAL coconut water - the kind that hasn't been pasteurized and still have all the electrolytes and potassium intact.
Rest up. 
Not only does you sleep get compromised by you staying up past your bed time, you also have a lower quality sleep when you have alcohol in your blood. So, the next day, allow yourself to take things a bit slow.
Have a good breakfast. 
Eggs are a great for breakfast after a big night out. They help keep your blood sugar stable, something that is crucial for even energy throughout the day. And, on a morning like this, your blood sugar is most likely low from all the sugar in alcohol.
Also, eggs contain an amino acid called cysteine, which is crucial for our immune system! If you'd rather go for a plant-based option, have some hearty oatmeal or chia seeds with nuts, cinnamon and flax seeds. And have it all with a side of cleansing green juice!
Give your body a break!
Wait 48 hours before you go out for another drink… I know - easier said than done, but I have faith in you!