Q & A with Rock Climber Steph Davis: On Yoga, Veganism, and Dealing with Fear
Our editors have independently chosen the products listed on this page. If you purchase something mentioned in this article, we may
earn a small commission
.
Name a mountain, and Steph Davis has probably climbed it with her bare hands.
In 2003, this superstar athlete became the second woman to free climb Yosemite's El Capitan in one day. She's also summited peaks all over the world, in places as far away as Patagonia, Pakistan, and Kyrgyzstan.
She's also a yogi, a vegan, an active BASE-jumper, and published author! We were thrilled to talk to Steph about how she stays calm under pressure, why she loves yoga, and how she stays healthy.
KS: I've heard that climbing is a mental game. What's your take?
SD: I think climbing is so compelling because it's demanding physically, emotionally and mentally, kind of like yoga. If any one of those elements is lacking, things become difficult.
Do you consider yourself an adrenaline junkie?
No, I think it's a stereotype of climbing and base jumping that it's all about adrenaline. I'm sure for a lot of people, that's the attraction.
For me, doing things that are high-commitment forces me to have complete focus, and I like figuring out how to do things well and safely, maximizing the enjoyment while minimizing the stress.
Surely your profession brings some scares. Can you talk about that? I'd love to know how do you deal with stress... Self-talk? Preparation? Good genes?
I really don't enjoy being scared, and I'm always trying to figure out how to do something that seems impossible in a way that actually feels good.
At this point, I think that if I'm feeling too much fear, it's for a reason—I probably don't belong there at that moment, and I need to listen to it. But I do work hard at not being controlled by anxiety or unreasonable fear, and I think as with everything else, it's a learned thing. Repetition and analysis (both before and after doing something) are really important.
I know you're an avid yogi. What first drew you to yoga?
I used to trail run all the time without stretching, and developed a lot of back pain from it. Eventually I started going to some yoga classes, and I discovered that it made me feel better and it also helped with climbing. I also started reading Light on Yoga, and the philosophy resonated with me a lot.
How does yoga help with your climbing?
Flexibility is always a good thing for any sport, and especially for climbing. When climbing, you need to find ways to rest (usually your forearms, but also shoulders, core and legs) during the climb. If you get comfortable with letting your muscles relax quickly in odd positions, it can help very much with recovering on a climb.
I do yoga every morning when I first get up, and I feel it loosens all my joints (there's lots of audible popping!). I'm in it for life, so I want to make sure my body stays as healthy and flexible as possible. I work with prAna, and they definitely understand the link between yoga, breathing, and sports that are perceived as extreme.
Can you talk a little bit about how you eat to stay nourished, strong, and lean?
I've been vegan for 10 years. I pay attention to protein—and by that I mean, I just think about making sure there's some protein in all my meals in the form of hemp powder, quinoa, beans, tofu, nuts, etc. I don't eat refined sugar, which is really important for staying lean.
But mainly I just try to eat a whole foods, natural diet. I don't really eat anything pre-made—my grocery basket contains mostly fresh vegetables and fruit.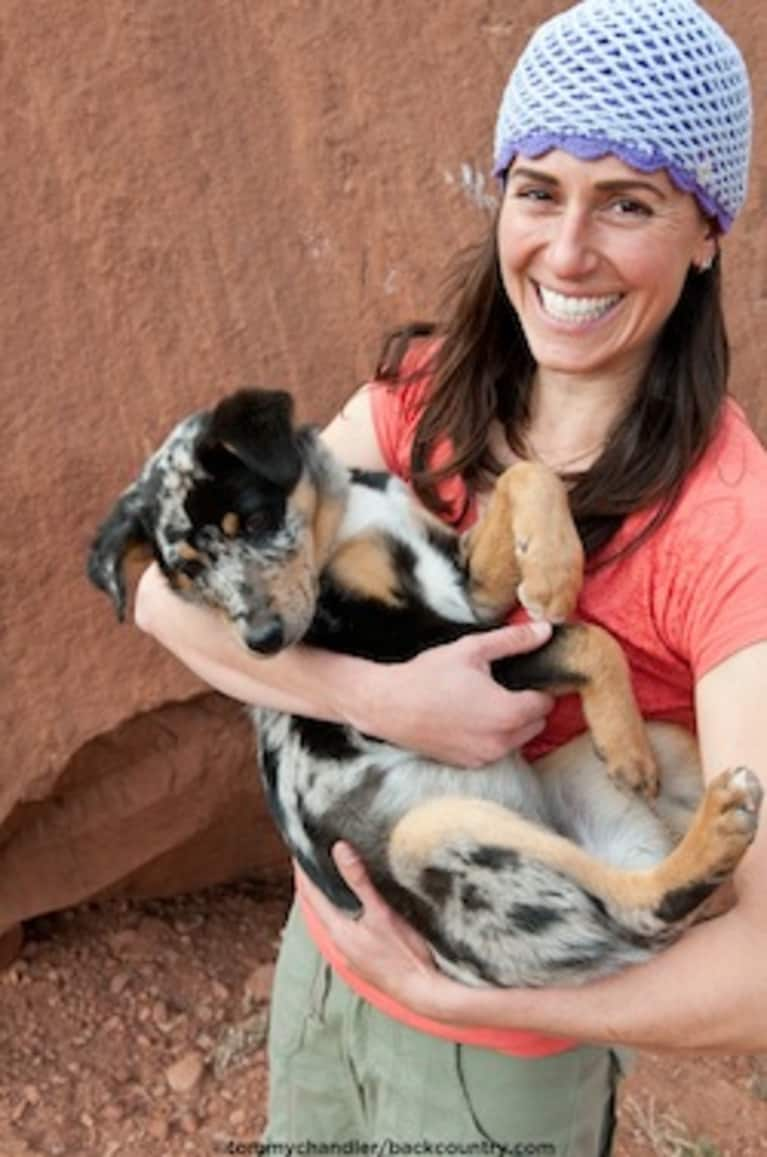 (For Steph's super-easy-to-make roasted butternut squash soup recipe, click here.)
How do you decide what mountain you'll climb next?
I always follow my motivation. Sometimes I'm more excited about climbing, sometimes about wingsuit base jumping, sometimes about climb/jump combinations. A lot of it has to do with the seasons also, and where I end up.
What would you say to someone who is thinking about trying rock climbing?
Climbing is very accessible nowadays: almost every town or city has a rock gym.
I would really encourage people to take a class at a gym, and then follow it up with taking a class outdoors.
To learn more about Steph, visit her website, or connect with her on Twitter @HighSteph
To see amazing footage of Steph climbing, and to hear her discuss her work and philosophy, click here.
Here is just one of the many videos with Steph from prAna: