Mama Glow: An Amazing Resource for Health Conscious Moms-to-Be
Our editors have independently chosen the products listed on this page. If you purchase something mentioned in this article, we may
earn a small commission
.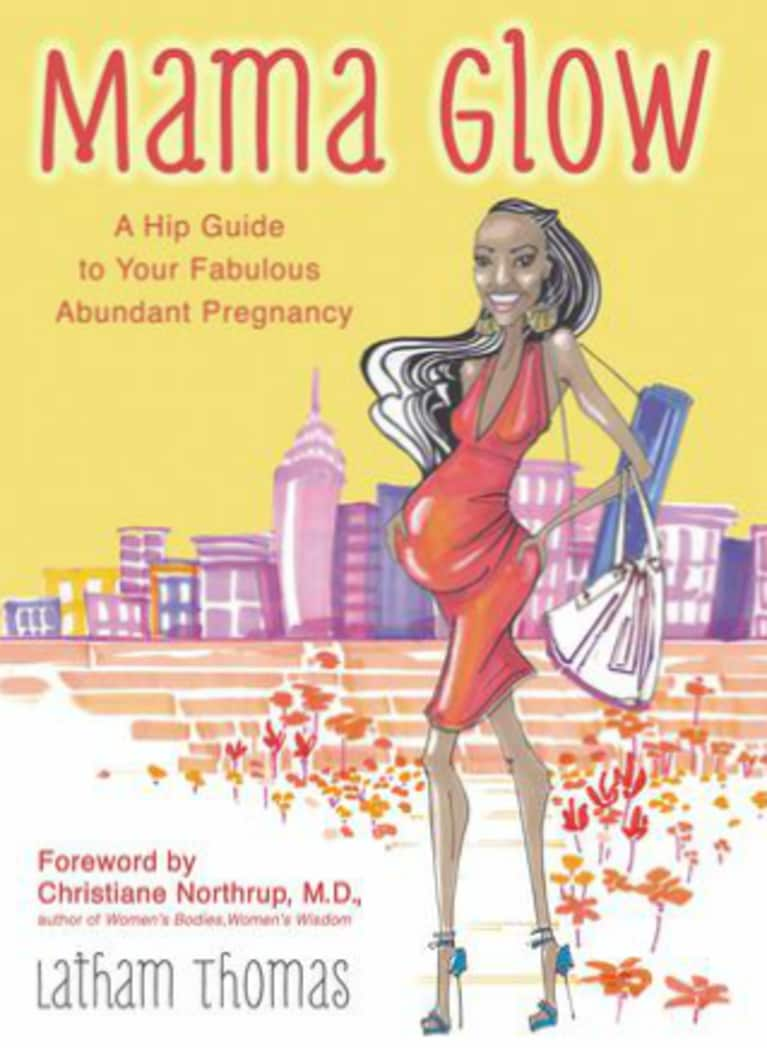 When I first heard Latham Thomas talk about her pregnancy and the birth of her son, she described it as a blissful, empowering experience.
Whatever Latham did to approach her pregnancy and labor, it clearly worked. Ten years after the birth of her son, she radiates strength, health, and happiness. And she's been this way since pregnancy, when she first learned to glow.
Latham has shared her tips in her new book, Mama Glow, A Hip Guide to Your Fabulous Abundant Pregnancy.
Whether you are looking to prepare your body for pregnancy or just trying to cultivate a healthier lifestyle, Mama Glow is a great tool and a fun read.
Latham covers critical decisions women face during pregnancy, such as whether or not to have an epidural, and if you should work with a midwife. She also explains issues that can arise during labor such as inductions, C-sections, and episiotomies.
Latham is a big proponent of self-care in all phases of life. Too often, women wait until they are exhausted to get a relaxing massage or to draw a bath with Epsom salts. When you are preparing for the marathon of labor, it's important to incorporate healing rituals into your life.
Much of her advice will resonate with women of all ages, even if they are not trying to be pregnant. Want to overhaul your eating habits to get that glow, but not quite sure where to start? Check out the chapter "In the Kitchen." Latham outlines what to buy next time you're at the grocery store. (For instance, if you're buying almond butter, look for brands that are organic, cold-processed, and unsalted.)
This book is a must-read for all women, and an inspiring guidebook to be your healthiest self. While pregnancy motivates some women to live healthier, women should treat their bodies with the same care even if they aren't preparing for a child.
Below are Latham's tips for optimal health:
Glow Guideline #1: Stay Fluid.
"It is water that energizes and activates the solid matter- our bones, muscles, connective tissue…"
Glow Guideline #2: Get Up and Go. 
"When you do what you love, you're happiest, and you'll be able to exercise without effort."
Glow Guideline #3: Eat Your Veggies. 
"You can't go wrong with powerful greens like lamb's quarters, watercress, mesclun, mustard, turnips, kale, dandelion, and collards."
Glow Guideline #4: Get Your Sea On. 
"You can get the sodium your body needs without the ill effects of salt by eating yummy sea vegetables."
Glow Guideline #5: Soak it Out. 
"To really do it big – glow-girl style- treat yourself to a nice scented candle or two, shut off the phone and the light, and relax in the tub for a minimum of 15 minutes."
Glow Guideline #6: Got Fat? 
"Fats and oils are not evil, ladies. In fact, they are necessary for a healthy pregnancy. High temperature processing causes the weak carbon bonds of the unsaturated fatty acids to break apart (especially omega-3 fatty acid), thereby creating dangerous free radicals. This means processed oils are damaging to the reproductive organs and can cause premature wrinkling."
Glow Guideline #7: Soy is your Frenemy. 
"Soy may be good for heart health, prevention of some cancers, and healthy bones, but it has been linked to allergies, thyroid issues, and negative effects on reproductive health."
Glow Guideline #8: Super-Food Me. 
"Cacao is the strongest antioxidant on earth; it relaxes muscles and builds strong bones and teeth. It contains more magnesium than any other food, helping to balance brain chemistry, regulate blood pressure, and keep bowels regular."
Glow Guideline #9: Cut the Crap. 
"If you have processed foods like chips, cakes, and cookies sitting around for "just in case," kindly collect them and toss them."
Glow Guideline #10: Call It Quits With Caffeine. 
"Caffeine is addictive, making it one of the most widely used lethal drugs. It can cause a number of health concerns, including interferences with iron absorption, increased heart rate and blood pressure, stomach irritation, and headaches."
Glow Guideline #11: Know Your ABC's. 
"Vitamins A, C, and E selenium are powerful antioxidants…. Folic Acid is a B-complex vitamin needed by to the body to manufacture red blood cells… Vitamin C is best taken in food rather than as a supplement."
Mama Glow on Amazon.com