Challenge: Stop Saying You're Busy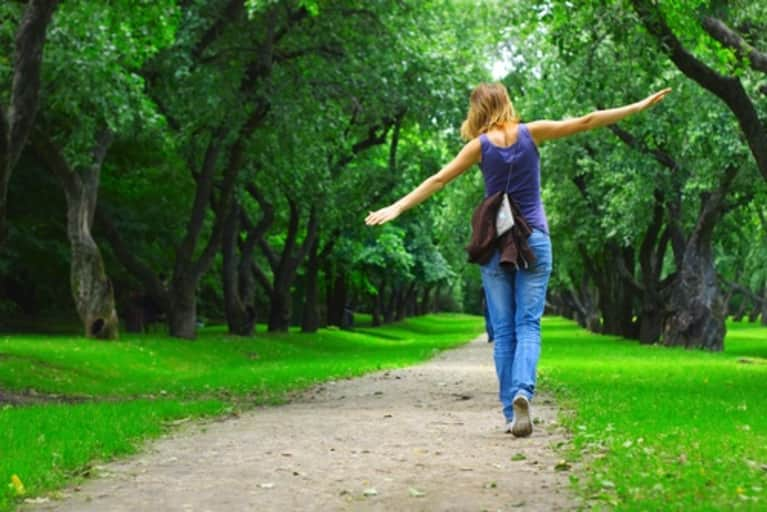 My challenge for the next 14 days is to notice every time I am about to utter the words "I'm great, just INSANELY busy…"
This is a complicated issue, and the specifics are unique to each one of us, but the bottom line is that making a habitual monologue about how busy we are lacks authenticity and gets pretty boring after a while.
I know how fortunate I am to have been born into a culture and family that gave me the advantages I needed to build a business and a career I love. The constant diatribe I go on about how busy am, is in itself, a luxury.
All my basic needs are easily met, so I get to complain about my over-scheduled days. I acknowledge, and am grateful for that. This said, it is time I examine my habitual responses.
My Wakeup Call
I was in the car this weekend with a friend and my boyfriend. When the friend asked how I was feeling about the 5K we were all running the following weekend, I automatically launched into my endless tirade about how I wasn't training because I was JUST TOO BUSY.
Smack in the middle of a sentence, my boyfriend spoke right over me and asked our friend how she liked her new neighborhood. Bless his heart, I don't think he even realized I was talking. He must have heard that rant so many times that it sounded like white noise.
And thank goodness.
Someone needed to shut me up, I was monopolizing the conversation, and boring even myself. It was as if the only way I knew to express my thoughts or interact with another person was to recite my schedule.
In My Defense
I am, ahem, really busy. I am a yoga teacher, and I teach 25 private clients a week. I run a full service private wellness business, providing in-home sessions of all kinds, to people in New York City and Washington, DC.
I mentor teachers privately, and run a group mentoring series on the Art of Teaching Privately. I live in two cities. I spend half the week in New York City and the other half in Washington DC, with wonderful and close social networks in both cities.
In My Prosecution
I do not have children (and parents of small children who work full time should just stop reading now. You are really busy, and you should vent about it as much as you need to. I can't even imagine…) I do not own a home, a dog, or a car, and my parents are healthy; I do not have anyone or anything that depends upon me for survival.
I have a full and abundant life, one I am very grateful for.
So what do I really mean when I give the stock "busy" reply?
I think I usually mean to say, "I am really happy, but pretty tired." Or maybe sometimes, "I am excited by how quickly my company is growing, but nervous I won't be able to meet the demands."
In a weaker moment, it could also mean, "I am really important, and I want to make sure you know that."
Some people might mean, "I should have said no, and now I need help," or, "I feel sad, overwhelmed."
In discussing our 5K race, a more honest response would have been, "I haven't made the time to train, and I am having trouble letting go of my own expectation that I can still run as fast as the rest of the group."
By investigating the impetus for the blanket response, we might learn something. Possibly we need to set more clear boundaries, make more time for self-care, or create space to nurture important relationships.
None of these changes are easy, but to start, we must first realize they need to be made. By answering the "how are you" question more authentically, we have a better chance at getting the response we actually (if subconsciously) need. We make deeper connections with our friends and loved ones, build stronger support systems, and maybe ultimately will end up feeling less overwhelmed.
I appreciate Tim Kreider's sentiment in The Busy Trap published in the New York Times this summer. He articulated well how our culture glorifies the over-doing of everything. Our similarities divide, however, when he says, "It's not as if any of us wants to live like this...it's something we collectively force one another to do."
I do deeply love every relationship, activity, and work project I have in my life.
In the last 24 hours of checking what is underneath my automatic thought pattern, I have seen that my drive and ambition have created a mountain of self-expectation I could go crazy trying to live up to.
I have a strong desire to affect meaningful global change, and that doesn't happen by being afraid to work hard, or even be busy. There is nothing I want to do less of, so as long as I am taking care of myself, my question must be, "how can I relate differently to my busy-ness?"
I want to relax into the full life I have created, ease up on myself a bit, and when asked "How are you?" give a real and meaningful answer.
Would you like to take this challenge with me? Tell me how it goes!