Beauty Products I Stole From My Italian Kitchen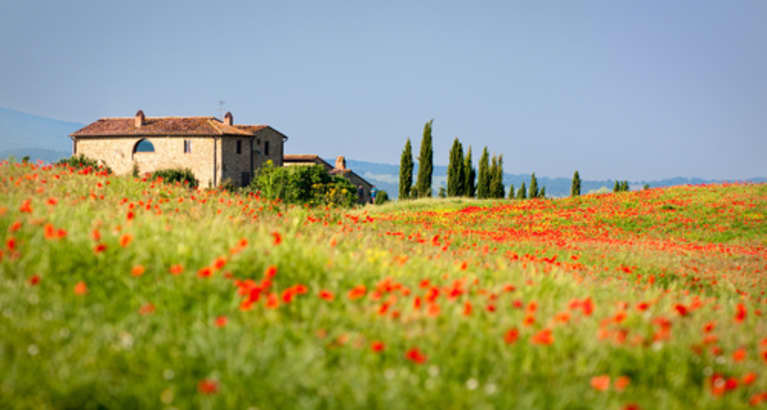 After two years of living in magnificent Italy, one of my favorite activities is still food shopping in the outdoor markets.
I am always fascinated by the beautiful and bountiful varieties of seasonal fruits and vegetables sold by passionate Italians happy to pick out for me the ripest eggplant and juiciest melon.
The only downside is that I tend to buy too much and not only does my bicycle basket overflow with the gorgeous produce, but I find I can't possibly consume it all before it turns bad.
But, now I have discovered some incredible beauty treatments from the leftovers of my weekly market run, as well as a couple of other goodies from my pantry staples.
Here are just a few of my favorites: 
1. Basil
Use as a natural, refreshing antiseptic:
Add 1 cup of basil leaves to 1 quart of water.
Simmer on low for 20 minutes.
Strain the basil water, let it cool and apply with cotton pad to wash the face.
The leaves can also be ground into a paste and applied to the face to help prevent pimples and reduce oiliness. Plus, it smells delicious!
2. Garlic. 
Perhaps it is best to try this treatment when alone as garlic doesn't have the most aromatic smell. But, garlic has well known antibiotic properties, which makes it an unbeatable remedy for acne.
Peel and mash a clove of fresh, raw garlic and apply to affected areas on the face, avoiding the eyes.
3. Lemons
These beautiful, fragrant yellow fruits are simply everywhere along the Amalfi Coast of Italy. And they are also incredibly versatile when it comes to health and beauty. One of my favorite treatments is using fresh lemons as a hair rinse.
Squeeze the juice of one lemon into a cup of warm water and then pour the mixture over freshly shampooed hair as a finishing rinse for shiny locks.
4. Olive Oil
Not only does olive oil help with a dewy, fresh complexion, ward off wrinkles and create lustrous locks, it also helps protect, soothe and smooth hands and nails.
Apply a generous amount of olive oil on your hands before bed, rubbing into the cuticles and around the nail bed. Put on cotton gloves, and go to sleep. In the morning, your hands and nails will be noticeably softer and smoother.
**
I bet your kitchen is already full of secret beauty ingredients for creating amazing treatments that are natural, simple to use, and maybe even better than what is already in your medicine cabinet!