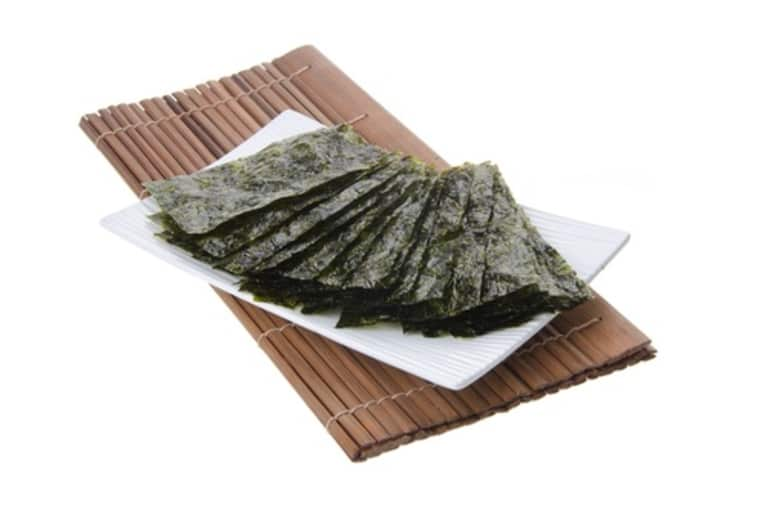 Can snacking actually help you lose weight? Potentially . . . if you're a smart snacker!
For some, snacking causes weight gain. (After all, snacks are a common source of extra calories!) For others, snacking is essential to maintaining high energy levels, and preventing over-eating.
Regardless, if you're going to snack, and you're also hoping to lose some pesky pounds (or simply maintain a healthy weight) then I highly recommend that you make your snacks count! There's evidence that certain foods support your thyroid and boost your metabolism, both of which are essential for healthy, sustainable weight loss.
Try snacking on these quality foods and support your body with losing those pesky pounds: 
1. Seaweed
Seaweed is not only one of the most nutritionally rich foods on the planet, it's also a wonderful source of iodine. Iodine is essential for a healthy thyroid and therefore, key to a healthy metabolism.
No time for sushi or fuss? No worries!
Try seaweed snacks, pieces of seaweed that are fried or baked to create crunchy snacks that are similar to potato chips (but even better because they contain less calories and are significantly better for you).
Consider making your own seaweed crisps or buy them at your local Korean market or online. Or snack on nori paper (easy to find at your local grocery store). You can also get creative—the sky's the limit on what you can roll in nori paper! Don't stop at fish and rice, try wrapping up hummus, veggies and beyond. Seaweed really doesn't have to be slimy, or complicated, it's actually tasty and fun!
2. Add some coconut oil to snack time.
Yes, the high quality medium chain fatty acids in coconut oil can actually make you leaner and more energetic. This fat can help burn fat off your body by revving your metabolism. Use coconut oil in place of butter, margarine and other oils. My favorite coconut oil snack? Kale chips made with coconut oil. Yummy! You can also try making popcorn using coconut oil instead of butter—a tasty tropical twist.
3. When it comes to snacks, copper and iron are better than gold. 
Simple snacks containing copper include cashews, sunflower seeds and oysters. To get a good dose of iron, look to snacks that include red meat (organic, free range jerky anyone?), beans and dark leafy greens (try my green smoothie recipe!). This is great for your thyroid.
Want to make sure that you're maximizing your iron absorption? Pair iron with some Viitamin C rich foods such as citrus, red berries, tomatoes and bell peppers. (Try adding some berries to your green smoothie.)
Happy snacking!
Not only will your body be thinking thin, but adding these healthy snacks into your diet will also help build your nutritional foundation, reduce your crazy food cravings and keep you satisfied throughout the day.
But don't forget about the importance of an overall healthy diet and exercise! Smart snacking is only the beginning of a healthy body and a healthy weight. Keep the healthy momentum going by checking out my free guide to listening to your body.