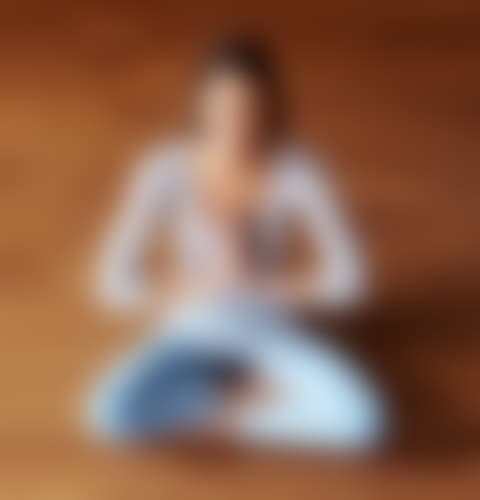 I love yoga. I talk about yoga. I teach
yoga
. I even write about yoga, but a month and a half ago, I pretty much stopped doing yoga. My red sticky mat became a place mat in my living room.
I was not injured. I did not take up a new hobby.
I'd moved. Yep, that's it, to a place filled with yoga, no less. I now live in a city that boasts a yoga studio on nearly every block.
After arriving, I promptly signed up at one and then showed up maybe three times in five weeks. I was in a new city with a new job and a new yoga practice also known as "no yoga practice."
Normally, if I missed a couple of days I'd be doing
vrksasana
while drying my hair just to get some yoga in, but this time I really stopped practicing. The fifth week without yoga was the end of the end of my practice for me. My
breath
was shallow. My shoulders were above my ears. My jaw was tight. Worst of all, I woke up in pain, as if I had run a marathon the day before. I had not.
So I made a silent commitment to myself to return to my practice when I thought it would be easiest, the weekend. I was determined to make it to class five to seven times that week. I think I hit four, but the following week I hit my
goal
. I felt incredible.
Sure, my practice was different. It was not better or worse, but it was not the same. Neither was I.
I knew I had found my yoga when after an intense evening hot vinyasa practice I woke up a few hours later for an early morning flow. I realized in showing up at the studio that I was showing up for myself again, and sometimes simply showing up is enough.
Here's how I hopped past my hiatus:
1. I examined my excuses.
I don't have time. I need to focus on work. I am tired. I am hungry. The studio is not close enough to work or my home. It is hard to find parking. The studio packs seventy plus yogis/yoginis in a class. The hot classes are too hot and too hard. The teachers are different. I do not know anyone at this studio. The ceilings are weird.
These were some of my excuses.
Hilarious, right? Well, it turns out I do have time. I can practice in the morning before work or I can work more efficiently during the day and practice at night after work. I can go to bed earlier and pack meals and snacks. The studio is not far at all. When I am practicing and breathing I am completely unaware of seventy other yogis/yoginis. The hot classes are not as hot nor as hard when I consistently show up. They are challenging and fun. My new teachers have new things to teach me. I can make new yoga friends. The ceilings are kind of funky.
Examine your excuses. Turn them on their heads and turn back toward your mat.
2. I committed.
I set a goal. I committed to revisiting my practice consistently for one week. I fell short showing up four times instead of five to seven as I'd planned, but that was four more times than I had been the previous week. The following week I hit my goal.
Set your
intention
. Make a commitment to yourself.
3. I found my power.
One of my lovely new teachers talks quite a bit about returning to your source. Your breath is your source. Your breath is your power. Your breath will guide you through the physical discomfort and mental chatter after an extended yoga break. Your choices are also your power.
Follow your breath to choose to go deep or to choose to soften. Listen inwardly for those cues. Choose to allow your return to your practice to be an opportunity to discover something new about yourself.