How Crow Pose Helps Me Check In with Myself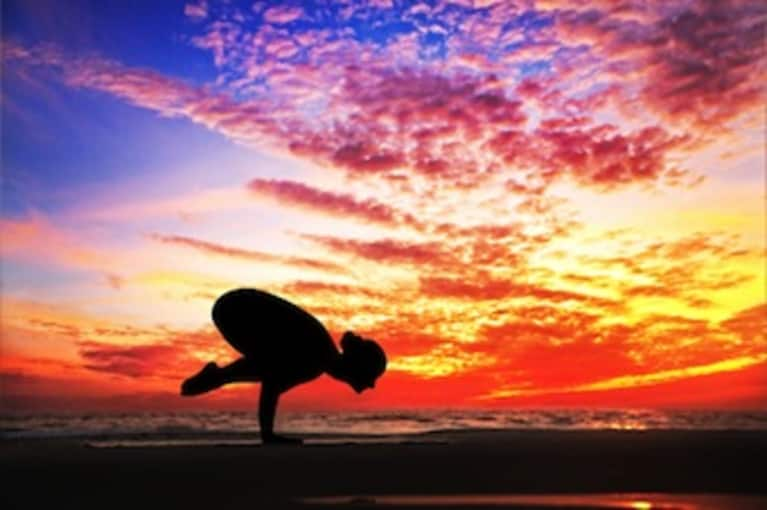 Crow pose is my nemesis. My first attempt at this pose ended with a face plant, one fat lip, and a very deflated ego.
I never quite got over that fateful day. No matter how hard I tried, or how much I strengthened my core, or shifted my focus to my feet or my hands, I could never quite master bakasana.
I realized this was good practice in dealing with the ego, but I was still not one to be beaten...
I wanted to nail that baby and float from the floor like all my fellow yogis. Class after class, I'd try and get a second of air time before I'd thud to the floor, bruising my ego but not my physical body.
In the end, I gave up. I decided that it was just not my thing and that bakasana and I were not meant to be friends. I'd stick with other members of the arm balance family.
However, one year later, I had shifted to a more gentle home practice from a strong studio class. I was paying more attention to mindfulness and breath, and one day I decided one day to stretch things out a bit and pay a visit to my old friend, crow pose.
I cleared my mind, focused my breath, shifted my gaze and (surprise, suprise!) my feet floated off the floor. I continued to breathe, trying not to let the shock trigger my mind into freakout mode, and I held that baby for a full 10 breaths.
I came out of the pose wondering what on earth had happened?
I knew that my core was not as strong as it had been in my studio days. How could it be possible that there was such a significant difference? My practice was softer, gentler and more focused on stretching as opposed to strength.
I thought about my life, and what was going on for me, I was in a space where I was strong and centred and grounded. I believed in my path and the choices I was making, whereas before I had been uncertain, unsure and often doubtful of my own ability.
I had floated up into crow pose that day because my self-belief was strong. I had confidence. It had nothing to do with my physical strength or stamina but my mindset had shifted. It was so clear. My physical body had not changed, but my beliefs had.
Bakasana is now my barometer. My check-in method with myself. Like a true best friend, it never lies, or covers up the truth, or tells you want you want to hear. It is in your face, blatantly honest.
"Today you are questioning yourself," or "Today you are centred and in your power."
Each day is different, but I have come to love and respect a pose that had once been my worst enemy.