How I Went From Never Playing a Sport to Being Addicted to Running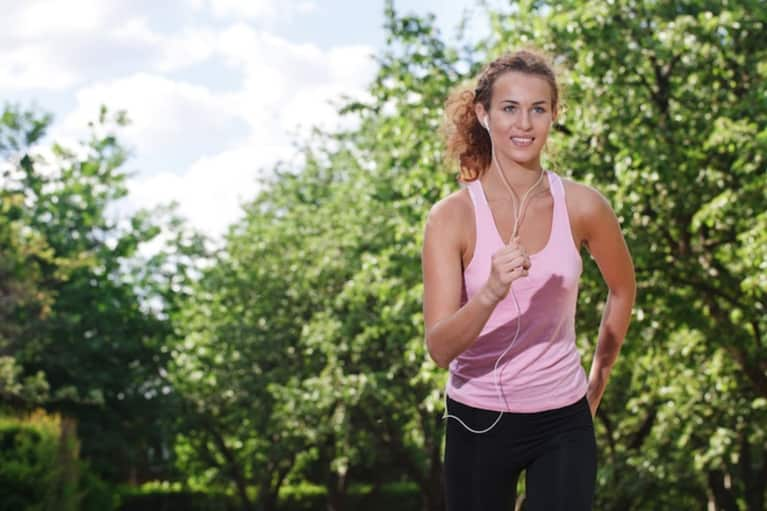 Yup, it's true, I've never played a sport in my life. When it comes to sports, I am eternally the little girl who awkwardly stood in the back during dodgeball games, carefully avoiding any actual ball to hand contact: awkward, completely lacking in physical aggressiveness, and just plain disinterested.
Now, the girl who never played sports, never had practice to go to, and refused to run the mile in gym class, is addicted to running.
Running snuck up on me. It started sometime in college, when, having quit ballet and taken up beer pong, it occurred to me that perhaps I should find a way to work out. 
I started occasionally going to the gym with friends and half-heartedly took a Pilates class. I didn't do much, but I did do, oh, about ten minutes on the treadmill.
At this point working out was just something I felt I had to do…not so much something I enjoyed.
Eventually I started going to the gym regularly, timing my attendance with new episodes of The Hills so I could watch on the elliptical. I started to love the post-workout rush of energy.
On Fridays, when I didn't have many classes, I took up running outside on a nearby bike trail. This was a turning point—when I realized that running was infinitely more enjoyable when done outside among the trees than on a human-modified hamster wheel. It only grew from there.
Running became a constant companion. 
When I spent a year living in Australia, some of the most vivid memories I have are of running. For a time I lived on the beach, and after work I'd run along the water as the sun went down, watching as the sky and the city were washed in shades of lavender and rose.
I loved the parties, the adventures, the days when I woke up in one town and went to sleep in another, but in these moments by the sea I felt an incomparable sense of calm. Running became a refuge, a reset button from chaos.
What is it that I love so much? I love the vigor of a good run, the feel of my blood rushing and my mind alert when I'm through. I love the way I can let my mind wander like a child as I go, free to explore hidden crevices until it tires itself out and becomes quiet. I love the easy rhythm I fall into, the pumping of my arms and legs taking me across changing landscapes.
Much like yoga, the mental and spiritual benefits rule. The physical effects are merely a bonus…as I believe it should be with anything you call a workout.
This year, I've even decided to abandon the gym altogether in favor of running all winter long. I never run with my iPod anymore, preferring instead the pounding of my feet and the rise and fall of my breath.
Four years ago, I wouldn't have believed myself capable of such a thing.
So if you're thinking about taking up running, go for it. Don't worry about your time, your pace, or your mileage. Those things will come naturally. Instead, slip on your shoes and allow the joy of running to slowly creep into your bones.
Stop when you feel tired. Start again when you feel ready. And most of all, enjoy it.