What I Learned From a Nasty Facebook Comment
Earlier today, as I was home with a cold, nursing it so I didn't have to relive the horror I experienced in Italy, getting sick like a dying dog.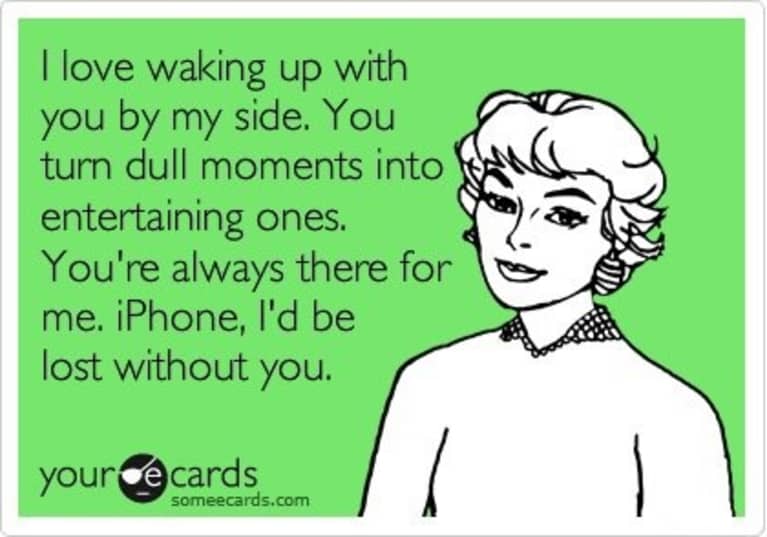 I amused myself by playing on the computer and reading. I found a funny E-card (a lot of them are really funny!) and it resonated me with (sadly) so I posted it. I thought it was hysterical.
It's pictured here, on the right.
Anyone who knows me well knows my slight addiction (okay, not so slight) to my iPhone. Needless to say, I thought it was cute and funny so I shared it on my Facebook fanpage, which, incidentally says Jennifer Pastiloff Yoga.
The irony of the story I'm about to tell is not lost on me.
Just this morning, I was once again fretting that my page with almost 7,000 "fans" says "Jennifer Pastiloff Yoga" and not just "Jennifer Pastiloff," as if the yoga part limits me. As if it will make me not a real writer, but a wannabe yoga teacher/writer. Once you get over 100 "fans" you can't change a name.
C'est la vie.
Except I obsess over it.
Like it matters.
(It doesn't. Not really.)
Anyway, occasionally I post a funny iPhone picture (see above) and this time, a girl who I've never met and who apparently lives in The Netherlands (I told the story in class and by sheer Freudian slip called it "Neverlands") posted under it:
OMG! You are too annoying and superficial to be a yoga inspiration.
What the what?
You are in my house, woman!
She is on my page. Why even comment? Don't like it? Ignore it. Don't like me? Don't like my page!
I looked her up and her profile had one quote. A Mother Theresa comment on love:
I have found the paradox that if I love until it hurts, then there is no hurt, but only more love 
Her religious views were listed as Love and Peace, written over and over again.
Where is the congruency?
Of course a few things happened inside of me:
1. I questioned myself.
Until I got how absurd that was. The fact that I was letting a woman (who knows if she is a woman? It could be a fake profile) whom I have never met, determine how I feel about myself.
2. I looked at where I'm not being congruent.
Where I am posting Love and Peace Love and Peace Love and Peace Love and Peace yet living Hate and Gossip? It was actually a little gift because I chuckled at her quotes, not because I was making fun of her but because I thought: we all do this.
To some degree, we all have discrepancy in our lives. Maybe not that big. Maybe you would never post on someone's Facebook about how annoying and superficial they are.
But still.
3. I defended myself and I NEVER need to do that.
Under the said picture I wrote
how important it was for you to have a sense of humor in my world and in my class bla bla bla.
The thing is, I didn't need to say that. Or think it. I was defending myself to someone who is not in my tribe, who in no way has any bearing on my life, who said something that actually has nothing to do with me.
4. I felt so happy that I am a kind person and that I attract kind people.
After she wrote that I wrote the following on my page:
Find Your Tribe.
You know, the ones that make you feel the most YOU. The ones who lift you up and help you remember who really are. The ones who remind you that a blip in the road is just that, a blip, and not to mistake it for an earthquake. And even it were an earthquake, they'd be there with the Earthquake Emergency Supply Kit.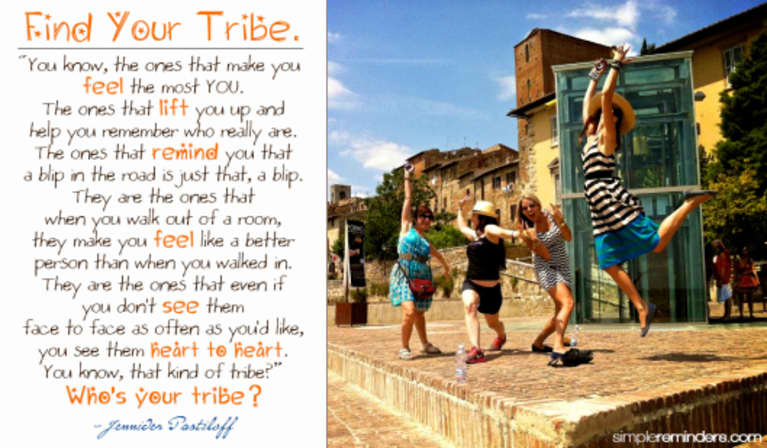 They are the ones who, when you walk out of a room, make you feel like a better person than when you walked in.
They are the ones who, even if you don't see them face-to-face as often as you'd like, you see them heart-to-heart. You know, that kind of tribe?
She is not in my tribe.
Why do we spend time on the people who don't like us? I certainly can't be the only one?
So I am happy she wrote that I was superficial and annoying. It made me dig deep.
As far as being a yoga inspiration? She made that up. I never said dem words!
As Wayne Dyer says: If you meet 200 people you will have 200 reputations.
I know who I am. That's all that matters.
I will tell you right now who I am if you tell me below. Will you?
Start the sentence with I am _____.
Here goes: I am compassionate, empathetic, sloppy, disorganized, witty, perceptive, pretty deaf, someone who loves sleep, wine and coffee, a yoga teacher, inspiring, distracted, a lover of her phone and being overly connected to a fault, loyal, sometimes obsessive, a healer, a connector, a manifester, authentic, nostalgiac, sensitive, moody and a writer.
Where can you own who you are and live with congruency? Take the challenge. I am.