7 Ways to Help Children Develop a Healthy Relationship to Food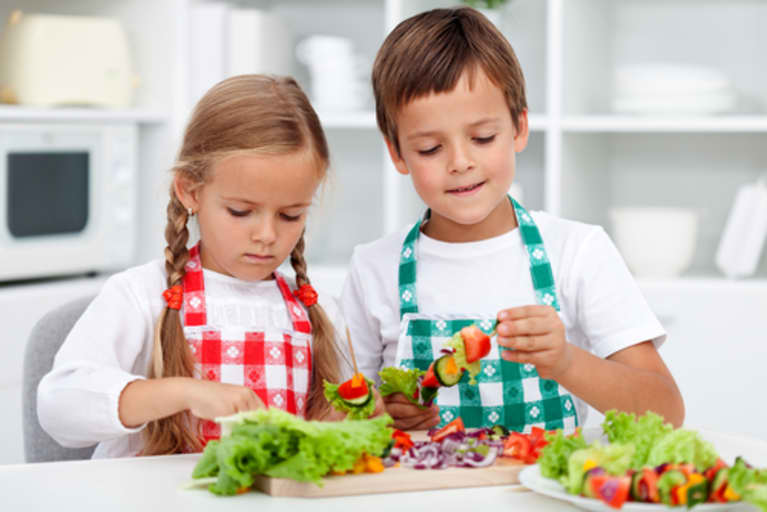 Having grown up overweight, I know what it's like to feel trapped in my body and tormented by the physical, mental and emotional distress caused from being heavy in a body-conscious society.
I abused myself with food and used it to avoid pain. In the process, I hurt myself and others. Food, weight, and body image issues destroyed my self-esteem and personal relationships for almost 20 years.
Growing up overweight in an "obsessed-with-thinness society" can often lead to feelings of embarrassment, isolation, sadness, loneliness, and shame. Many children feel as if they simply don't fit in. Even something that's typically fun for most children, like shopping for new school clothes, can be stressful and humiliating.
Feelings of not being "good enough" can lead to the need to win other people's love and approval. This can play out in friendships, early romantic relationships and can result in many self-destructive behaviors.
Frequently, being overweight can lead to an obsession with one's body and food, and extreme measures to lose weight can surface, such as unhealthy diets and obsessive exercise. Having a support system makes a big difference in a child's life and in combating insecurities and weight challenges.
There are a variety of things we can do to love, support, and assist children:
1. Demonstrate unconditional love and emphasize strengths. 
Remind your children how much you love them without attaching a "because" to your love. Give them praise and compliments that have nothing to do with their looks. Focus on the things they do really well and highlight them.
2. Remember excess weight is a symptom, not the problem. 
In graduate school, the facilitators always said, "Outer experience is a reflection of inner reality." It's so true! Whatever is going on with your child goes beyond willpower, eating the "right" foods and exercise. Those may be contributing factors and need to be addressed, but the problem is much deeper than what's on the surface. After all, health starts from the inside-out, and food often masks an underlying problem.
3. Be a positive role model. 
In addition to eating well and working-out, practice good self-care, balance and self-acceptance. Refrain from talking negatively about yourself and your body. Emphasize your strengths, and model self-love, joy and inner peace.
4. Add things, don't take them away. 
Rather than eliminating foods from their diet, start adding things: water, vitamins, organic foods, fruits, vegetables, homemade juices and smoothies, whole grains, healthier forms of sugar, exercise, nourishing activities, and supportive talks. When enough positive things are added, the unhealthy things start to fall away automatically.
5. Be a safe space. 
Ask your children how they feel and what they're thinking. Really listen, and be compassionate. Demonstrate empathy. Ask how you can best support them, and tell them you love them no matter what! Take the time to really get to know your children's inner world, and allow them to feel and express their feelings without interrupting.
6. Make fitness fun and explore passions. 
Instead of focusing on fitness to lose weight, emphasize health and pure enjoyment. Find activities that your children really want to do. If they haven't found what they enjoy, tell them it's OK and that it's a time of self-discovery.
7. Learn. Cook. Educate
If you don't know a lot about nutrition and cooking, you can check out cookbooks from the library or find resources on the Internet. Use this as not only an opportunity to learn but also as a way to spend time together cooking and trying new things. Learn to make delicious, healthy meals and "comfort foods," and then pass your knowledge on to your children. Make food and cooking fun – a source of enjoyment rather than pain and deprivation.
**
Changing habits isn't a one-time event. It takes time and comes in stages. The key to success is not giving up on children and helping them learn something from each experience: compassion for self and others, new skills and abilities not pertaining to looks, perseverance, dedication, commitment, and great self-care. Having a strong support system of loving, nurturing, supportive people is crucial.
Creating good health is a life-long journey and encompasses the mental, emotional and spiritual aspects in addition to the physical aspect. It's important to make the journey fun! It can be a time of bonding, healing and growing … a time of love, laughter, and healthy new beginnings.