5 Ways to Stay Healthy On the Road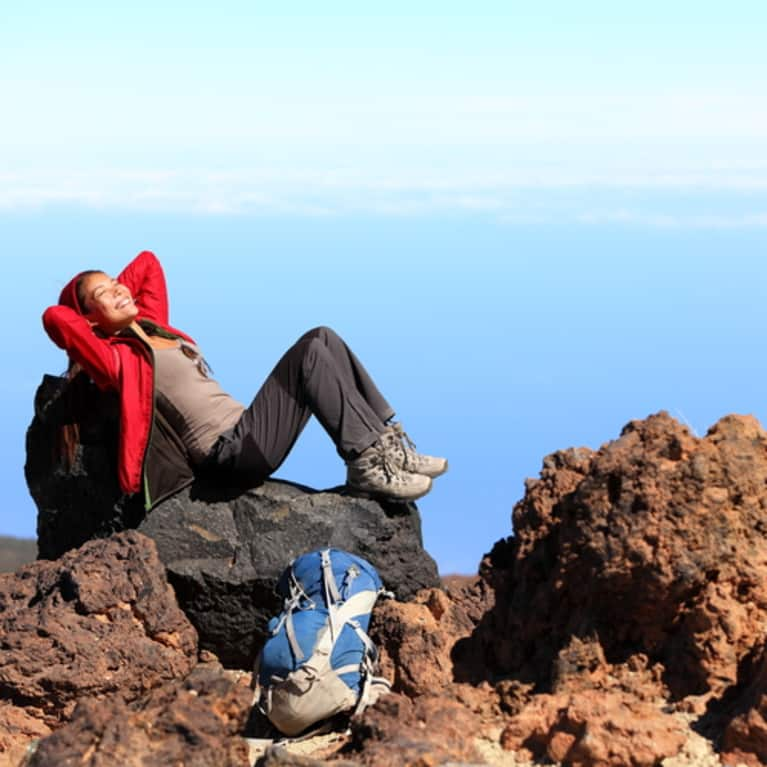 Today I've been on the road for 17 days out of a 6-month long journey. In this time, I have let go of my healthy routine from home, which involves green smoothies for breakfast in the Vitamix, lots of salads, 90-minute Bikram yoga classes, 6-mile runs in Central Park, and several bottles of supplements lined up on the kitchen counter.
I've had to create a more flexible healthy rhythm that can see me through train stations, bus stations, gas stations, airports, hostels and hotels, from Scotland to Sri Lanka.
I've figured out that I don't need such an elaborate routine to feel good.
Here's the bare minimum that I need each day to feel healthy and vibrant on the road:
1. Water
Water is number one! I purchased a 2-liter Platypus water bottle for this trip and every morning I fill it up and make it my job to finish it each day. Otherwise it's way too easy to get dehydrated, especially on airplanes. And dehydration leads to feeling tired, grumpy, overeating, and constipation. As long as I finish the Platypus each day, I'm good to go.
2. Exercise
Exercise also does wonders for my mood and health. My minimum is 20 minutes each day to keep the body in good working order.
Running is the most transportable exercise that I enjoy. I'm using the Vibram 5-finger shoes and all I need is a stretch of road to run 10 minutes "there" and 10 minutes "back." So far my favorite run was up and down big hills along the sea in Mallaig, Scotland. The least scenic was around a field in a park in London, but even that was better than nothing.
Yoga is my next favorite. I practice Bikram yoga and Sivananda yoga at home, and both have a set sequence of poses that are easy to remember. I can do the whole routine or an abridged version in any hotel room in the world. Of course, all big towns and major cities also have yoga studios where I can attend a drop-in class.
My favorite yoga pose for travel is called wind-removing pose or Pavanamuktasana. This pose helps digestion by massaging the abdomen and colon.
Here's how you do it:
From savasana, lift your right leg and hold 2 inches below the knee with all 10 fingers interlaced.
Pull the knee out towards the right and down towards your chest.
Hold for 10 seconds. This massages the ascending colon.
Now repeat on the left side, to massage the descending colon.
Lastly, lift both knees up towards the chest and grab opposite elbows, holding the arms just below the knees.
Hold for 20 seconds to massage the transverse colon.
3. Probiotics
At home I take tons of supplements from Adaptogens to Zinc. While on the road, I can't pack an extra suitcase for supplements, so I have to simplify my routine quite a bit. My must-have for travel is a good probiotic, especially for my time in India. A probiotic supplement provides friendly bacteria that can boost immunity and outnumber any bad bacteria in foreign food or drink.
4. Supermarkets
You may be used to eating in restaurants when you travel, but don't forget about supermarkets! Restaurant food can be heavy and hard to digest, with more salt, oil and bigger portions. I find it a delight to wander through local supermarkets and can easily pull together a simple meal.
I've picked up apples, peaches, bags of pre-cut veggies, yogurt, nuts, sandwich fixings, and pre-made soups. I also grab a jar of gigante beans if I want to boost my protein for the day. This is a great way to save money, get a taste of how the locals shop, and be able to maintain healthy habits from home.
5. The 3 S's: Sleep, Splurge and Savor
Even though your routine may go for a toss while traveling, it's a wonderful opportunity to get some quality sleep. To splurge "when in Rome" and have that pizza or gelato, or both! And to slow down your pace and truly savor each bite and each moment.
**
Please share your suggestions for staying healthy away from home, and happy trails!