Mother Knows Best aka Yes, You Should Clean Your Yoga Mat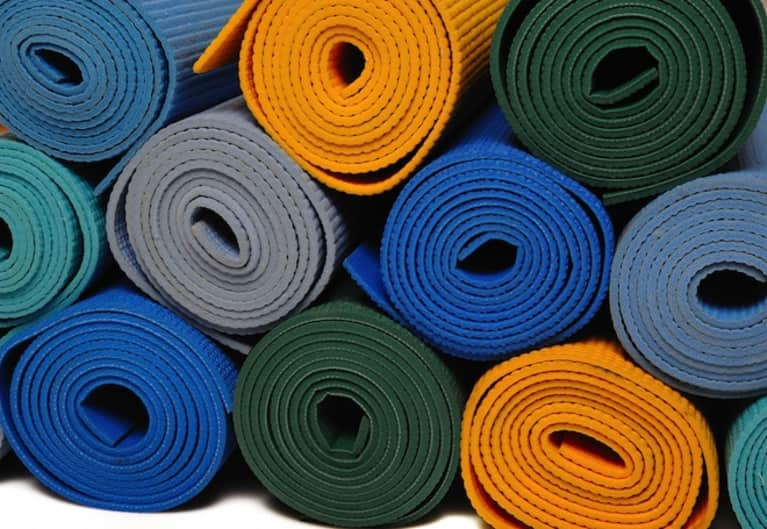 My mother is 78, still reads the newspaper, watches a lot of daytime talk shows, and calls me daily with some form of wisdom gleaned from these sources. She feels the need to alert me to pending bad weather, how not brushing my teeth can cause a heart attack, and anytime Harry Connick Jr. is going to be on TV. (Swoon!) Recently, there has been an insurgence of calls from her regarding yoga.
Yoga has become so mainstream in the U.S. that even my mother is swept up in the sensational media stories that ring of urban legends. Last week she called me with the urgent news that I better be careful because my yoga mat is swarming with all kinds of germs and bacteria, so of course I'm going to get some funky skin disease. She then barraged me with questions about whether I owned my own mat, how often I cleaned it, and God forbid, if I ever lend it out.
I appreciated my mother's concern and quickly put her at ease to let her know that yes, I had the dreaded yoga-mat-bacteria-epidemic under control. If my mother's worries made you squirm, here are some cleaning tips that keep my yoga mats fresh and clean:
1. Do unto your yoga mat as you would do unto your Lululemons. 
You wouldn't throw your yoga pants in the trunk and use them again for the next class, would you? Don't do that with your mat!
Bring your yoga mat home, and wash both sides with a combination of hot water and just a few drops of liquid soap. Then rinse off with water, pat dry, and leave your mat out to dry.
Really, every time, you ask?
According to my mother, yes! And, if you want to get fancy, there are lots of antibacterial and natural organic yoga mat cleaners on the market, or you can use something as simple as a lemon.
2. Invest in a yoga mat towel to place over your mat. 
The towel absorbs your sweat and any dirt or germs on your hands and feet, keeping your mat clean and protected. After each practice, throw the towel in the wash. My favorite yoga mat towels are made by NamaSTAY Yoga Towels.
These are genius in that the sleeves wrap securely around both ends of the mat, so you never have to worry about the towel slipping off during your sun salutations. The great thing about yoga towels is that they wash up beautifully, keep me from slipping and sliding, and, I can now add, keep me protected from all those nasty germs that would normally live on my mat. If you do hot yoga, you owe it to yourself to use a yoga mat towel to keep sweat and bacteria off your yoga mat.
3. Give your mat time to dry. 
If you wipe down your yoga mat at the yoga studio, make sure you give it time to dry. You can roll it up, but unroll it again once you get home to let it breathe and dry.
4. Wash your hands first. 
Ok, now I'm really echoing my mom, but wash your hands before you practice. Any germs on your hands are going to spread right to your mat. It's cold and flu season, and it only takes a minute to do this extra precautionary step before stepping onto your yoga mat.
**
Clean yoga mat, clean underwear, hands washed .... now I just need some help answering my mother's latest call about yoga going against the teachings of the church. I'm open to any words of wisdom you you'd like to share, whether it's about keeping your mat clean or responding to my mom's worries!