Stop Beating Yourself Up. Here's How.
October 28, 2012 — 17:48 PM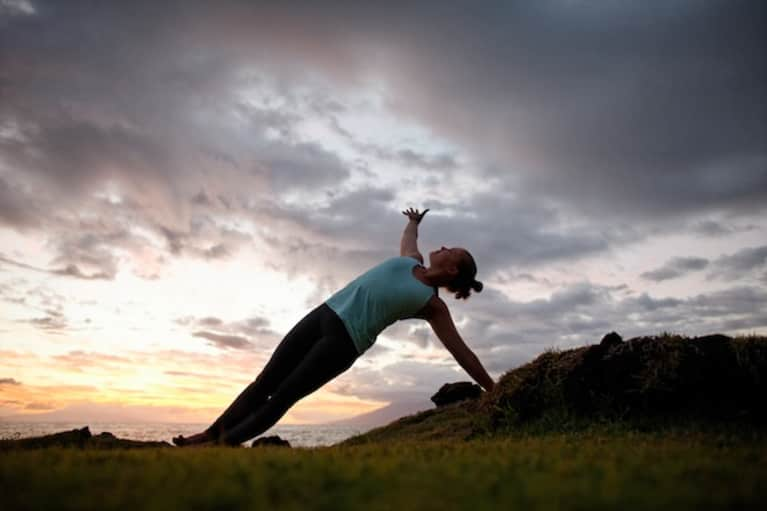 I am mad at myself. Again. This didn't go as planned. I lied to myself. I didn't live my truth. I blew it.
Sound familiar? The self-deprecating tapes that run through your head every time you do what you said you'd never do again? Maybe it's texting that ex-boyfriend. Caving by sticking your last dollar in the vending machine. Staying out too late with friends when you swore up and down you'd be in yoga class at 7am the next day.
It happens. It's life. We do our best to practice self-love, so why is it so easy to be hard on ourselves?
For me, as I am about to hit the half way point of my first 200-hour yoga teacher training, I realize I've allowed (some of) the bad habits in my life to continue during these intense months. And instead of cutting myself slack for all the amazing hard work I am doing – instead of looking at all I've accomplished in five weeks – I'm angry with myself.
I didn't practice enough. I didn't ask the barista at Starbucks if the smoothie had milk in it, even though I am newly vegan. And, I poured myself a glass of much-needed wine after a stressful workday. I let the dominoes tumble onto myself.
And when it's time to gear up for teacher training at the end of the week, I'm mad at myself. Even though I've done all my reading and homework. And even though I made it to practice—not every single day, but enough.
Isn't it time for a little self-forgiveness on my part? Here's what I hope to do –and you should, too.
1. Remind yourself it's going to be okay.
You are enough. You did enough. Whose standards are you trying to live up to? It's great to be ambitious, but not to the point where you find yourself constantly failing. You work 40 hours a week (or more!) and only made it to class once? That was 90 minutes of time you took for yourself that not many people can do. Sure, class was crowded, but not as crowded as that freeway full of anxious people.
2. Tell yourself that for every screw-up, you've done a whole lot of good in between.
You really have. We are yogis. We are just trying to do our best, every day. Why can't we focus more on what we've done that's GOOD for us? I've actually been totally vegan since training started, minus that Starbucks mistake which – believe me – I paid for.
I did a detox cleanse a year ago and hated myself for grabbing a burger (or several) in the weeks and months after. But guess what? I kicked caffeine and sugar-free gum for good. I had been drinking coffee since high school. And going through a pack of Trident every two days. Why not focus on the feats, and not the failures?
3. Get on your mat. 
It's SO easy. Yet in our minds, we make it nearly impossible. We throw out every excuse. Believe me, I do it, too. Just get there. Just throw down your mat. Lay in Child's Pose for 90 minutes if that's all you have in you. You will feel better after. And love yourself a little bit more.
4. Cheat. 
Yes, I said cheat! As in: give yourself a Get Out of Jail Free card for having a burger. Or a coffee. Or a glass of wine. Or for sleeping in, instead getting X, Y and Z accomplished. Allow yourself that. Believe me, you deserve it. You just don't realize it.
5. Forgive someone else.
I'm not a scientist or doctor, but I'm pretty sure the same endorphins are released when you forgive someone else, as when you forgive yourself, and recognize your shortcomings are all in your head.
Have you ever forgiven someone? I'm not sure it's easier than forgiving ourselves, but it sure takes a lot. I have forgiven some people in my life and it took years. (Literally: practically a lifetime for some.)   Imagine spending your lifetime in lockdown on forgiving yourself?
It's just not a fair way to live.
So do it. Say you forgive you.