How I Made Peace with Turning 30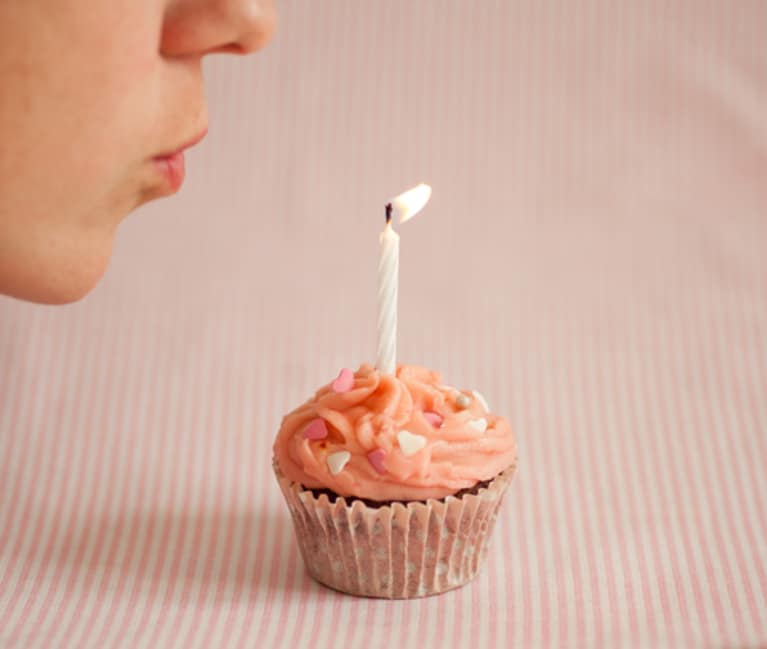 When I was a little girl, 30 seemed too old and too far away to imagine. I always wanted to be an adult, but mostly so I could shave my legs and wear makeup. Back then, I had no idea what being a grown up really meant, or what I'd be like by the time I actually reached my (gasp!) 30th birthday, or if the two were supposed go together.
By the time my birthday came around this summer, I was anxious. For whatever reason, I had chosen to torture myself with everyone else's opinion on the subject (but my own), which left me feeling out of sorts and indifferent. I even began pointing out each and every insecurity I could find about myself in the days leading up to my birthday.
My amazing girlfriend (who is also six years my senior) sensed my impending doom. She reminded me that I'd been through a lot in my 20s (i.e. coming out, ugly breakups, hitting my bottom, getting help, transforming my lifestyle, etc.) and that I had so much more to look forward to in the coming decade.
She encouraged me to start focusing on the positives, like all of the new and exciting things I could do in the next ten years that I'd never gotten around to doing in my 20s, and to challenge myself to look forward to even more personal growth one day at a time.
Thanks to her sound and loving advice, I decided that the best plan was to (a) accept turning 30 and (b) embrace it with a full and open heart!
Not only was I able to find a "happy place" despite all the emotions I'd been feeling, but I discovered that turning 30 wasn't such a bad gig after all. I spent my birthday hiking in Malibu, taking a swim in the ocean, and enjoying a dinner with a few wonderful people who love me for who I am at every age.
Whether your big day is just around the corner or you've just joined the 30-something club, there are plenty of reasons to look forward to starting a new chapter and to saying goodbye to your 20s.
Here are just a few things to think about when coming to terms with turning the big 3-0: 
1. It's possible to look better than you did 10 years ago. 
Thanks to a love of dark beer and a regular dinner of mac 'n cheese, I weighed 190 pounds for most of my 20s. As I approached 30, I knew it was time to get serious about making real changes for my health and well-being. By implementing a meat-free diet, regular exercise and a little discipline, I've been able to drop the extra weight and feel comfortable in my own skin for the first time in my life. It's bikini season all year round for this old lady!
2. Your weird quirks are the best parts about you. 
Those sweet dance moves, your hidden talent for origami, or in my case, that crooked front tooth, are all things that make us unique. Let 30 be the year you embrace the real YOU!
3. You know your worth and what you deserve. 
By 30, chances are someone's done you wrong and/or you've survived a broken heart. But they say that all growth comes from pain and, thanks to those experiences, you know what you want, and you know what you need, and you're ready for what lies ahead.
4. You've learned how to forgive. 
Nothing blocks you from the sunlight of the spirit like anger and resentment. If you haven't mastered the art of forgiveness yet, why not make this the year you learn to let go of the past? Learning how to forgive and respect others begins with learning how to forgive and respect yourself and now's as good a time as any to get started.
5. You get to change your mind. 
Whether it's your favorite band, a career path, or the person you want to be with, it's always okay to change your mind. Self-discovery is all about exploring what works for you, so don't worry if you're a completely different person now than you were at 20.
6. Less friends doesn't mean less friendship. 
By the time I reached 30, I was ready to say goodbye to the drama and chaos of my 20s and start eliminating anyone or anything that brought negativity into my life. Today it's about quality, not quantity, and the friendships I've maintained have only gotten stronger over time and continue to provide me with a source of love and support.
7. Going on a spiritual retreat is an acceptable weekend activity. 
Self-care and meditation are two of the most important aspects of my life today, and I can't say that was true of my 20s. Getting away, getting silent and getting centered are all ways to nurture your soul and are essential to finding balance in your daily life. Don't be afraid to get your om on!
8. You try new things, you wild risk-taker you!
Something about turning 30 left me feeling fearless and confident like never before. I'm about to complete my second half-marathon, I took my first trip to Europe, and submitted my first article to MindBodyGreen ... I hardly recognize myself these days! Dare to step out of your comfort zone; it's where all the fun happens.
9. You know what it means to be grateful. 
Some people will never get to see 30. Looking back, you've probably experienced some tragedy, lost someone close to you or, in my case, hit rock bottom. It's taken a lot of love, support and help along the way for me to get to where I am today and I'm so grateful for all the challenges I faced along the way and the opportunities I've had to overcome them.
10. It's all about progress, not perfection. 
My 20s were full of bad habits, bad outfits, bad interviews and bad ideas. These days, it pays to be responsible (literally) and being the best version of myself means making healthy choices on a daily basis. But at the end of the day, all that matters is that I did my best.
You may not be where you thought you'd be at 30, but does it really matter? Stop comparing to others and start finding your own truth. Your future self will thank you!