5 Tips to Keep in Mind Before You Say "I Do"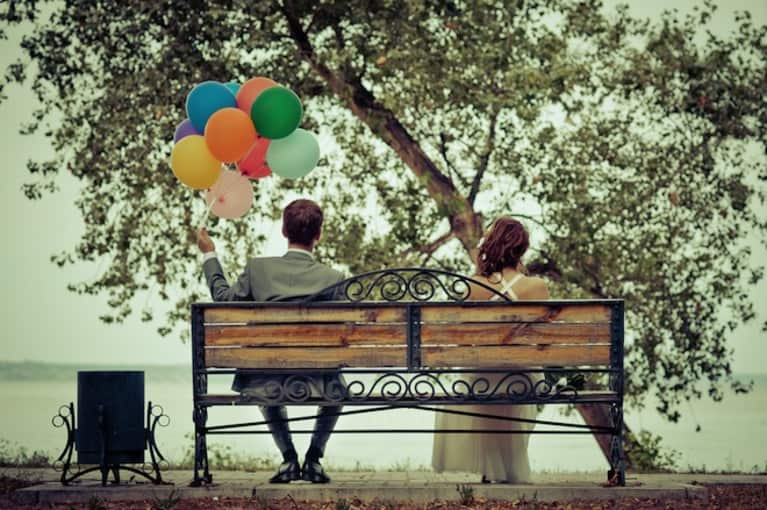 As I prepare for my wedding, I'm shocked by the amount of information about wedding dresses, planning tools, vendors, photos, traditions, cakes, songs, et cetera. It's overwhelming! What surprises me even more is the lack of information about the personal changes and challenges the bride and groom experience: the stress, anxiety, sense of loss, change in identity, and inner transformation.
With the anticipation and euphoria come other feelings as well. Like yin and yang, you can't live on one side of the pendulum alone. No one wants to talk about the other side, but it's very real. It's also quite normal and natural.
Trust me, I'm a huge fan of weddings! I've watched countless episodes of "Say Yes To The Dress." I love looking through bridal magazines and searching the internet for rings.
That said, it scares me when people say your wedding is supposed to be the "best day of your life."
What happens after the wedding? Tragedy? Bad days? 
I want my wedding to be one of many magical days to come – the stepping-stone for a lifetime of love and happiness. I don't want one day to be the highlight of my life. My intention is that my life will continue to get better each year and will even surpass what I feel on my wedding day.
Regardless of how much excitement is in the air, amid so much change, all kinds of feelings surface. After all, you're leaving your old life behind. Relationships with family and friends will inevitably change. You won't be able to live your life solely on your own terms. You now have someone else to consider when making big decisions. For many women, you'll be leaving your last name behind.
Simply put, life as you knew it will never be the same! It's exciting, scary, thrilling, joyful and sad all at the same time. It's a kind of death and rebirth – a major life transition – and needs to be honored and acknowledged as such.
Since checklists seem to go hand-in-hand with the wedding process, I think it's time to develop a new one.
Here are 5 tips to keep in mind before you say "I do." 
1. Take Time Daily To Reflect On Your Feelings. 
Spend time alone each day to get in touch with your feelings. Breath deeply. Journal. Take a hot bath or go for a walk. Welcome all your emotions and know that it's normal to experience feelings of sadness during such an exciting time. It doesn't mean you're making a mistake. It means you're conscious and mindful of the fact that your life is about to change on every level, and that can be stressful.
2. Discuss Your Process With Your Partner. 
Talk about your concerns, worries and fears with your loved one in a calm and peaceful way. Allow him to do the same. Be a safe and supportive space for each other. Everything you're going through, your partner is, too. Take time on a regular basis to check in with each other. Be proactive rather than reactive.
3. Do Something Special With Your Family Members. 
While your family and friends are thrilled for you, your wedding can bring up sadness and fear for them as well. Your parents are "losing" their child in a sense. Your friends may fear you'll no longer have time for them. Remind them how much you love and value them. Acknowledge that you understand their concerns and sense of loss. Perhaps write them a letter, plan a special day with them, or do something you know would be meaningful to them. Trust me, you'll be happy you did!
4. Create A Ritual Of Release. 
Going from single to married is a BIG change! While your wedding symbolizes this transformation, it's powerful to do things alone or with your partner. My fiancé and I wrote letters to the people in our lives saying "good bye" – from family and friends to our singles selves and exes. We thanked the people who've touched our lives and prepared us for our lives together.
We wrote these letters without ever planning to send them (unless we decided we wanted to a later date). We simply wanted to put closure to our past and leave the door open to a new and exciting future. We shared the letters with each other (although we could opt out if we wanted) and it was a phenomenal and healing experience! I encourage you to create your own rituals and find what works best for the two of you.
5. Plan Your Life Together – Not Just Your Wedding. 
As much attention and detail as you put into planning your special day, put the same time into planning your lives together. After all, your wedding is just one day of your life. If all goes well, you'll be spending the next 30 years with your partner.
Create joint goals. Talk about the hot-button topics. Figure out your finances. Perhaps participate in pre-marital counseling or in a couple's workshop. Focusing on your life together will lead to more happiness than anything else.
**
From all the happy couples I've met, I've learned there's not one recipe for success. All we can ever do is put the odds in our favor.