Kids Yoga Book Review: Sophia's Jungle Adventure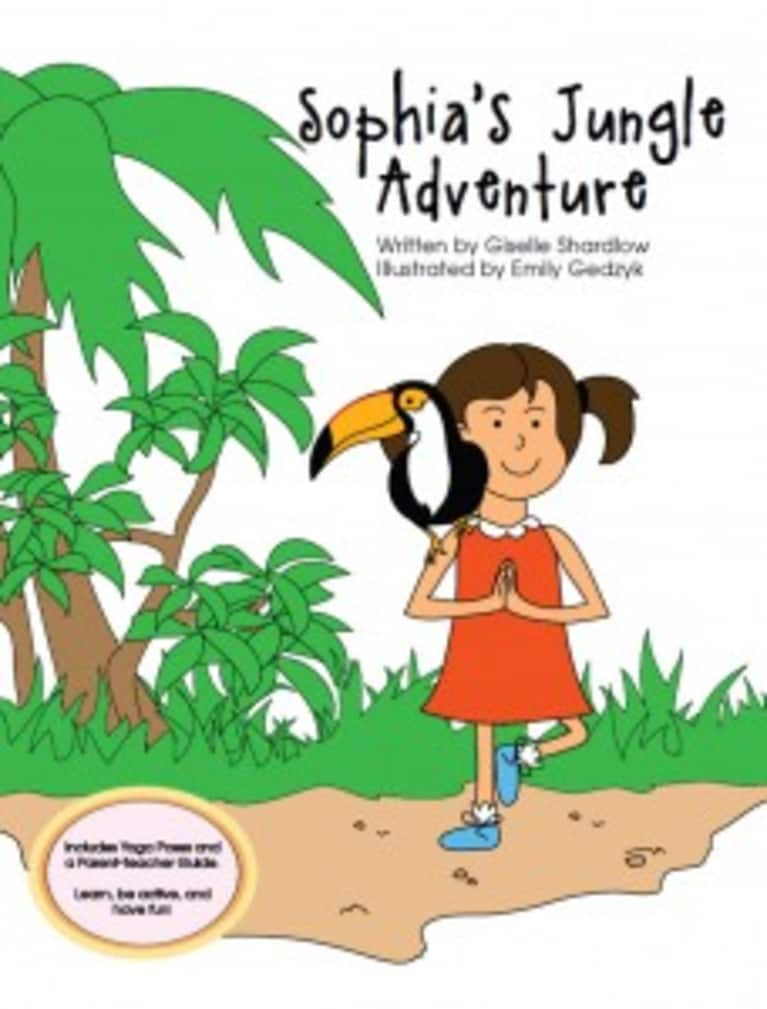 I'm always on the lookout for new books and materials to share with little yogis in kids yoga class. Kids are learning sponges and, while some repetition is good and I've been known to dog-ear kids yoga books with love and many reads, new materials are great for keeping things fresh.
I'm a big fan of kids yoga books, anyway, as they seem the ultimate expression of unifying mind and body. (Read and practice!) It's a powerful way to encourage both literacy and health in kids with one activity.
Sophia's Jungle Adventure is a picture book put out by Kids Yoga Stories in San Francisco, aimed at 4 to 8 year-old yogis, written by Giselle Shardlow and illustrated by Emily Gedzyk. Like many kids' yoga books, there is a parallel between story arc and yoga pose sequence so young yogis can read (or listen) and practice poses throughout.
As the story grows, so does the practice. This is the story of Sophia, who wins a National Nature Writing Contest and its prize: four free tickets to Costa Rica. (Pretty sweet gift!) She and her family are off to meet the new animals and climate of Costa Rica, doing yoga poses the whole way. We the readers are invited in through bright happy illustrations and clear text.
The author manages to squeeze in a pretty full yoga sequence through the telling of the book: from sun salutations, to standing postures, to seated floor work, to savasana. I liked that alongside story illustrations, we're shown special illustrations of the poses themselves, so kid yogis will know how to make their bodies into the shapes of the animals and objects listed.
All illustrations are clear and bright, popping with primary colors. There were a few moments in which I felt the author was stretching the yoga (no pun intended) to keep the story moving. For example, mountain pose is referred to as "bus pose" for the sake of the story. A mountain doesn't lend itself to the feeling or shape of a bus to me! But if the main point is to keep kids moving, this certainly will.
I particularly loved the index of poses at the end of the book, which listed keywords, yoga poses and picture demonstrations both clearly and cutely in chart-format. In fact, I may blow up this three page index up and make a poster of it for the yoga room. I did wish the Sun Salute was explained somewhere, however, for readers who may not be familiar!
Also included in the end material is a guide for the adult reading the book, whether it's a yoga teacher, parent, classroom educator or just cool adult reader. I liked that tips were given for those adults holding the book who may be new to yoga. In reading through the tips, it's clear the author intends to stress more than the physical aspect of poses in her book, but also the philosophical, citing kindness, compassion, abundance.
She also addressed how one might use the book with younger or older kids. There's a suggestion that towels could be used instead of yoga mats however, which I don't agree with since they slip! Another bonus: a portion of the sales of this book goes towards children's charities. Here's seva (service) built-in.
Kids yoga books to me are a journey like a yoga class is: an interplay between imagination and action. I can definitely see kids reading and doing yoga on their own through this book.